Anti-Americanism Spreads in Syrian Refugee Camps
As millions of displaced people live idly in harsh conditions, frustration over perceived U.S. inaction has taken root.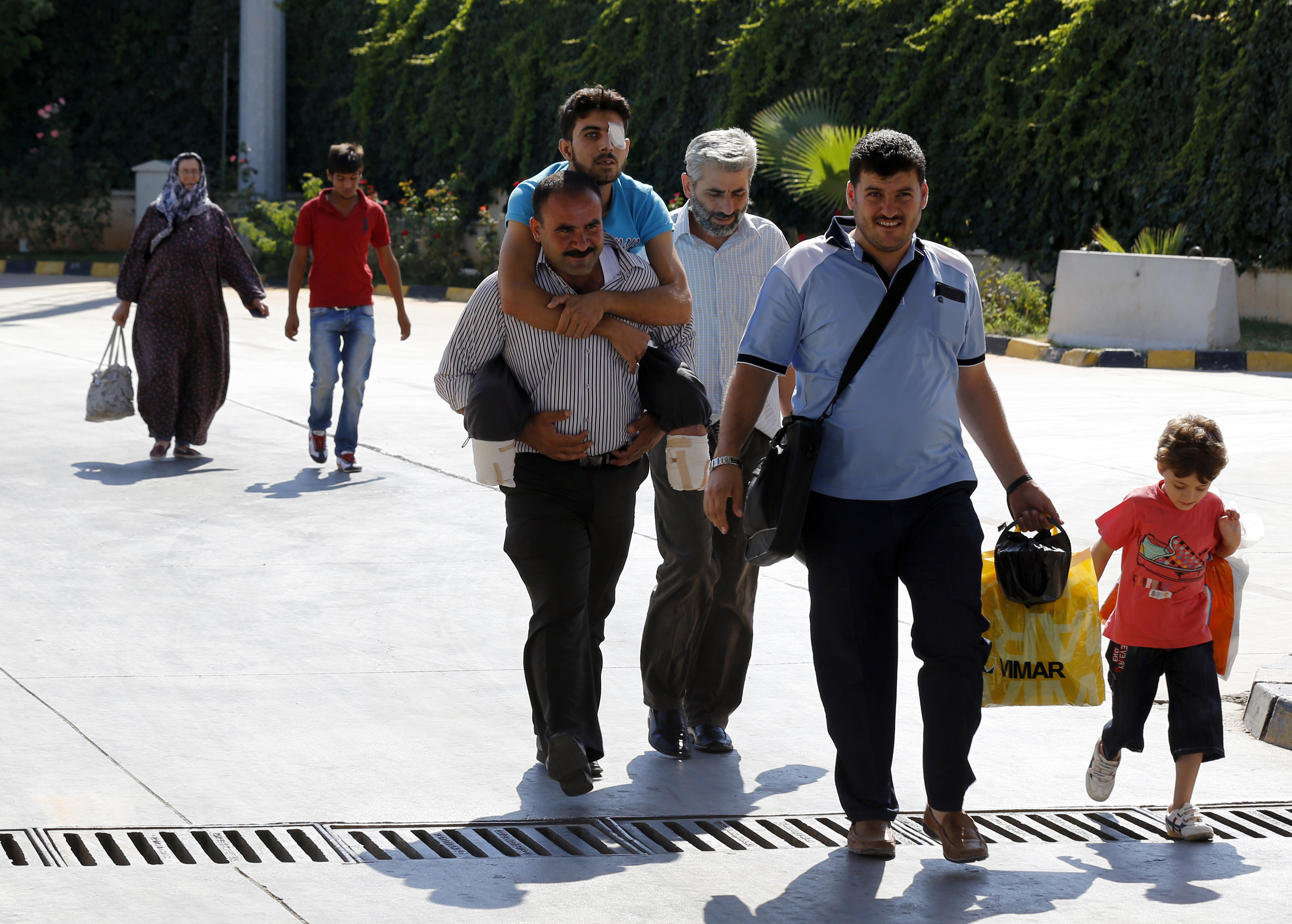 ZAATARI, Jordan -- For some, it's the nearby airport. The loud jet engines jolt them out of bed at night. For others, it's the rat-tat-tat of gunfire common in Jordanian weddings -- it's marriage season in Amman -- or the popping sound of firecrackers that went off during Eid and on the night of local elections here. I heard a story about a young Syrian girl who refused to enter a building with a security guard in front. Her father was killed right in front of her eyes by a Syrian policeman, so whenever she sees somebody in uniform, she cries.
There is real concern among aid workers here in the sprawling refugee camp for displaced Syrians that younger generations of Syrian youths will know only violence and war, a sad bookend to the hope and high expectations of the Arab Spring that set off the Syrian uprising two years ago.
The vast majority of Syrian children scattered throughout the region are not holed up in camps, however. They are "invisible," scattered in crowded apartments, often arranged through family connections. Some are "bailed out" of camps -- the term for when local Jordanians sponsor a refugee family. On a recent, blazing-hot day in August, a dozen or so children kicked a soccer ball outside a ramshackle apartment bloc in downtown Irbid, a dusty city not far from the Syrian border. A trash heap nearby was smoldering. Empty water guns littered the entranceway.

Over a million Syrians have fled the war over the past six months, bringing the total outside the country up to 2 million. Half of them are children. Whether or not the U.S. intervenes, that overall figure is expected to climb to over 3 million by year's end. UNHCR officials describe it as the worst refugee crisis in 20 years.

"Why don't Americans and your media pay attention to this crisis?" Ahmad Hasan, who worked as a taxi driver outside Aleppo until his family fled to Amman earlier this year, asked me.
Indeed, the refugee crisis has not proved as compelling of a cause as some past disasters have been. Consider CARE International's fundraising numbers: As of July, donors had given $1.86 million to the relief organization for its response to Syria's refugee crisis. Compare that to $17 million it raised in just three weeks after the Haiti earthquake or the $94 million in three weeks after the 2004 tsunami. Likewise, Oxfam America has only raised $350,000 of its stated goal of $53 million. And Mercy Corps has only received, in 27 months, a fraction -- $900,000 -- of the $2.5 million it raised in only a few weeks during the Israel-Hezbollah conflict of 2006.

"The public response to appeals has been considerably weak," Tamer Kirolos of Save the Children's Amman office told me recently. "After an earthquake or natural disaster, there's no bad guys, so people can empathize and say, 'that could happen to me' or feel you're giving to a good cause. People in the West just don't see themselves in this environment. It's just another conflict in the Middle East. At the end of the day there's no clear sense of who's the good guys. The situation is so complex. Nobody understands it. So they'd rather ignore it."

The World Food Program alone requires $30 million per week to keep feeding Syrian refugees in Lebanon, Jordan, Iraq, and Turkey, in addition to the 3 million internally displaced people inside Syria the organization is also feeding.

For many of these displaced Syrians, the current situation is unsustainable. The refugees feel isolated and restless, and they are unaccustomed to handouts since there is little civil society within Syria. In Syria, there is a strong tradition of hospitality – virtually every family I visited asked me to stay for dinner – but refugees are afraid to accept offers of tea or dinner because they cannot return the favor. Parents fear their children will be stigmatized at school, so many kids I spoke to stayed home and played video games all day.

Others were forced to find menial jobs under the table -- Syrians are prohibited from working legally in Jordan -- often as deliverymen, typically for a few Jordanian dinars per day (a few dollars). For some, work provides a coping mechanism. But if they are found out, their punishment is a one-way ticket to Zaatari, the refugee camp.

"It's terrible. I only lasted 24 hours there," said Ihab, a former employee of the state-run library in Damascus who now rents flats in Irbid.

Zaatari costs the UNHCR $500,000 per day to run and sprawls for 1.3 square miles and 12 administrative districts (The "districts" are even numbered one through 12, giving the camp an ominous "Hunger Games" feel to it). Its population of 130,000 makes it Jordan's fourth largest city. Located within earshot of Syria's borders -- shelling can be heard at night -- the camp is maybe the only place outside Syria one can "touch, feel, and see" the conflict, according to Aoife McDonnell, a UNHCR worker from Ireland. The Free Syrian Army reportedly recruits young men in the camp to return home and take up arms. The widespread insecurity and poverty has caused a rise in Syrian mothers marrying off their daughters at young ages.

Most of the camp's refugees arrived from just a few miles north of here, from Daraa, a province famous for being the birthplace of the civil war. Its male residents typically held factory or farming jobs and were not as well-off or educated as those from Damascus or Aleppo. Daraa is known for being a haven for smugglers of fuel, drugs, and sex workers, and part of that anything-goes culture has infiltrated the camp. An informal economy has sprung up whereby virtually everything is for sale -- one can buy satellite televisions or wedding dresses. And likewise, nearly everything is in danger of being stolen.

"Everything is possible in Zaatari," said Jalaa Ahmed, 35, a former café owner from Daraa who now resides in Irbid. "You can propose to any daughter or any girl [in Zaatari] and you'll marry her very fast." (Kirolos and other aid workers say the early marriage numbers may be exaggerated).

A strong undercurrent of anti-Americanism also is shaping young minds within the camp. Uprooted and uneducated young men sit idle, spreading rumors and videos of violence back home via social media sites -- Zaatari has its own Facebook page -- often devoid of context. Boredom and lack of education make for a potent cocktail. Kids I interviewed play a version of war, where one team is the Assad regime and the other is the FSA.

Such populations may be nurturing a new generation of angry Muslim youths who view the United States, and especially its president, as hypocritical at best, and enablers of Assad's war crimes at worst. 

"Everybody is against the Syrian people," said a former lieutenant in the Syrian military I met in Zaatari, who defected to the opposition. He was sitting on a cot in a prefab caravan, surrounded by other Syrian men wounded in the war. "We're giving our blood but for Obama that is not enough."

After cursing the American president in Arabic, he continued, "Obama is 'Hussein' – son of Muslims. If he were a Christian he would support us. But he's a Muslim." He shakes his head and his eyes tear up. "It's always Muslims against Muslims."

Many of the Syrian refugees I spoke to are resentful for two reasons: First, they feel the United States has abandoned them. Why intervene in Libya but not Syria? That suspicion fuels numerous conspiracy theories. Second, they resent how they've been treated as refugees.  

The vast majority of Syria's refugees are clustered in city apartments, sometimes squeezing more than 40 family members into a single flat. Often they lack access to adequate heating, running water, or even a toilet that flushes. They are typically middle-income and more educated than refugees from other conflicts, which is part of the problem, says Kate Washington of CARE International's Amman office. She says a commonly heard complaint from Syrians is, "We hosted Iraqi and Lebanese refugees from recent wars, so we expect to be treated with similar hospitality."

The anger manifests itself in strange ways. McDonnell, the UNHCR worker, recalls arriving last summer to this dry patch of desert, which was abandoned except for a few Bedouin tents and camels. The moonscape soil felt as fine as talcum powder, which made dust storms very dangerous. So UNHCR dumped gravel over the grounds. "Money well spent," she says … except for the angry youths who would pelt UN vehicles with the rocks.

Aid workers worry that the longer these camps remain, the harder it will be for future generations of Syrians to resume their normal lives after the war.

Take Fairous, who last September was sitting on the terrace of her new home in Daraa province. Her husband had just spent three years building their three-bedroom house. The couple had also just given birth to their third child, a daughter. Their village had been peaceful. The sound of shelling could be heard in the distance, but their town was not considered an FSA stronghold, and so it had been spared. Or so they thought. Exactly 10 days after their daughter was born, they heard a thunderous boom. By then it was too late.
Seconds later, their brand new house was  reduced to rubble. Fairous injured her leg, and her son Rami's leg was caught in the rubble and was nearly amputated. The family managed to flee across the border to Der Abisaeed, a village near Irbid, and get treatment at an FSA-run clinic.
Like most refugees I spoke to, they want to return home. A commonly heard phrase here is: "Better to die in a tent in Syria than in a palace in Jordan."

Fairous' husband, beaming with pride, leaned over and whispered in my ear, "If you saw our home [in Daraa], you wouldn't want to leave it."