Why Shipwrecks in Antarctica Are Well-Preserved
The absence of wood-eating worms may make the Southern Ocean a treasure trove for maritime archaeologists.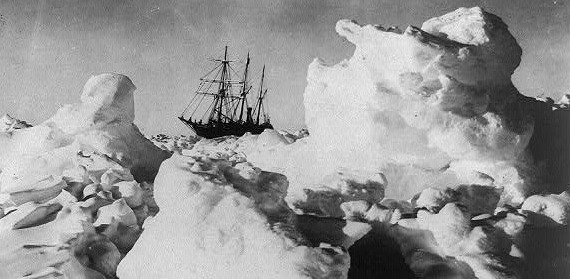 If the wreck of the Endurance, the ship abandoned nearly 100 years ago by Ernest Shackleton and his crew in one of history's greatest sagas of polar exploration, were to be found today beneath the icy waters of Antarctica, it might be in surprisingly pristine condition. The ship is one of several wooden vessels presumed to be lying untouched on the Southern Ocean's floor.
"Untouched" and "wooden" are words rarely used to describe the same shipwreck -- sea worms and other creatures usually bore into the wood with such vigor that by the time archaeologists discover the remnants, the ship's skeleton has often completely disintegrated. But now, researchers from the Royal Society in London have discovered that there are virtually no wood-threatening organisms in Antarctic waters.
The findings, published in the Proceedings of the Royal Society B: Biological Science, come from the first study ever to compare the decay of whale bones and wood pieces on the Antarctic seafloor. Turns out that in this particular underwater realm, ship skeletons outlast whale skeletons.
Previous studies in other oceans have shown that two types of deep-sea worms normally colonize sunken remains: Osedax, which bore into bone, and Xylophaga, which bore into wood. After excavating samples of wood and whale bones they had deployed in the Southern Ocean, the Royal Society scientists found plenty of bone-eating worms, but no wood-eating ones. They had expected as much. Trees haven't grown on the Antarctic continent for 30 million years, but whales and other marine vertebrates are abundant in the Southern Ocean.
How well a shipwreck holds up under water depends on a variety of factors, like weather, water salinity, pH, temperature, and depth. Portions buried in sand or silt tend to fare better than those that are exposed.
One of the oldest and best-preserved salvaged wooden ships is the Vasa, which sank in Stockholm, Sweden in 1628 and was recovered in 1961. The ship's hull was mostly intact -- shipworms were spooked away by the Baltic Sea's pollution, acidity, and cold temperatures, archaeologists note. (As global warming continues, though, conditions there might not be so preservation-friendly for long).
Archaeologists may eventually find the Endurance or other polar-exploration relics in even better condition. The U.K. firm Blue Water Recoveries has been looking for support to mount a search for the 100-year anniversary of the Endurance's sinking. If they do, they might be pleasantly surprised to find it looking much like Shackleton left it.