Who Do Modern-Day European Nazis Hate the Most?
A recent trial highlights horrible abuse of the Roma minority group.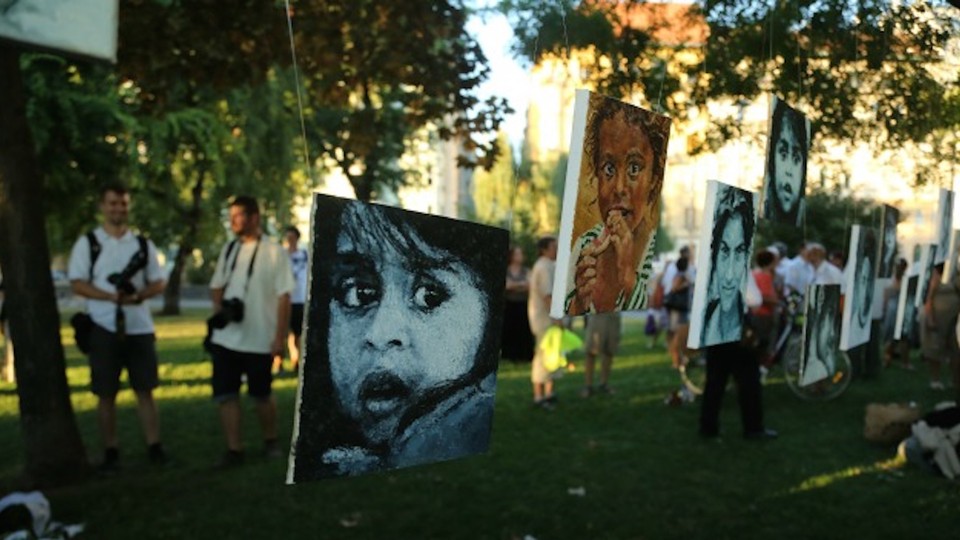 BUDAPEST -- The chamber in the Municipal Court of Budapest was packed, observers crammed into sweaty overflow rooms staring at closed circuit television screens and anxiously awaiting the verdict. As these rooms filled, an unwieldy queue formed outside as an incongruous gaggle of journalists, victims' family, and some skinhead supporters of the accused implored court officials to let them in to hear the verdict. Arpad Kiss, his brother Istvan, their friend Zsolt Peto, and accomplice Istvan Csontos stood dead-eyed in front on the judge, flanked by masked policemen. Today Peto wore a buttoned-up collared shirt that covered up his "88" tattoo -- a numerical reference to "Heil Hitler."
Four years ago in a bar in Debrecen in eastern Hungary, fuelled by the neo-Nazi skinhead underground culture, these men devised a plan to commit a series of violent attacks on the country's Roma minority, who comprise around 8 percent of the population of 10 million. Using a combination of guns and Molotov cocktails, the gang killed six Roma, including a four-year-old child, and injured over 50.
Relations between Roma and non-Roma have been historically tense, particularly since the fall of Communism, when the factories where many Roma were employed closed, and they descended to a new level of grinding poverty. In the 2010 elections, the far-right nationalist movement Jobbik won 17 percent of the popular vote by stirring up anger and distrust of Roma, repeating the mantra of "Gypsy crime" to the point where many voters attribute theft to be one of their genetic traits. During the trial, it was suggested by the prosecutors that the killers intended to provoke Roma communities into retaliating violently, thus triggering an inter-ethnic conflict.
Judit Lang, a journalist for the Nepszava newspaper surmises the problem:
"These victims were not the usual unemployed, criminal Roma stereotype. They were honest, hard-working families who didn't live on handouts. In everyday Hungarian slang, the phrase 'don't gypsy' is very common -- it means don't lie or cheat. This country is divided on every topic, except hatred for the Roma."
As life sentences were handed down to Peto and the brothers Kiss, a small cheer and ripple of applause rang out among the victims' family and supporters in the viewing rooms, shortly followed by a thunderous exclamation of disbelief and anger as Csontos was let off with just 13 years for his part as the getaway driver. A case defined by the blundering behavior of the police, Istvan Kiss was being monitored by the security services but had his surveillance dropped a couple of months before embarking on their killing spree. Csontos was working as an informant to military intelligence even while he chauffeured the death squad around the country.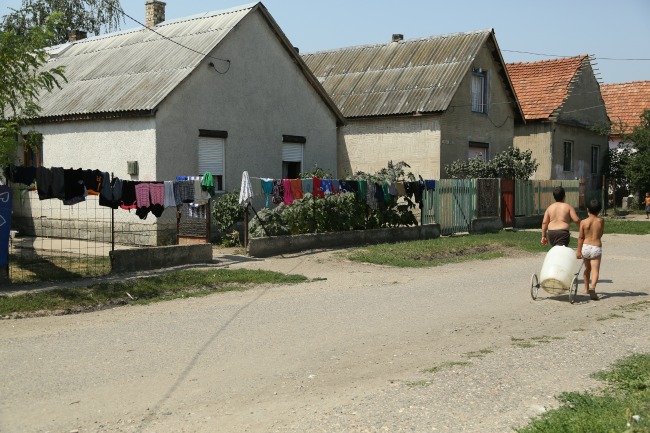 Sitting in a café on Budapest's main thoroughfare Rakoczi ut, Roma civil rights activist Jeno Setet's voice rises above the roaring traffic:
"In Hungary, we like to point to the far right, but that is too easy. The politicians and journalists from left to right are responsible for whipping up this Roma sentiment in the country, and they are not in court. These killings could happen again but, in a way, it happens every day. Nobody talks about the economic genocide taking place here; some parents have not worked in the last twenty years, their children are excluded from a good education, and so their fate is sealed."
In a bar a few meters around the corner from the court, posters of the uniformed Hungarian Guard -- the banned vigilante group known for conducting violent and intimidating marches in Roma neighborhoods -- adorn the walls, and nationalist rock music blares out of the stereo. A man wearing a t-shirt saying "Freedom for the National Socialists" was, earlier that morning, queuing up outside the courthouse to show solidarity with the killers. He doesn't want to give an interview but ends up sharing some thoughts about the case anyway.
"This trial is biased, it's all based on the statement of the driver, none of the accused acknowledged the deeds, and everyone knows the secret service was involved. There are more poor Hungarians than Roma, and they fear these Gypsies who are always stealing and living off welfare from taxpayers' money. Racism is a natural thing, and they are racist, too, but if I said my opinion out loud, I would probably be taken to court for hate speech."
This last point is questionable in Hungary. Recent years have seen vitriolic racist sentiment, historically only voiced by the extreme right, become steadily tolerated by everyday society. Under the Communist regime, racism and anti-Semitism, like most other expression, was forbidden. Nowadays, characters like Zsolt Bayer, a key ally of Prime Minister Viktor Orban, can opine in a newspaper how "a significant part of the Roma are unfit for coexistence" and "one should retaliate rather than tolerate." As one of the founding fathers of the ruling party, Fidesz, the government was put into a tricky position over rebuking Bayer.
Wandering through Budapest's tumbledown district VIII, colloquially referred to as the "Roma ghetto," Richard, Attila and Roland are greeted on every street corner. Young, educated, and Romani in a country where only one percent of Roma go to university, they may well be future politicians, though they are humbly wary of the label, due to the "decoration Gypsy" and "political puppets" that comprise, in their view, the current range of characters who represent them. They bemoan the daily tribulations they face with gallows humor. Richard is studying computer programming in Nyiregyhaza, in North-Eastern Hungary.
"On the first day at university, I was the only Roma in my class, and people thought that I was the cleaner. I actually have lots of friends who support Jobbik, but they tell me that I am the exception, the good Gypsy."
Roland points out that in very rural areas, it is not unknown for Roma to vote for Jobbik, the very party that advocates their removal from society.
"They didn't even know what the party stood for, they were attracted by the name, 'for a better Hungary', and I don't blame them, they don't have any access to information."
In the village of Alsozsolca in northeastern Hungary, dozens of Roma children pad around the threadbare Methodist church, newly constructed with the help of funds from sympathetic American NGOs. Villagers pass in and out of the nearby haphazard Roma dwellings, where plastic sheets serving as windows flap in the breeze and children fill up water buckets from roadside pumps. One can stroll the vast Parisienne-style boulevards of Budapest, stopping into a terrace bar overlooking the Danube for a glass of beer or taking a dip in one of the many cities' ornate bath houses and never guess at the depths of squalor that exists upstream. Behind the settlement, Roma children laugh and splash in a nearby river. On the adjacent river-bank, mounds of detritus attract swarms of flies, and in the distance loom the Soviet-era factories of neighboring Miskolc. It is on this riverbank five years ago that 19 year-old Krisztian, gathering wood for his family at dusk, was shot in the pelvis by Arpad Kiss, who lurked amongst the reeds on the other side. His injuries were life-threatening, but ultimately not fatal.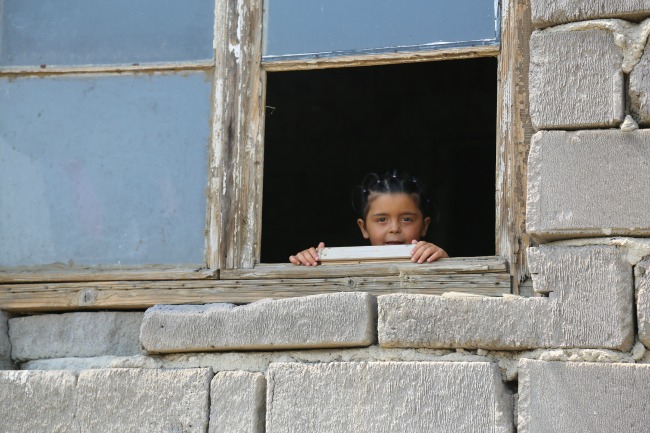 "That was at the beginning of the rampage, when the killers were still learning," says Tibor Derdak, a man who knows this region very well. A former MP in the now-defunct Liberal Party, these days he runs an improbable-sounding project 30 kilometers away in Sajokaza. As the headmaster of the Dr. Ambedkar Buddhist High School, Tibor aims to break the cycle of Roma poverty by teaching annually around 400 children and adults math, reading, and human rights.
The school also aims to deter Roma women from getting married and pregnant at young ages -- which is typically in the teenage years. Segregation in schools between the majority and the minority is a fact of life in Hungary, and it is a common practice for Roma children to be placed in special needs classes, which further hampers their educational development.
Last year on the country's version of the singing show X-Factor, Hungarians voted in millions for a young Roma singer named Gergo Olah. Despite their marginalization in society, it would seem that Hungarians can tolerate the Roma as long as they stick to performing. The situation could be compared to African Americans' civil rights struggle, but Hungary still lacks a Roma Martin Luther King.