While Obama's Snubbing Putin, How About Ending This Terrible Defense Contract, Too?
The relationship between the two leaders is on ice, which means it's the perfect time for the U.S. to stop buying helicopters from the same Russian arms dealer that supplies Assad.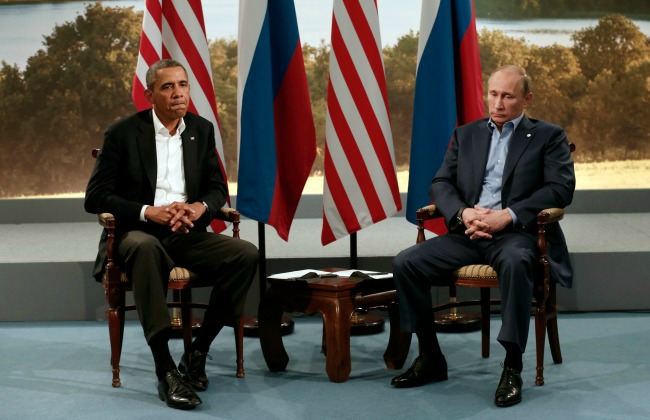 Now that President Obama is taking a break from Russian President Vladimir Putin, he should revisit another wildly dysfunctional piece of their relationship: The $1.1 billion contract for U.S. taxpayers to buy helicopters for Afghanistan from the same Russian arms dealer that's supplying Syria's Bashar al Assad.
The deal was conceived in the glow of the 2010 "reset" of U.S.-Russia relations with then-President Dmitri Medvedev. It looked appealing at the time, since the Mi-17 chopper was cheap and could fly "hot and high missions" in Afghanistan.
Now that the U.S.-Russian relationship status has been updated to "it's complicated," here are 10 reasons to dump the exclusive, no-bid contract with Russia and start playing the field:
1. The Pentagon's contractual partner is the Russian state-owned arms dealer, Rosoboronexport, which hasn't stopped supplying weapons to Assad. Russia hasn't even promised not to send S-300 advanced weapons systems that could destabilize the region and make it nearly impossible to establish a no-fly zone over Syria. (Which is, of course, why Putin won't promise not to sell them.)
2. The Pentagon - to its credit - acknowledges that the very weapons supplied by Rosoboronexport have been used to murder Syrian civilians. Assad's thugs keep asking Moscow to keep the atrocity supply chain going.
3. Secretary of State John Kerry has been trying to get the Russians to pressure Assad into Geneva II peace talks for Syria at the same time that senior Defense Department officials have been insisting publicly that when it comes to helicopters for Afghanistan, U.S. makers can't hack it and the Russians are indispensable. So much for leverage.
4. The White House has promised to arm some of the rebels fighting Assad. This puts the United States in the bizarre position of pouring resources into both sides of the Syrian civil war--helping the rebels fight Assad and helping Assad procure arms on the international market.
5. The Pentagon is buying the choppers from Putin's favorite arms dealer. Rosoboronexport is controlled by Sergey Chemezov, Putin's KGB buddy from their days together in East Germany . Chemezov ranked 10th on Forbes's 2013 list of the richest Russians. His wife and son aren't doing badly either. Where did he get his billions? Putin appointed him head of Rosoboronexport in 2004, and in 2007, placed him atop a newly consolidated group of lucrative state-owned defense companies, called Rostechnologiya State Corporation (Rostec.) Putin's top foreign policy advisor, Yuri Ushakov is also on Rostec's board.
6. In 2007, then-U.S. Ambassador to Moscow William Burns signed a cable on the Russian arms trade that declared, "It is an open secret that the Russian defense industry is an important trough at which senior officials feed, and weapons sales continue to enrich many." The cable, as published by Wikileaks, went on to describe Chemezov as an "intimate" of Putin's.
7. Russian corruption has not improved since, though Rostec's balance sheet has. In June, Transparency International gave Russia a D-minus for defense corruption. Rostec's 2012 revenues were $29 billion. This week, 13 senators of both parties demanded an investigation into "the prospect that American taxpayers have been made into unwitting victims of Russian corruption."
8. The Russians have nearly quadrupled the price of the helicopters since 2008, from $4.4 million to more than $17.8 million in 2012, according to defense industry documents supplied to Human Rights First. A new Pentagon document puts the cost at $19 million per Mi-17 chopper. DOD insists that Russian helicopters remain the best and cheapest option for Afghanistan, but it seems we're overpaying.
9. The Afghans can't use what they've already got in the procurement pipeline. The Special Inspector General for Afghan Reconstruction finds that the Afghans aren't ready to fly or maintain the helicopters, which are needed for counter-narcotics and counter-terrorism missions. The Afghans already have 21 Mi-17s with 12 more on the way. Congress has already voted - twice - to cut off funds for Rosobornexport. Nevertheless, DOD has asked for $350 million for 15 more helicopters in the 2014 budget.
10. The Defense Department has made Afghanistan dependent on Russia for decades to come by naming Rosoboronexport as its sole supplier for helicopters and spare parts -- even as the deteriorating U.S.-Russian relationship raises questions about Moscow's reliability as a long-term ally on Afghan security. In 2010, when Russian decided to side with the West against Iran's nuclear program, Medvedev ordered Rosoboronexport to cancel its contract to sell Iran S-300s. (Tehran is suing for $4 billion.) Rosoboronexport is an arm of the Russian state; it could cut off Afghanistan, too, if the Kremlin's policy priorities change.
Secretary Kerry and Defense Secretary Chuck Hagel have an opportunity to start unwinding this mess when they meet with the Russian foreign and defense ministers on Friday. They should start by announcing that the Rosoboronexport contract cannot continue unless Russia stops resupplying Assad and pledges not to sell him S-300s.
Even if Obama breaks up with Putin, he can't take the ring back; Moscow won't give refunds for aircraft DOD has already paid for. But we needn't rush to buy Afghanistan 15 more choppers it can't yet fly.