Two Years Inside a Mexican Prison
A U.S. citizen says he was wrongfully sentenced to jail on drug smuggling charges while on a trip across the border with a friend. Now he's writing a book about the ordeal.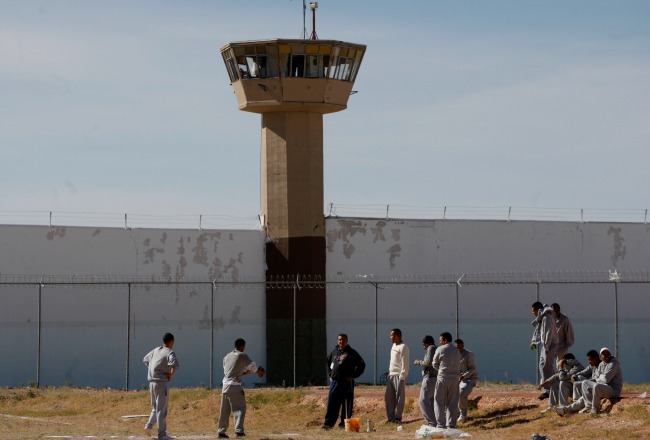 The days of Sopranos-style Italian-American mob bosses are over, or so it seems. Pop culture's newest ruling mafia lives south of the border. In Oliver Stone's most recent film Savages, three kids from Laguna Beach face the consequences of breaking a business deal with the deadly Tijuana Cartel. AMC's hit show Breaking Bad tells the story of a chemistry-teacher-turned-meth-producer with a complicated relationship with the powerful drug lords of Ciudad Juarez.
Hollywood's new fascination with the Mexican drug trade might turn out to be a blessing for Carlos Quijas, who recently got a call from a movie producer who was interested in meeting with him. A contractor and former golf instructor from El Paso, Quijas has never directed a movie or written a script. But it's not his movie-making credentials the studio seems to be after -- it's his criminal record.
Almost four years ago, Quijas, a U.S. citizen, was arrested, convicted, and sentenced for drug-smuggling in Mexico. He has spent that time trying to prove his innocence and clear his record of what he considers to be the result of a corrupt judicial system and bad timing.
"I guess that day God wanted me to get in trouble," he said.
The day was December 18, 2009. Quijas went to Ciudad Juarez for the first time in a long time. Like many Pasoans, he dreaded the border. That year the death toll in Juarez reached an all-time high: eight murders a day. The Juarez-El Paso border, one of the oldest and most important drug corridors in the Americas, has never been immune to crime. But violence peaked in Juarez since 2007, when former Mexican president Felipe Calderon launched a large-scale attack against drug traffickers in the area. Within a few years, Juarez earned the title of the most dangerous city in the world, followed by Baghdad.
Unfortunately for Quijas, Juarez was also the hometown of his grandmother, who was dying of throat cancer. The fear of not saying goodbye to her finally convinced him to take the risk. Luckily for him, his then-22-year-old friend and employer, Shohn Huckabee, was planning a trip across the border to get a cheap repair for his pickup truck. Quijas joined in.
The trip went as planned. Around 5:20 pm, Huckabee picked him up a few miles from the Americas-Cordoba Bridge, their route back to El Paso. This is what Quijas and Huckabee said happened next: As Huckabee merged into the long car line heading to the border checkpoint, a group of soldiers surrounded them. They dragged them out of the truck, pulled their sweaters over their heads, and pushed them inside a military van. The soldiers drove the van away from the border and into Mexico. Quijas' sweater had slipped down and he was able to see Huckabee next to him, still and quiet. "I was amazed at how calmed he was," Quijas recalls. "I whispered to him, 'They're probably going to kill us, we might not make it.'" He replied with a weak "OK."
Huckabee declined to speak on the record, but he confirmed all of Quijas' statements regarding their relationship and their experience in Juarez. His father, Kevin Huckabee, wrote in an email: "Shohn has moved on and spends no time worrying about events he can't change."
The night of the arrest, the military authorities in Ciudad Juarez called a press conference. Quijas and Huckabee were escorted to an auditorium, handcuffed and blindfolded. Quijas could sense camera flashes flickering around him. When the soldiers took the blindfold off, he saw dozens of small packets wrapped in brown tape and plastic lined up in front of him. Minutes later, an official told reporters that soldiers had arrested Quijas and Huckabee after finding 99 packets of marijuana inside their vehicle, 52 kilograms in total, valued at $100,000.
The story ran in several local and national newspapers the next morning. One of the headlines read: "Americans arrested in Juarez for smuggling."
Two days after their arrest, Quijas and Huckabee spent their first night in the Ciudad Juarez municipal prison. As might be expected, the most dangerous city in Mexico also hosted one of its most dangerous and overcrowded prisons. Quijas saw cells with up to 12 inmates crammed inside. He paid a prison guard $100 to put him and Huckabee in a less crowded cell. They were placed with two other men. One had been charged with kidnapping, the other for murder. They told Quijas they had seen his arrest on Channel 44, Juarez's local news channel, dubbed the "tragedy network" by the locals.
Quijas' family notified the U.S. consulate in Juarez about his arrest. Two officials visited him and Huckabee at the local prison. The two told the consulate officials the soldiers who arrested them had planted the bags of marijuana inside their truck and then tortured them to keep them quiet. Quijas received several blows to the head and electric shocks to his chest, lower back, legs, testicles, and rectum. A medic at the Mexican General Attorney's Office in Ciudad Juarez detected signs of torture in Quijas' body, but the Mexican Army denied any instance of torture during or after the arrest.
The consulate officials told the Americans that while the investigation was taking place, they had two options: stay in Juarez and go to trial, or request a transfer to a U.S. prison and keep their drug smuggling charge. Quijas didn't want to have a criminal record in the U.S., so he decided to fight for his acquittal at the Juarez district court. "I knew the jail was dangerous, but I decided to take the risk anyway," he said.
It did not work out as he hoped it would. In March 2010, he and Huckabee were sentenced to five years in prison for marijuana possession with the intent to sell. They appealed twice, but lost. The court dismissed their complaint of human rights abuses and the testimonies of the witnesses who saw the soldiers planting bags inside their truck. Gustavo de la Rosa, former human rights commissioner for the Chihuahua state government, said during that time, the courts would never challenge the military. "Judges publicly stated they were supporting the Army in its fight against drug cartels," he said. "If the military said someone was guilty, he was guilty.
"During the trial, the soldiers stated the arrest happened around 9:45 pm, not around 6 p.m., as the two accused men had said, and that about half an hour later, they questioned the men briefly at the military base and then took them to the attorney general's office in Juarez to be booked. De la Rosa said that under Mexico's penal code, the soldiers should have taken Quijas and Huckabee directly to the attorney general's office. "The offices are practically 10 minutes away from where they were arrested," De la Rosa said. "Instead they drove to the other side of town to do the questioning."
The true reasons behind Huckabee and Quijas' detention remain unknown. Quijas offers one theory: The soldiers might have confused him with a distant cousin involved in the drug trade in Mexico, who has a similar name. He was never mentioned during the trial or the police investigation, but Quijas said he had no reason to bring his name up in court. "It's not his fault this happened to me," he said.
De la Rosa, who represented Quijas and Huckabee in their habeas corpus petition (known as amparo in Mexico), said the name confusion is the most logical explanation for the case. "It's highly probable that the soldiers were indeed looking for a suspect," he said. "And then they found out they'd got the wrong cousin." The lawyer adds that after interrogating and torturing Quijas for four hours, the soldiers couldn't just let him go. "They would have had to do a lot of explaining," he said.
By the time Quijas and Huckabee were sentenced, U.S. and Mexican media had been following their case closely. Their families asked El Paso City Council for help, and El Paso Councilmember Susie Byrd was one of their biggest supporters. She now said the U.S. government showed reluctance to intervene in the situation. "Nobody in the U.S. government, particularly those invested in the drug war, wanted to admit that their allies were not acting in any manner to protect either civil or human rights," she said.
The Juarez judge's ruling was effectively a death sentence: The chances for two Americans to survive in the local prison were slim. Luckily, another cousin of Quijas is a congressman in Chihuahua. After a phone call from his office to the prison administration, Quijas and Huckabee were transferred to a special section of the prison, one filled with loud music, barbeque smoke, women laughing, and children running around. "It looked more like a middle class neighborhood than a prison," Quijas said. "I said to myself, 'Man, what is this place?'"
Quijas describes the cells in that section as spacious, with tile floors, kitchens, furniture, queen-size beds, and exercise machines. Soon Quijas realized inmates had few restrictions. They could wear their own clothes, use cellphones, and have visitors almost all the time. The prison guards were not necessarily in charge.
Jorge Chairez, spokesperson for the penal affairs at the Chihuahua State prosecutor's office, said criminals practically ran the Juarez prison in 2009 and 2010. "They plotted kidnappings, killings, and attacks from inside the prison," he said. "They established their own system and everybody had to follow through. There was no control." According to a report by Mexico's National Human Rights Commission, 60 percent of the country's prisons are controlled by prisoners, thanks mainly to their ability to bribe corrupt employees.
Inmates' almost unlimited access to weapons and money also created an extremely dangerous environment inside the prison, said Martin Orquiz, editor and reporter for El Diario, one of Juarez most-read newspapers. "Big riots were constantly erupting," he said. "There were dead bodies everywhere; they hanged some of them from the roof."
Quijas took precautions. He shows me a photo in his cellphone -- a snapshot of him sitting on a wooden stool inside his cell, wearing glasses, a white polo shirt, and jeans. He had a gun tucked into the waist of his jeans. "My friend gave it to me," he said.
Quijas asked me not to reveal his name for security reasons, so we'll call him M. He described M as a short man in his 30s with dark skin and no visible neck. M was not just any inmate, Quijas said, he was the boss. Other prisoners would greet him when he walked through the hallways, calling him señor or jefe (boss).
M and Quijas met one month after his transfer to the VIP area of the prison. An inmate told them his boss expected them for dinner, and Quijas knew they couldn't reject the invitation. Over flautas and beer, M offered his help for whatever they needed. In an interview with the El Paso Times, Huckabee said the "inmate leader in his area of the prison took a liking to him" for reasons he couldn't explain.
For the next few weeks, Quijas and M were just acquaintances. But their relationship grew stronger when they realized both were Jehovah's Witnesses. Quijas had practiced the religion from a young age, but M discovered it in prison. They began meeting regularly to discuss religion, and "There were moments of great intellectual exchange," Quijas said.
Soon the conversation became more personal, and M talked about his life as a killer and drug smuggler. He told Quijas he was the head lieutenant of the cartel in Ciudad Juarez and took direct orders from high-ranking members of the criminal organization, a man whose name is high on the FBI and DEA most-wanted lists. Their meetings went on for six months, Quijas said, but they were constantly interrupted by riots and shootouts, which increased during his last days at the Juarez prison. "It was hell," Quijas said.
In June 2011, a group of federal police agents arrived in Quijas' ward. They detained hundreds of inmates, including Quijas, and transferred them to a federal prison as part of a cleansing operation. A few months later, the prison was taken over by the Chihuahua state government.
By then, the U.S. government had certified Quijas and Huckabee's human rights abuses and officials were processing their transfer. Huckabee had been transferred to La Tuna prison in Texas in July 2011 and released shortly afterward. Quijas spent six months in the Mexican federal prison before his transfer to La Tuna. He was released on parole three months later.
Although their sentence was subsequently reduced, neither Quijas nor Huckabee have been acquitted of drug smuggling charges.
Quijas has lived in his parents' house in West El Paso since April 2012 -- under court orders, he can't live anywhere else. During a hamburger dinner with his family, he tells me the news about a Scott Free Films producer who wanted to hear more about his experience in Juarez.
"Who would you want to play you?" I ask. "Norman Reedus," he replies immediately. His younger brother hands me his cell phone, where Reedus' photo is pulled up on the screen. "Don't they look alike?" he asks. There's a resemblance. Reedus plays Daryl Dixon on the popular zombie apocalypse show The Walking Dead. The character is a fearless zombie killer who takes orders from no one and always manages to survive.
Quijas is also writing a book about his time in prison. He said he wishes to expose the corruption of the Mexican government, which he said caused his unjustified arrest and imprisonment. But after a while, he reveals another motivation: "I want to make money out of it."
His life after prison has not been easy. Although the U.S. government acknowledged he was a victim of torture in Mexico, the drug trafficking charges he received in Juarez are now on his criminal record. He is officially a convicted marijuana trafficker. "That's a problem," he said. "It's hard to earn people's trust, especially employers." He currently works at a construction company owned by one of his closest friends, but his salary is not enough to support his family.
Quijas said he hasn't heard from M in a while. He heard rumors that he left the Juarez prison, but that it was not an escape -- he simply finished serving his sentence. I ask him if he'll include M's teachings in his autobiography. He replies: "I'll save those for my second book."
---
The Investigative Reporting Program at the UC Berkeley Graduate School of Journalism supported the reporting for this story.