There Are No More Good Guys in Egypt
One thing that makes this crisis so vexing: Each of the country's major groups have done something totally horrible in the past few weeks.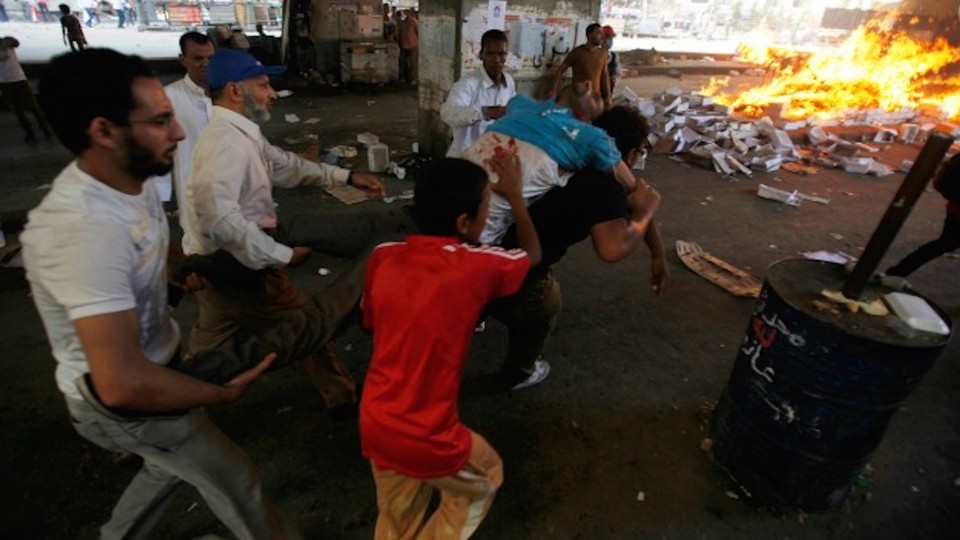 CAIRO -- Almost a thousand people dead, dozens of churches burnt, its capital's most affluent districts subjected to raging firefights: Even in a region all too accustomed to conflicts of unrelenting savagery, Egypt's past week has stood out.
It wasn't meant to be like this, of course.
The last time this many foreign journalists decamped to Cairo, they witnessed millions clamoring for the overthrow of former President Hosni Mubarak's authoritarian regime.
But Tahrir Square, the epicenter of the revolutionaries' efforts, is blocked off now, with tanks, armored personnel carriers, and double coils of rusty barbed wire strung across its approach roads. It's an apt metaphor for Egypt's withered revolution.
Last time, we, the West, rooted passionately for the beleaguered masses battling the brutal police state, cheering their demands for "bread, freedom, and social justice," and interpreting their triumph as evidence of democracy's irresistible allure.
This time, however, we have no one to root for.
The security forces, Muslim Brotherhood, and partisans of both sides have all engaged in the bloodshed while seeking to tar their opponents as inhuman.
In the battle for the country's soul, it's "terrorists" vs. "murderers" in the language of Egypt's bitterly polarized political players.
Amid the carnage, Egyptian society has slowly begun to unravel. Islamist pitted against nationalist, neighbor against neighbor, father against son. Even some traffic accidents are now cast in harshly politicized tones.
When a bearded pedestrian was knocked-down by a taxi while crossing the road a few days ago, he barked "Sisi killer" at the clean-shaven driver (in reference to army chief General al-Sisi).
Popular committees have re-emerged in many neighborhoods for the first time since the revolution. Brandishing sticks and sometimes machetes, they search cars and devote particular attention to interrogating men with long beards.
"I'm scared. There's just so much anger and so much hate," said my downstairs neighbor, an 80-year-old former Deputy Minister of Agriculture who has put off a much-needed doctor's appointment for fear of leaving his apartment.
The security forces dispersal of the two pro-Morsi camps on Wednesday was ferocious and pitiless by any measure. At least 700 died and thousands were wounded across the country, as the police, backed by the military, moved to empty the sit-in protests that had occupied two squares on the fringes of Central Cairo since former president Morsi's overthrow in early July.
Justifying the crackdown, interim government officials insisted these camps were dens of armed insurrection and obstacles to the city's traffic flow.
Certainly, many of these people weren't blameless. An investigation conducted by Amnesty International uncovered evidence of torture by Morsi supporters in the vicinity of the Rabaa al-Adaweya camp on the Western outskirts, and they, too, had guns.
In the upscale Mohandeseen neighborhood, where men evicted from the Nahda camp sought to establish another sit-in protest, a van laden with AK47s pulled up near to the front line where Morsi supporters were battling police and distributed weaponry. The fighting swiftly intensified, with both sides suffering casualties amid the thick black pall of burning tires and blazing police trucks.
The police have been hit hard by the Islamist backlash to the camps' dispersal, with 45 policemen among the dead on Wednesday, including 11 executed and then incinerated in their police station just outside Cairo. Police have now been withdrawn from outside many embassies and confined to barracks for fear that isolated units might be vulnerable to revenge attacks.
But despite some Morsi supporters' willingness to engage in armed combat, the interim government's insistence that security forces used the bare minimum of violence scarcely rings true. Even before Islamists in Mohandeseen began returning fire, the police pelted their hastily erected barricades with live bullets and appeared to target foreign journalists videoing proceedings from an apartment window.
"The police and army are the murderers, not us. They are trying to kill us all. They are the terrorists," said Hafez, a Muslim Brotherhood supporter who was riddled with birdshot by police during the fierce and bloody daylong exchange in Mohandeseen.
Some Morsi supporters fear a Syria-type situation, but if that unlikely scenario comes to pass, their highly inflammatory sectarian scapegoating will be partly to blame.
The Copts, Egypt's Christian minority, have long suffered from state-sponsored discrimination, but their support for the military takeover has subjected them to a sustained barrage of physical attacks.
Fourteen churches and other Coptic institutions have been gutted in Minya alone, a city in Upper Egypt, some 200 miles south of Cairo. Islamists roam the streets of majority Christian neighborhoods there, daubing properties that terrified residents imagine will be targeted next.
Even in the midst of the brutal Mohandeseen clashes, some Morsi supporters screamed anti-Christian slurs. "They are traitors to Egypt," said student Hossam Ali.
When Mohammed Morsi assumed power last summer, he assured apprehensive Egyptian liberals and dubious foreign governments that he was committed to a pluralistic inclusive path. Very soon, however, he moved to solidify his Muslim Brotherhood organization's grip on power, while pursuing a decidedly immoderate agenda.
Their experience of Islamist rule would appear to account for the profoundly illiberal recent behavior of Egypt's liberals.
"If they're not stopped now, we might have missed our chance," said a friend of mine as he dashed off to rally against Morsi and demand early elections in Tahrir over a month ago.
Egyptians were once viewed as politically apathetic, but no longer. This is an extreme version of "are you with us or against us," and those who stray or deviate from the party line are subject to visceral attacks.
Last Thursday, a group of socialist revolutionaries congregated outside a courthouse near the now-dispersed Nahda camp to demonstrate against the severity of the previous day's loss of life. They were roundly heckled by many passing motorists and slunk off a few minutes later.
Mohammed ElBaradei, former head of the UN's nuclear watchdog, has come in for particularly devastating criticism since he resigned as vice president following Wednesday's crackdown. His assertion that "what happened is only in the interest of advocates of violence, terrorism, and extremist groups," was a rare dissenting comment amid a chorus of liberal approval.
On Sunday, a new campaign instructed those opposed to both military and Muslim Brotherhood rule to stand at their windows at 9 p.m. and bang a pot for five minutes.
As a sign of how few Egyptians have adopted this neutral perspective, scarcely a sound could be heard.