As Mark Bowden discusses in this month's Atlantic cover story, there is great debate about whether drone strikes should be a core component of the U.S. counterterrorism strategy. Of all the the arguments in favor, those those emphasizing effectiveness of signature strikes are particularly dubious. The term "signature strike" is used to distinguish strikes conducted against individuals who "match a pre-identified 'signature' of behavior that the U.S. links to militant activity," rather than targeting a specific person. The United States should not allow signature strikes because the cost of these attacks far outweighs the potential benefit. Leaving aside significant concerns about the legality of such strikes, there are serious questions about the efficacy of this approach in undermining terrorist networks.
The problem with signature strikes is that they open the door to a much higher incidence of civilian casualties--and this is where the danger lies. If the United States is choosing targets based on suspicious activity or proximity to other known-terrorists, this falls short of the threshold for drone strikes set by the Obama Administration, perpetuates a disastrous U.S. image in Yemen, and serves to invigorate the ranks of those groups the United States aims to disable.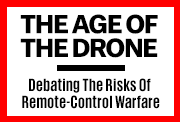 A special report
Read more >>
In response to increasing criticism, President Obama outlined his counterterrorism policy in May 2013 with a speech at National Defense University. Obama noted that the U.S. will only act against "terrorists who pose a continuing and imminent threat to the American people, and when there are no other governments capable of effectively addressing the threat." He did not, however, directly address the use of signature strikes, leaving open the prospect that they could be used in the ongoing fight against terrorism. This would be a mistake. In Pakistan and Afghanistan, extensive signature strikes sparked a significant increase in anti-American sentiment. After years of drone strikes, 74 percent of Pakistanis considered the U.S. an enemy by 2012 (up from 64 percent in 2009) according to a Pew Research Center poll. The White House authorized signature strikes for Yemen, but U.S. officials insist that they have not employed this tactic to date. If true, the incidence of civilian and non-combatant casualties in Yemen means that faulty intelligence and targeting failures are to blame, which is perhaps even more worrisome.