Overcoming India's Menstruation Taboo
One company is working to both help women understand how to use sanitary pads and to employ locals in the napkins' production.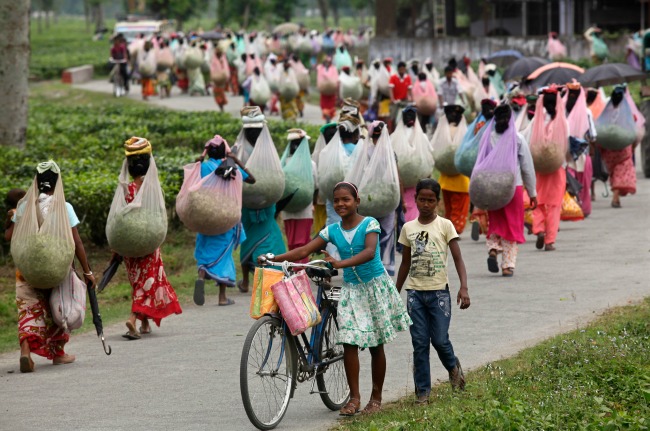 Inside the dark and dingy room on the terrace of a house in Tirupur, Coimbatore--the textile hub in the southern state of Tamil Nadu in India -- six women are hard at work. "We have just two hours before the power is out and we have a target," Indumati shouts over the blaring sound of a compressor in the room. Cotton-like dust fills the humid room, but the women seem to be at ease even without masks. I cover my nose with a scarf as I watch them make the biodegradable sanitary napkins.
The women bought the machines from a company called Jayashree Industries a little more than a year ago. A social entrepreneur, Arunachalam Muruganantham, manufactures them in a neighboring town, Coimbatore.
The women faced resistance from their families: Their mothers-in-law told them, "it was as good as selling shit," and their husbands refused to fund them. So, they micro-financed the venture instead. With an initial investment of about $5,000 on the machines and less than $100 in raw material, they started production. Three of the teammates had never even seen a sanitary napkin before--let alone used one.
Mother Care Sanitary Napkins, as they call their product, has a range of napkins, from ones for heavier-flow days to panty liners. There is another variant for women who do not wear panties, which is particularly necessary in rural India. This variety has an elastic belt to hold them up.
The team has an interesting strategy that so far has generated sizeable profits: They sell napkins in small quantities, even one or two at a time. They've also sent napkins to Ethiopia, Bangladesh and Singapore after individuals and charity organizations there placed orders. This morning the team is working on an order of 2,000 napkins for Nigeria.
Arunachalam Muruganantham's $500,000 business venture operates from a room smaller than a tiny New York City apartment. Jayashree Industries is based in Singanallur, another part of Coimbatore.
When he was 16, his father died and the science-loving teenager dropped out of school to support his family. His next life-changing event came when he married 17-year-old Shanti in 1998. His wife had never used a sanitary napkin, and she relied on an old piece of cloth for her monthly period. "Napkins are expensive. A cloth can be used repeatedly," she confessed to him.
In 2010, the research agency AC Nielson conducted a nationwide survey that found that 70 percent of women in India cannot afford sanitary napkins, and only 12 percent of the 355 million menstruating women in the country use them. Just 2 percent of women in rural India use sanitary napkins, even though three-quarters of the population lives there. "Even countries like Sri Lanka and Bangladesh are better," says Bhagyashri Dengle, executive director of Plan India. (The NGO provided technical expertise for the survey, which was sponsored by a leading manufacturer of sanitary napkins.)

Many Indian women even use paper, sand, ash, or even leaves during their periods, and doctors warn that these unhygienic habits can lead to cervical cancer and other infections. Until two years ago, sanitary napkins had a luxury tax of 14 percent, but it was reduced to 1 percent after pressure from advocacy groups and NGOs.
"If the government thinks sanitary napkins are luxury items, how will it convince poor women to use them?" Dengle said.
Muruganantham was concerned about his wife using one piece of cloth for months at a time, so he gave her some sanitary napkins as a gift. A pack of six cost him 11 U.S. cents. (You now get the cheapest cotton pack for about 30 cents.) Muruganantham concluded they were indeed expensive for something that's only stuffed with cotton, so he set about trying to make his own.
Even though Shanti's response was not encouraging, Muruganantham was obsessed with making a napkin that would have win her approval. When Shanti refused to be his subject, he turned to his sisters, and when they warned him against pursuing such a "disgusting" mission, Muruganantham turned to medical students from his village. This sparked rumors about him befriending young girls "for sex," so his wife left him.
Muruganantham tried getting feedback from his students, but finding their one-word answers lacking, he decided to take things yet another step further. He decided he himself would wear a sanitary napkin, hoping the personal experience would give him an insight into why his napkins failed each time.
Muruganantham created a fake uterus using the innards of a soccer ball, attached a pipe to it, and filled the bladder with goat blood. He then attached this artificial uterus to a belt. When he squeezed the bladder, blood would flow from the pipe into the sanitary napkin.
For 10 days, Muruganantham lived a menstruating woman's life: He walked, bicycled, ate, and slept in this pretend-menstruating state. "I began to stink and stained my attire. Those were the most difficult days of my life," he says.
But the effort paid off. Frustrated, Muruganantham sent both his handmade sanitary napkin and the branded one to a laboratory to test the material each used. The results concluded that both napkins were made of cellulose. Yet, the branded napkins were effective; his napkins were not.
Meanwhile, there was more trouble. Villagers, who had seen him bleed, concluded that he had a "sexual disease" and that his genitals were bleeding due to excessive sex. The panchayat, the jury that rules on all moral and legal issues in the village, ordered his expulsion. Should he refuse, the panchayat said, Muruganantham would be tied to a tree in the fields until the evil that possessed him left his body.
Muruganantham left the village with a sense of optimism that he would eventually find success. And he did, with a little help from his pet. "It took a dog to show me the way," he says, recalling an incident in which his dog tore apart a cardboard sheet. Picking up the shreds, Muruganantham finally realized his mistake -- sanitary napkins are not made of cotton, they are made of wood pulp.
Muruganantham became focused on building a machine to manufacture the napkins. He spent nearly three years trying to replicate the massive plants used by multinational companies like Kotex. They cost close to $25,000, but Muruganantham wanted to create something simple and cheap. The idea was to set up manufacturing units in villages like his, where women, mostly unskilled laborers, could use the machines. He hoped women could pool together money to set up the businesses, create employment, and generate a demand for sanitary napkins in rural areas.
"Why buy sanitary napkins from multinationals when we can make them at home and generate employment?" Muruganantham said.
His setup requires three machines. First, the raw material needs to be pulled apart in a machine that resembles a giant blender. Once the wood pulp is fluffed out, it needs to be compressed under a steamer. Finally, the napkin is wrapped with a translucent surgical material and sealed.
Muruganantham patented his machine in 2005 after winning an award from a technology institute in Chennai, India. He then set up a production unit in the city. His wife and mother returned after reading about his achievements in a local newspaper.
In 2009, Muruganantham received an award for innovation from the president of India. He then set up Jayashree Industries, and ever since, the social entrepreneur has been on a mission to educate women about feminine hygiene and persuade them to switch from rags to pads.
Lawmakers seem to have also woken up to the issue. Sanitary napkins are being sold in rural areas at subsidized rates, and a promotional campaign targets teenagers. "The government has currently invested $14 million in the project and can invest more," says Geetanjali Agarwal, a consultant with the Ministry of Health and Family Welfare.
Muruganantham spends much of his time guiding his clients on logistics--sourcing raw material, pricing, and employment.
At a TEDx talk at the Indian Institute of Management (IIM) in Bangalore in January 2013, a confident Muruganantham narrated his experiences with wit, candor, and humor. "I converted a problem into an opportunity," he told his audience, which consisted mostly of students.
"Have any of the boys here ever held a sanitary napkin?" he asked. The cheering crowd suddenly fell silent.
Muruganantham broke the awkward silence saying, "Don't worry, even your dean hasn't." The boys cheered him on; the girls giggled and looked embarrassed. Muruganantham often corners male heads of schools with the question when he is invited to speak. He assured the audience that he has yet to come across a man who has held a sanitary napkin in his hand. "Why the ignorance?" he said.
Muruganantham wants "menstruation" to be an accepted word; he hopes someday a sanitary napkin will not have to be "smuggled" out of a pharmacy. He hopes girls will stop dropping out of school in rural areas out of embarrassment.
Muruganantham concluded his TEDx speech by urging students to make a social impact. "The choice is yours: Do you want to exist or do you want to live?"
Jayashree Industries has created some 700 brands of napkins in 30 of India's states, with names like Mother Care, Softex, Relax, Touch Free, Be Free, Rosy, and Real Free. Dozens of sanitary napkins have regional names, printed in local languages so they can be accessed by customers who cannot read English.
According to Muruganantham, 7,000 people have been employed so far, and more than 3 million women have shifted from using rags to using pads.
Back in Tirupur, Indumati and her team have a visitor. Eunice Olsen, a Chinese actress and a member of Singapore's parliament, has flown in to meet the women and watch them work. Olsen is a potential customer: She hopes to buy machines to help set up a production unit in Cambodia, where she is involved in charity work. Like Indumati, Olsen, too, had seen a video of Muruganantham on YouTube, where he explains how his machines work.

She became an instant fan.
Olsen spends the whole day with the Mother Care team. The women use semi-automatic machines, so there is more labor involved. "Automatic machines are far more expensive. These machines are sufficient for our output," says Indumati. An automatic machine can produce 3,000 napkins in eight hours. A semi-automatic one churns out only one-third the number, but it can employ up to 10 people. The automatic machine can only employ four people.
Olsen is convinced about the project's feasibility and places an order for 400 napkins to take back.
The women say their husbands, who once refused to help them, are now proud of their industriousness. "My husband wants to know if he can help in the business in any way. I have made him my driver," says Indumati, laughing loudly over the sound of the compressor.