In Russia, Violent Videos Show a Startling New Form of Gay Bullying
In a sign of rising and aggressive homophobia, gay youths have been doused with urine and threatened with axes.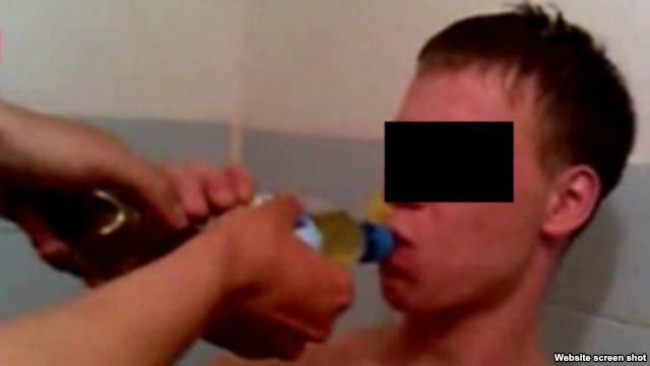 MOSCOW -- Some show youths being forced to drink urine, or having it poured over their heads. Others show young men being taunted with phallic sex toys, threatened with axes, and forced to carry wooden crucifixes.
These are just a few of the images contained in a series of shocking videos filmed by a nationalist gang in Kamensk-Uralsky, an industrial town of 175,000 inhabitants in Russia's Sverdlovsk Oblast near the Ural Mountains.
Some were shot after the group contacted their victims online and lured them into what they believed would be romantic liaisons with other young men -- in at least some cases with minors. Other victims were known homosexuals who were forcibly picked up off the street.
The stated goal of the videos was to "cure" these young men of their homosexuality.
Rights activists say such footage is a sign that homophobia in Russia is not only becoming more prevalent, but also more aggressive. Campaigners blame this on a controversial new law outlawing so-called "homosexual propaganda" that was passed unanimously by the Russian State Duma and signed into law by President Vladimir Putin last month.
Nikolai Alekseyev, founder of Gay Pride Russia, believes the law sends the wrong signals to society and in the minds of some legitimizes violence against lesbian, gay, bisexual, and transgender (LGBT) communities.
"They have been given carte blanche for all their actions by these laws," he says. "They have received signals from the highest officials in the state -- the Duma, the president -- that basically you can do whatever you want if it concerns gay people because they are not first-class citizens; they are second-class or even third-class."
Indeed, groups like the one in Kamensk-Uralsky -- which belongs to a Russia-wide network operating under the banner "Occupy Pedophilia" -- have so far enjoyed almost total impunity for their treatment of homosexuals. None has been prosecuted and the group even appears to have tacit official support. Edited versions of the gang's videos have even been broadcast on a local television station.
As the name suggests, Occupy Pedophilia began months ago as a movement against pedophiles, luring purported or potential sex offenders online and then filming and shaming them. But the group has since expanded its focus and is now targeting young homosexuals. Members of the group say they see homosexuality and pedophilia as morally indistinguishable.
Occupy Pedophilia was founded by Maksim Martsinkevich, an ultranationalist who has served a three-year prison sentence for inciting ethnic hatred.
Martsinkevich, who sports a mohawk and often appears bare-chested in his videos, founded Occupy Pedophilia and encouraged his followers to pour urine over their victims' heads to "cure" them of homosexuality.
In an interview with Life News, a website widely believed to have ties to the Russian security services, Martsinkevich explained his objectives: "I hope that these broken lives - and they really do have broken lives - will be an example to the generation growing up that they shouldn't behave like that," he said.
But the group has run into some unexpected resistance -- both locally and internationally.
Valentin Degteryov is a 43-year-old teacher and former army medic. A resident of Nizhny Tagil, 235 kilometers north of Kamensk-Uralsky, he saw one of the videos on television and looked into the group's activities. He told RFE/RL that he was appalled by what he discovered.
"These are the most abhorrent criminals in the entire territory of the Russian Federation," he said. "They are the cruelest, most vicious, and out-of-control bandits I've come across."
Degteryov, who is heterosexual, said he sent 70 appeals to various local, regional, and federal officials -- including the local police, the governor's office, the State Duma, and the Interior Ministry -- but nobody took any action.
Degteryov has also passed information about Occupy Pedophilia's harassment of gays -- including photos and videos -- to the Washington D.C.-based group Spectrum Human Rights. The graphic images, which were posted on the popular website Buzzfeed.com and elsewhere, have turned gay rights in Russia into a cause celebre in the United States.
U.S. writer Dan Savage, founder of the It Gets Better campaign, which combats the bullying of gay teens, has called for a boycott of Russian vodka. Others have suggested a boycott of the 2014 Winter Olympic Games in Sochi. A protest is also planned outside the Russian Embassy in Washington, D.C. on July 31.
As a result, Degteryov has now become a target himself. He says Occupy Pedophilia has made threatening phone calls, harassed his 72-year-old mother, and offered a large reward to anyone who beats him up.
---
This post appears courtesy of Radio Free Europe/Radio Liberty.