How Iron Chef Explains Vietnam
"Now that people have enough food to eat, they're looking for great food to enjoy."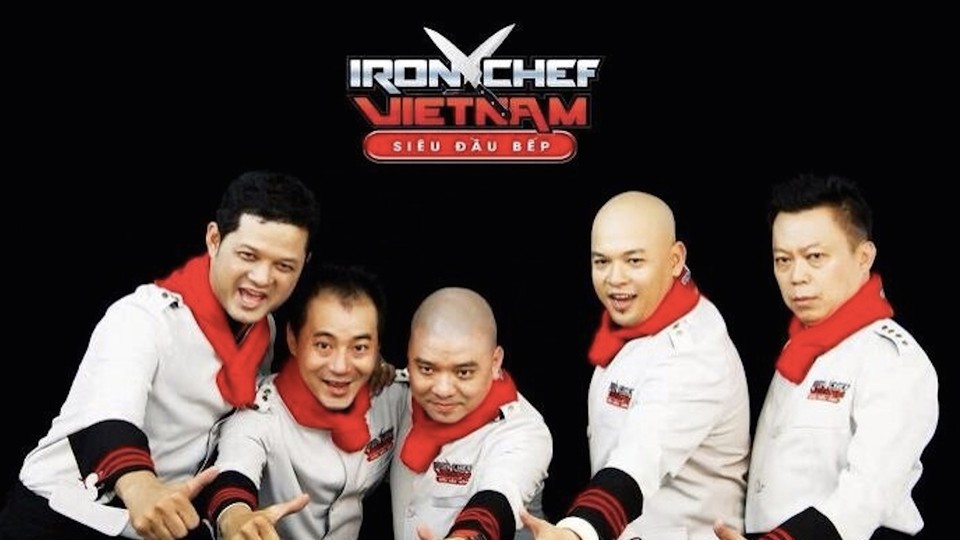 Iron Chef Vietnam
Earlier this year, Nguyen Van Tu became one of Vietnam's first Iron Chefs. But the chairman of the Hanoi Chefs Association, who has been cooking professionally for 18 years, is still not used to seeing his kitchen skills in the spotlight.
"Chefs used to be thought of as servants. Now we are celebrities," Tu told me in an interview. "Many people come up to me excited because they saw me on TV."
Sounding bemused, he added: "I am kind of famous now."
Many Americans might still think of Vietnam as a low-income nation struggling to recover from the 1960s war. But the recent rise of cooking shows there reveals a more accurate picture of this rapidly growing -- and Westernizing -- country.
First televised in 2012, Iron Chef Vietnam is now the top show in its time slot. Like the Japanese and American versions, the program presents a cooking battle between two chefs, each of whom prepare a meal using a specified "secret" ingredient. In recent episodes, these ranged from international foods like lobster and pork to uniquely Vietnamese specialties: gac (baby jackfruit), Ninh Thuan goat, and pho noodles. The program's popularity, mainly among urban women, indicates that audiences are increasingly open to gourmet dishes and international cuisine.
This, in turn, reflects growing affluence. After the Doi Moi ("Renovation") policy came into effect in 1986, allowing private enterprises to operate for the first time, the economy began to grow -- as did the middle class. Today, young Vietnamese women in cities spend about 18 percent of their monthly income on clothing; the number of debit cards increased by 34 times between 2003 and 2009. Vietnam even has its first billionaire: Pham Nhat Vuong, who made a fortune selling instant ramen in Ukraine and an even bigger fortune investing his noodle profits into real estate back home. "People are getting more affluent. They have more leisure time and interest in luxury goods and lifestyles," Chef Tu said.
Gone are the days when Vietnamese had to form queues to receive rice rations. Today, young people line up to buy Starbucks lattes and Whoppers at Burger King. McDonald's, the archetypal symbol of Westernization, recently announced that it would plant its first golden arches in Vietnam early next year.
To an American, these menu choices don't sound like luxuries. But for the price of one Frappuccino, you could buy four bowls of pho from a sidewalk vendor.
Le Hanh, Iron Chef Vietnam's executive producer, links the show's success to rising incomes and expectations. "Now that people have enough food to eat, they're looking for great food to enjoy," she told me.
In past years, the handful of upscale French and Italian restaurants in Hanoi and Ho Chi Minh City drew mainly foreigners. Recently, however, they have seen an increase in local clientele, many of whom are well-versed in the intricacies of Western cuisine. "Four or five years ago, Vietnamese people weren't very interested in wine," said Nguyen Xuan Hoang, who owns Pane e Vino, an Italian restaurant in Hanoi. "Now, they come in and want a glass of Merlot."
While luxury dining has been in vogue for several years, Iron Chef Vietnam is revolutionary for glamorizing those who work behind the scenes. "Before Iron Chef, working in a restaurant was considered very low-class. Now it's sexy," said Montreal-born restaurateur Don Berger, who owns the Hanoi bistro where Tu is the executive chef.
Berger himself has reaped benefits from the new prominence of celebrity chefs. This year his eponymous restaurant, Don's, was the only one in Vietnam to earn a place on the San Pellegrino 50 Best Restaurants in Asia list. Last season, he competed in one episode of Iron Chef. Although he lost by less than two points to Chinese rival Yu Zhi Da in a heated battle over lobster, when he spoke with me, Berger made a point of framing the experience of competing on Iron Chef as a strategic career move.
In a country where until recently most people struggled to make a living, the rise of celebrity chefs is especially revealing. Iron Chef's success not only illustrates growing affluence. It also demonstrates that competition to succeed as an individual -- once condemned as anti-Communist -- has become an ingrained part of Vietnamese culture.
When the country's revered founder Ho Chi Minh coined the phrase "Success, success, great success," he intended to inspire national unity. But today, the words have a far more individualistic -- even a capitalist -- connotation. Like Vietnam's nouveaux riches, Iron Chef contestants readily flaunt their success. "The best part was winning," Michael Huynh, another Iron Chef and a former New York City restaurateur, recently told me. His words -- echoed by Tu -- closely resemble what a Vietnamese banker said to a Le Figaro reporter: "In 25 years [since Doi Moi], we have won the freedom to make money."
This mentality would not be out of place in America or Europe. But in this ostensibly Communist country, it's a remarkable shift. Even the show's premise feels like a metaphor for capitalism. Two competitors each get equal resources. But there's no sharing, no helping one another. In the end, there can only be one winner.