Egypt's Series of Terrible Governments, in One Chart
Today's massacre continues a disturbing trend in the country since the fall of Mubarak.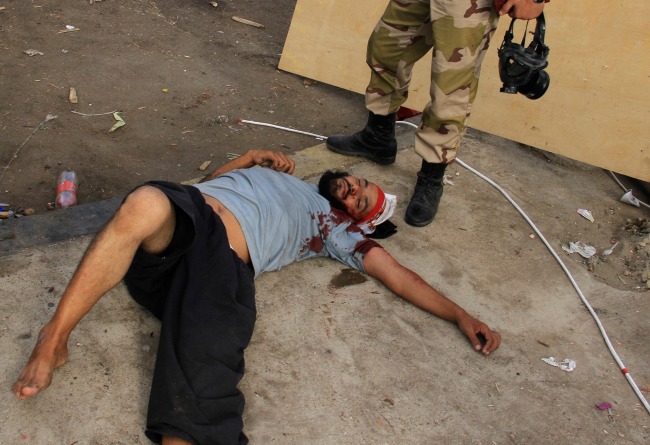 Egyptian security forces stormed two sit-in sites Wednesday, firing automatic weapons and using bulldozers to drive away protesters who support the country's ousted president, Mohammed Morsi. Casualty estimates varied widely: Egypt's Health Ministry said 95 people died, while the Muslim Brotherhood's Freedom and Justice Party put the toll at more than 2,000.
"Complete chaos, the police are attacking [protesters at] Rabaa from all sides, bullets & gas," wrote Egyptian journalist Bel Trew on Twitter. "Can't tell where the bullets are coming from, just keep ducking."
Among those killed were the 17-year-old daughter of a leading Islamist politician, Mohamed el-Beltagi, and at least two journalists.
Muslim Brotherhood protesters retaliated with violence around the country, at one point even pushing a police van off a bridge:
Now, the country's acting government has imposed a state of emergency for 30 days -- a move some say is likely to give the security forces broad powers of arrest.
This is the largest -- and most recent -- sign of a crackdown by Egypt's powerful military. In early July, the country's armed forces opened fire on a crowd of Muslim Brotherhood supporters, killing 51. Egypt-watchers say the military's handling of the Brotherhood opposition in recent months portends a difficult transition to a new, democratically-elected government. The Economist writes:
Others have noted that Egypt's recent history seems to be repeating itself in a tragic, twisted way: First, the country's liberals worked with Islamists to boot Mubarak, and now, they're supporting the military's ouster of Morsi and the suppression of the country's Islamists.
"The threat of extremism terrifies liberals, and thanks to years of authoritarianism, there isn't a culture of compromise, nor is there a strong democratic neighbor to guide them," wrote political science professor Sheri Berman in the New York Times last weekend.
The nonprofit group Freedom House has an even more grim assessment, writing that Egyptians have continued to suffer at the hands of successive governments since Mubarak's fall:
To offer a sense of the sad state of human rights in the country, the group has mapped all of the major crackdowns, clashes, and mass shootings on one timeline, spanning from the fall of Mubarak to the recent violence against protesters.
[Click to enlarge]
To me, the timeline reflects the deep divisions in Egyptian society, and how none of its major political players have done an adequate job of protecting -- or even acknowledging -- the rights of their opponents. It also underscores a point Berman made in her column: "Establishing a stable democracy is a two-stage process. First you get rid of the old regime, then you build a durable democratic replacement. Because the first stage is dramatic, many people think the game is over when the dictator has gone. But the second stage is more difficult."
At times like this, that "second stage" seems incredibly distant for Egypt.