Why Kerry Deserves Praise for the Peace-Talk Agreement
It's an important step for Middle East diplomacy, though his triumph may not last long.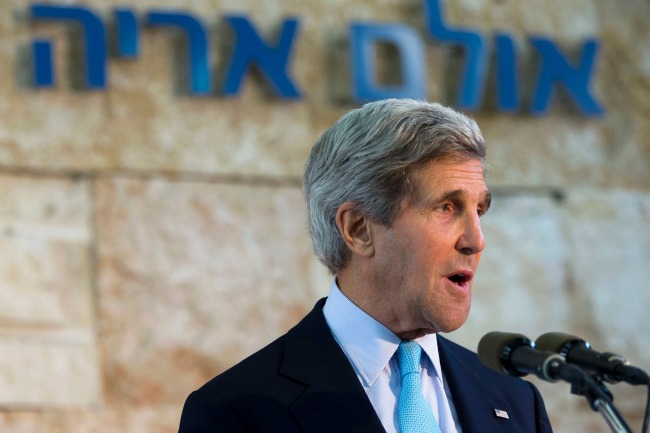 Secretary of State John Kerry's announcement that Israeli and Palestinian officials had "reached an agreement that establishes a basis" for the resumption of direct peace talks is a badly needed foreign policy achievement for the Obama administration.
The talks are not yet finalized and seem unlikely to eventually succeed, but six months of shuttle diplomacy by Kerry is the first example of successful American diplomacy in the Middle East in several years.
The many difficulties Kerry faced in simply getting the two sides to agree to the first direct talks in three years show how difficult the path ahead will be. The negotiations are so sensitive that he and other American officials refused to release details of the agreement.
"The agreement is still in the process of being formalized," Kerry said, "so we are absolutely not going to talk about any of the elements now."
On Saturday, the New York Times reported that a release of Palestinian prisoners was a key element of the agreement for talks. In his announcement, Kerry said that "if everything goes as planned" the talks would begin in "a week or so" in Washington.
Yuval Steinitz, the minister for strategic affairs, said on Israel Radio on Saturday that a prisoner release was part of the tentative agreement.
"There will be some release of prisoners," he said. "I don't want to give any numbers but there will be heavyweight prisoners who have been in jail for tens of years."
It was not clear when, or if, the releases would occur. Israeli officials said the prisoner release and even participating in the talks depended on a vote by the government's senior leadership. They said that vote would occur in the next several days. They also said the two sides had agreed that the talks would last at least six months.
Conservative members of Israeli Prime Minister Benjamin Netanyahu's coalition government are opposed to making any major concessions to the Palestinians. Other Israeli officials have insisted that any prisoner release occur in stages as an incentive for Palestinians to seriously negotiate.
For months, Palestinian officials have said a pre-condition for talks was the release of roughly 100 Palestinian prisoners in jail since before the 1993 Oslo Accords. They also demanded a public announcement by Israeli officials that the talks would be based on Israel's 1967 borders, including land swaps that would involve large Israeli settlements. Palestinians have also long demanded a freeze on Israeli settlement building. Israeli officials have said they would agree to no preconditions.
The details of the tentative agreement remain unknown but Abbas may have accepted an American assurance, not an Israeli one, that the talks be based on the 1967 borders. In exchange, Netanyahu may have agreed on a staged release of Palestinian prisoners.
After Kerry made the announcement in Amman on Friday, a senior State Department official suggested that both sides had compromised.
"I'll also give credit to President Abbas and Prime Minister Netanyahu," the official said. "They haven't made decisions like these before."
The announcement is a boost for Kerry. For months, commentators have ridiculed his efforts as hopeless. The initial agreement shows that after a decade of disastrous American military interventions in the region American diplomacy can be an effective tool in the Middle East.
As I've written before, Washington's options go beyond mounting massive military invasions or doing nothing at all in the region. Kerry's success shows that diplomacy can matter. What Kerry has achieved should not be exaggerated. The last direct talks between the two sides fell apart after several weeks in 2010 over a settlement freeze. Analysts say Netanyahu is unlikely to offer better terms than that of his predecessor, Ehud Olmert, whose negotiations with the Palestinians failed in 2009.
Palestinians, meanwhile, fear that the Israelis are engaging in talks to delay a long-threatened Palestinian drive to have the United Nations recognize them as a state. They also fear that the Israelis will also use the time to build more settlements.
Yet in a region of seemingly endless setbacks, a small step forward has occurred. Kerry will face criticism. He will likely be mocked for spending so much time on the deadlocked Israeli-Palestinian peace process.
But on Friday, Kerry was deservedly triumphant. For now, he deserves it.
---
This article also appears at Reuters.com, an Atlantic partner site.