What the Pope Meant by His Gay-Priests Comment
Francis' quiet push toward inclusiveness continues.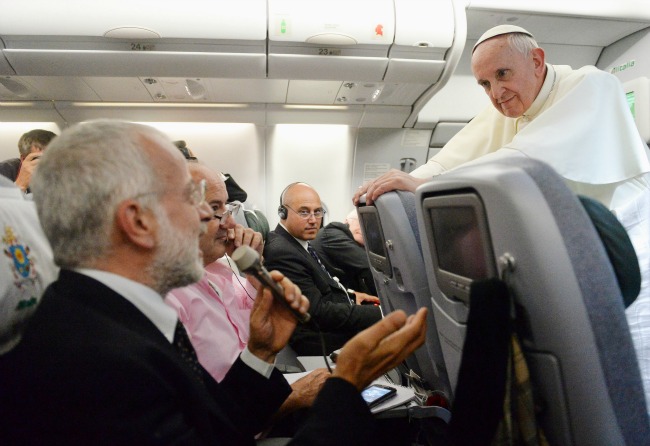 As has become his trademark, Pope Francis is making changes without changing anything.
On the papal plane on the way back from Brazil, the pope took questions from the press corps (a sign that John Allen, of New Catholic Reporter, suggests is indicative of Francis' good mood). Among many questions, he was asked about the power of the "gay lobby" in the Vatican and recent accusations of homosexual activity by Battista Ricca, the prelate of the Vatican Bank. The Pope took this opportunity speak more generally about homosexuality.
As has been widely reported, he said (in Italian), "Who am I to judge a gay person of goodwill who seeks the Lord?" He noted that the problem with the "gay lobby," if it exists, is not that these people are gay, but that they are a lobby (i.e. that the Vatican is a tangled web of pressure groups and rivalries). Finally, he chided the press for focusing on the alleged homosexual acts of Ricca, distinguishing them from the criminal matters like sexual predation on children. Criminals should be punished, but if Ricca sinned, then confessed, he must be forgiven. "When the Lord forgives," the Pope said, "the Lord forgets."
Francis did not just normalize Catholic perceptions on homosexuality; nor did he address the theological position on sex outside of procreative intercourse between married men and women. In reality, the only concrete matter he touched on was priests who are homosexual but celibate. Under Pope Benedict, as of 2005, Bishops were directed to treat homosexual candidates for the clergy with suspicion, denying a haven to gay Catholics seeking a religious life. But Francis seems to be suggesting that homosexuals are no more likely to betray their vows of celibacy than heterosexuals. That may have concrete policy implications within the seminary, as well it should.
But the potential in these remarks is striking. If orientation does not convey a pre-emptive judgment in the eyes of the Pope, then it becomes more difficult for Illinois Bishop Thomas Paprocki to call homosexuality "an intrinsic evil." It becomes more difficult for Catholic organizations to fire employees for being gay or to force them to choose between their work and their identity, as recently happened in Minnesota. Francis' impromptu remarks on the plane suggest a small, mild step towards equality.
And so we watch Pope Francis' incremental revolution continue. He changes tone without changing theology, and tone, when one is the leader of the Catholic Church, matters. It's easy to take these off-the-cuff statements too far, but homosexual acts, in the eyes of the Church, remain sinful -- as does all non-procreative sex. Similarly, a few months ago, Pope Francis did not say that atheists who are good all go to heaven. And yet, merely by making homosexuals and atheists not inherently the enemies of the faith, Francis brings about change.
A few days ago, the Pope had yet another impromptu conversation, this one not with the press corps but with young people from Rio de Janeiro in their cathedral. He spoke mildly and calmly, and he smiled. "What does he expect from World Youth Day?" he asked, then answered his own question. "I expect a revolution, not just here in Rio, but in all dioceses!" Francis is a man of universal vision who seems to be attempting to transform the Church and, perhaps in his understanding, subsequently the world. He does not need to call a great council or write new documents, because the fundamental doctrines of social justice and equality can be found readily in the writings of countless theologians, the Second Vatican Council, and especially in that document of radical inclusiveness -- the New Testament. All he has to do is activate them in the minds and hearts of believers and non-believers alike.