The Struggle for Egypt's Future Plays Out in the Pages of Its Newspapers
After the military deposed Morsi, they upended everything -- even the media.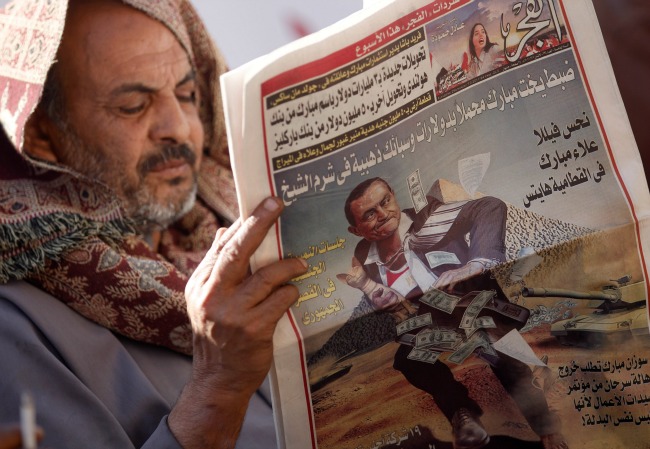 As chaos ensued on streets across Egypt this week, and speculation surrounding the whereabouts of ousted President Mohamed Morsi and his closest Islamist allies intensified, the country's national newspaper splashed an expose across its front page.
"The public prosecutor ordered the detention of Morsi for 15 days," Monday's Al-Ahram headline read in bold red print, followed by a series of scandalous subtitles claiming the detention is linked to a 2011 prison break. It also alleged the ex-president is suspected of espionage after calling U.S. Ambassador Anne Peterson from the wiretapped phone of Lieutenant General Abdel Fattah al-Sisi, the man responsible for his political demise.
Both sides vehemently deny the report. That same morning, the court summoned Al-Ahram editor-in-chief Abdel-Nasser Salama for questioning, on the basis that news of Morsi's imprisonment is untrue and unsubstantiated. In a statement on Monday, the prosecutor warned the media that those who publish false reports will face charges. IkhwanWeb, the Muslim Brotherhood's online newspaper, called the report "utter lies," adding that claims of spying are meant to intimidate those protesting "in support of the return of legitimacy."
Wrangling over the sensational headline underscores the biggest casualty of Egypt's two and a half year revolution: truth and accuracy.
Misinformation is rife -- a dangerous thing in the Twitter era. Opponents of politician and Nobel peace laureate Mohammed ElBaradei had already taken to the streets in outrage earlier this month after state news reported the former head of the UN nuclear watchdog was selected as interim prime minister. The news was picked up by the international press and spread quickly over social media. The report was then denied some hours later.
Nearly three weeks after a popular uprising by millions of Egyptians to remove Morsi prompted military intervention, violent protests continue in locations across the country, while private and state-owned media battle in words and accusations. It is the latest chapter in Egypt's tumultuous transition, in which opposing camps are feuding in newspaper pages over everything from Morsi's legitimacy, to whether or not the events that transpired constitute a military coup.
"If you look back at the history of Egyptian media, there are many instances where page editors try to break from the state's message and it really shakes things up every time that happens," said Adel Iskandar, an Arab media scholar at Georgetown University and author of the book Egypt in Flux: Essays on an Unfinished Revolution . "In this peculiar case, you've got a remnant of the Morsi regime still in place and trying to use whatever authority he has left to get a message out."
When Hosni Mubarak was ousted in 2011, tales of oppression were vented through narratives in Egypt's print and television media. Many had hoped that the Morsi government would encourage a more balanced discourse -- but those hopes were quickly shattered.
In August, the Islamist-dominated Upper House of Parliament, known as the Shura Council, named 50 new editors for the country's state-run newspapers, among them, many with loyalties to the ruling Islamist party. The move preceded a number of controversial decrees, including a declaration by Morsi granting himself judicial immunity, and the ratification of a new constitution in late December, despite the absence of any secular groups and religious minorities on the drafting committee.
"The Muslim Brotherhood's plan to control the state-owned media was clear," said Al-Ahram journalist and former Washington correspondent Ezzat Ibrahim, adding that the Brotherhood tasked certain journalists with "cleansing" state-run media of all "Nasserists [socialists] and liberals."
In the months that followed, a handful of talk show presenters were named as part of an investigation by the state for "violating journalist ethics in order to incite sedition and chaos and threatening national peace," according to a report in Al-Ahram. Among them were Lamees al-Hadidy, Amro Adeeb, and Youssef al-Husseiny, hosts of popular talk shows on private Egyptian channels CBC, OnTV, and Orbit, respectively. A number of secular veteran editorialists with state media were also reportedly forced into early retirement, sparking outrage from the country's Journalist Syndicate.
"There was a lot of pushback from these newspapers and institutions rejecting the new guys at the top," said Mokhtar Awad, an independent political writer and analyst of Egyptian affairs. "There was never a period of full control. The Brotherhood media institutions were not that powerful. Their sole mission was to insinuate that the other people -- CBC, and these other networks -- were all agents of the old regime."
Within hours of the coup, the military showed a keen interest in revamping the media. One of the first orders of business following the removal of Morsi was to purge the media of Muslim Brotherhood loyalists who could potentially fuel outrage among Morsi supporters. The managers of Brotherhood channel 25 were arrested hours after El-Sisi named Adly Mansour as interim president, and ultra-conservative Salafist channels al-Nass, al-Hifaz, al-Amjaad were also shut down. Al-Jazeera Mubasher Masr, the Qatari network's channel dedicated exclusively to news about Egypt, was temporarily closed -- its staff briefly detained -- amid accusations that the network was pro-Islamist. The move triggered a firestorm, even among many of Morsi's opponents, who claimed the military's abrupt targeting of Brotherhood networks was reminiscent of the intolerance practiced by former President Hosni Mubarak's regime.
The Al-Ahram board of directors also voted to sack its chairman, Mamdouh El-Wali, as well as editors Salama and Mohamed Kharaga earlier this month, saying that it is seeking to "rebalance its editorial policy" and meet the expectations of the Egyptian people.
But it's the Shura Council that has the final say in such matters. Since the military dissolved the Shura Council, the Morsi appointees still hold on to their posts for now.
"The new authority is the one in the driver's seat and, as has been the case with every generation of bosses to Al-Ahram and other state institutions, there's been a purging -- sometimes gradual, sometimes very abrupt," said Iskandar. "It's almost like an unspoken mantra that they support one side or another -- and do so so fervently, that it almost always comes with the subversion of truth and accuracy."