Reuters
On December 7, 2011, Nancy Okail, then the director of Freedom House's Egypt office in Cairo, was summoned to the Ministry of Justice for interrogation. Soon after she arrived, the prosecutor accused her of illegally receiving funding from a foreign government and interrogated her for seven hours. A few weeks later, a group of police officers stormed the Cairo offices of Freedom House, forcing the staff members into a conference room, taking their computer passwords and documents, and holding them incommunicado for hours.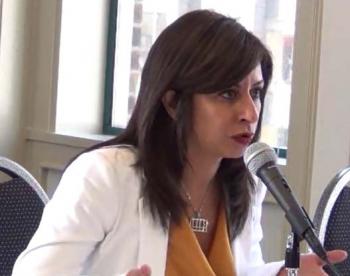 Nancy Okail (Freedom House)
---
The same day, nine other civil society groups were raided, including other American NGOs such as the National Democratic Institute, the International Republican Institute, and the International Center for Journalists. Three days before the raid, Okail had submitted the newly required documents that would register Freedom House with the Egyptian government, which was then ruled by the Supreme Council of the Armed Forces, the military body that temporarily took charge between the governments of Hosni Mubarak and Mohammed Morsi.
Apparently, Okail's registration documents hadn't been enough. In an effort to stifle civil society during the tumultuous transition time, the SCAF zeroed in on "foreign hands" and launched investigations into a broad swath of groups that received funding from abroad -- a category that included virtually every nonprofit group, Okail pointed out, since Egypt's weak economy couldn't support such organizations on its own.