The Malala Yousafzai Problem: Attacks Against Child Education Rising Globally
As the Pakistani teen schooling advocate prepares to address the UN today, a new report reveals that more and more children are prevented from learning.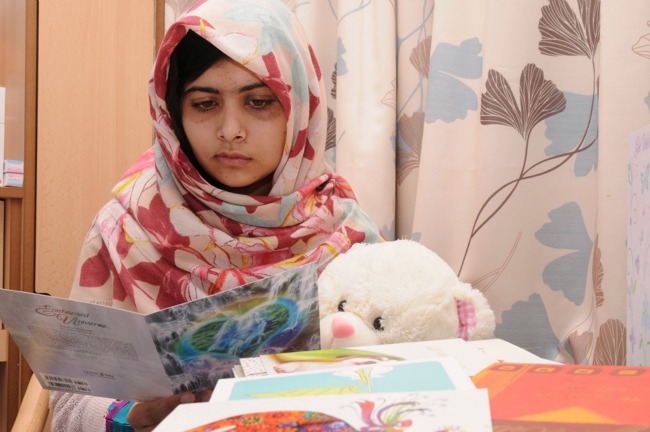 Reuters
One day last fall, a Taliban gunman boarded a school bus carrying Malala Yousafzai, a Pakistani teen who had spent years advocating for girls' education. He asked for her name, aimed at her head, and fired.
She miraculously survived and slowly recovered, and today, on her 16th birthday, Malala is scheduled to deliver a speech to the UN on the importance of education as a human right, particularly for girls.
But even as Malala delivers her message on the world stage, her cause is losing ground: Almost 50 million children around the world are being denied schooling, and the number of attacks on education is rising, according to a new report from the nonprofit Save the Children.
The group reports that there were more than 3,600 attacks on education in 2012, up from 1,600 the previous year. More than 70 percent of those were in Syria: Since the start of the war there, 3,900 schools have either been destroyed, damaged, or are being occupied for other uses, and 22 percent of the country's schools are now unusable. Other types of attacks on schooling include "killings, disappearances, abductions, forced exile, imprisonment, torture, maiming, rape and sexual violence and the recruitment of child soldiers."
The nonprofit offers some quotes from youngsters impacted by the violence:
"I saw that when they see a child they shoot without hesitating. In our school they aimed missiles towards us, and when the missiles hit the school it destroyed half the building...I was not at school that day, but I saw it on fire. I have seen many bodies - in the streets, thrown outside homes, and even in the river." -- Fadi, 9, Syria
Another 16-year-old described what it's like to watch your friends die in the classroom:
"Now students don't go to school, because when they did there were shells - I think they targeted the school because shells fell all across it. Students were leaving to go home in the afternoon when it started and two children died - they were both very young. When children are injured in Syria, they die. They die because there is no way to rescue them, to move them. We are surrounded. Even if we could have, there was nowhere to take them. So children died from these fragments of bombs."
Usually we hear about the Syrian conflict in terms of rebels, refugees, or chemical weapons. But Save the Children points out that before the war, Syria had almost reached universal primary and secondary enrollment. Numerous studies have linked educational achievement with a country's growth and prosperity. The news that almost one million school-age Syrian children are now prevented from learning reveals yet another tragic aspect to this war: An entire generation may never be able to gain the knowledge necessary to build a stable future for their country.