Space Aliens: A Reason for Israel's Prisoner-Release Deal?
Outraged Israelis lob jokes and conspiracy theories about the decision to free Palestinian inmates.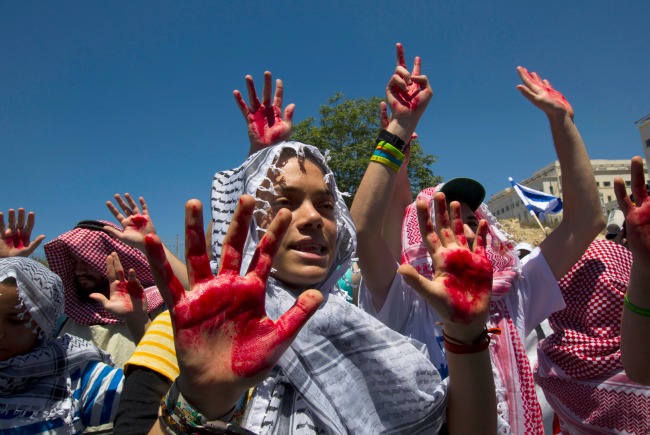 The Israeli cabinet cleared a major hurdle this weekend toward restarting Israeli-Palestinian peace talks, the first such negotiations in three years, by agreeing to release 104 prisoners convicted of attacks on Israelis.
The inmates, some of whom have been in jail for decades, will be released in waves as long as the talks progress.
The move was intensely unpopular among Israelis -- according to one poll by a newspaper there, 84 percent of Israeli Jews opposed the release. The pushback is in some ways understandable: The prisoners were convicted of, among other things, throwing firebombs at a bus carrying children, stabbing civilians, and killing border guards.
In some corners, Israeli Jews voiced their astonishment at the decision with dark humor. Writing at the Times of Israel, a blogger writing under the name Brian of London posted a list of potential "reasons" why Israeli Prime Minister Benjamin Netanyahu would agree to such a concession. Here are a few of the more off-beat suggestions, but click here to see the full list (as a warning, he includes some extremist claims.)
Space aliens are controlling his mind

Bad oysters

He lost a bizarre sex bet with (Israeli Justice Minister) Tzipi Livni

Medical marijuana

He's reviewed the cases of each of the murderers he plans to release and they've all become born again Christians (or Jews?) in prison who will renounce all violence in the name of Islam or the Palestinian cause

We'll never know, at least not for 50 years or more when they declassify a ton of stuff so why guess
Elsewhere, Israeli journalists aired conspiracy theories that the release was part of a larger bargain for greater U.S. help on Iran:
On a more serious note, Israeli Economic Minister Naftali Bennett, who opposed the release, warned, "In the past we freed a terrorist for a live soldier, later hundreds of terrorists for one live soldier, later terrorists for a dead soldier; and now -- a hundred terrorists for a process. We are showing the world that, for us, everything is negotiable."
But just as Israelis believe passionately that the prisoners are terrorists, Palestinians view them as heroic crusaders, and most see their release as essential to the renewal of talks. According to a recent Gallup poll, the prisoner release was the top precondition for peace negotiations for Palestinians, with 93 percent saying it should be a precondition and 99 percent saying it was a "top priority."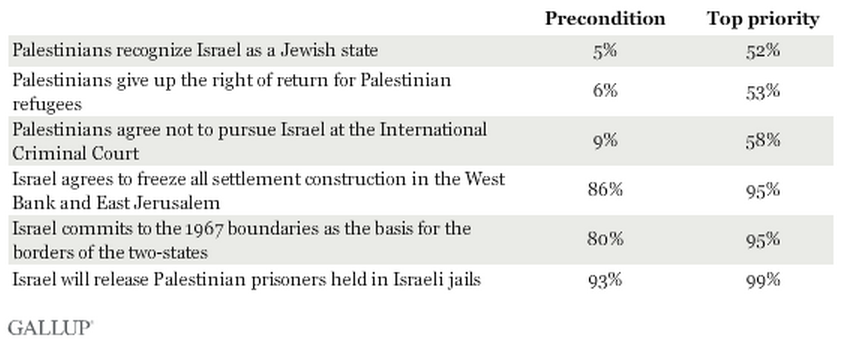 Palestinian Authority President Mahmoud Abbas had also refused to move forward without an agreement on the releases.
According to an account of the Israeli cabinet's decision from Haaretz, it was a painful decision for Netanyahu and the supporting ministers, but one they felt was a long-term boost for Israel on the international stage.
None of the ministers enjoyed voting in favor of a wholesale release of murderers of Jews. Some of the ministers said that Netanyahu hated every moment; he seemed to be suffering. But he, more than most of his colleagues, was very well aware of the high price that Israel would have paid in the international, legal, and economic arenas had the voting results been different.
"This moment is not easy for me. It is not easy for the ministers. It is not easy especially for the families, the bereaved families, whose heart I understand," Netanyahu said at the meeting. "But there are moments in which tough decisions must be made for the good of the country, and this is one of those moments."
The release also potentially paves the way for fewer restrictions on settlement construction, another contentious issue, later in the talks. By giving on prisoners, Haaretz writer Yossi Vertner noted, Netanyahu might have made it easier for the settlers in the long run.
There's no shortage of remaining obstacles to successful negotiations. There could be spoilers, writes the Middle East blogger Camel's Nose, like opposition from Hamas or even potential rocket attacks, not to mention the deep distrust between Israelis and Palestinians, the American pro-Israel lobby, and other, long-standing tension over things like borders and settlements.
More Israelis than Palestinians trust the Obama administration to help the two sides broker a fair deal, according to Gallup. Unfortunately, the prospect of such a deal comes with one of what could be a series of painful compromises for each camp. And judging from the harsh reactions from some Israelis before the talks have even begun, these trade-offs aren't likely to go over well back home.