Some Egyptians Want the Military Back, Despite Memories of Oppression
Many protesters see a coup or a return of the armed forces as a better alternative to Morsi, and they refuse to leave Tahrir until they get it.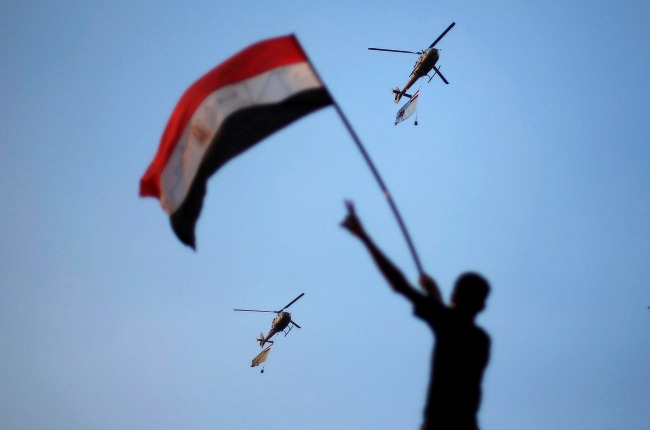 The pulsing whoosh of army helicopters above Cairo may herald President Mohammed Morsi's downfall.
Following an Armed Forces ultimatum giving Morsi 48 hours to "fulfill the people's demands" or face a military-enforced political roadmap for the country, Apache helicopters carrying Egyptian flags hovered high above Cairo. Protesters at the presidential palace and in Tahrir Square erupted in jubilation, chanting: "the army and the people are one hand." But while some Egyptians wept for joy at the news, others fear what Supreme Council of the Armed Forces (SCAF) intervention really means for Egypt.
The statement, signed by military leader Gen Abdul Fatah El-Sisi, has produced an air of hope but also panic among both the opposition and Muslim Brotherhood supporters.
"We are very concerned over the military's plan," said Nada El Kassas, an activist and a founding member of the Kefaya movement, a political coalition established in 2004 demanding Hosni Mubarak's ouster. "We've had bad experiences with the military ruling Egypt previously. We don't fully trust them." She noted the statement's vagueness as potentially just a theatrical political ploy to gain support but not really change anything.
Following the 2011 Egyptian revolution, SCAF took control of the country for an interim period until Morsi came to office following Egypt's first democratic election. While many in the opposition see military intervention, and even a possible coup, as a better alternative to Morsi staying in power, memories of SCAF brutally raping and assaulting women, detaining thousands of civilians, and massacring protesters, have been burned into the memories of many Egyptians who risked their jobs, their security, and their lives fighting for freedom.
"I saw them dragging girls," said Tahrir protester Hoda El Nabawi as she adjusted her hijab and held the hand of her young son even tighter. "I've seen protesters get massacred by SCAF." Even though Nabawi worries that military rule will feed -- and condone - violence, she said that she prefers SCAF rule over Morsi. She, like many protesters, vows to return every day to Tahrir until Morsi steps down.
Following mass protests on June 30, marking the one-year anniversary of Morsi's first year in office, at least ten ministers have reportedly resigned from the president's cabinet, including the water and tourism ministers. Sami Anan, the president's military advisor, also stepped down, in solidarity with opposition protesters. He urged the army to side with the people.
Before the military statement threatening intervention if Morsi did not meet protesters' demands, the rebel campaign "Tamarod" issued their own statement giving the president until 5 p.m. on Tuesday to step down and leave "power to Egyptian state institutions to prepare for early elections." If he refuses, civil disobedience will ensue, campaign members warned.
At least 16 people have died so far in clashes between the opposition and pro-Morsi protesters. And with the military's statement comes rising anger from Muslim Brotherhood supporters, who say that Morsi was democratically elected and cannot legally be overthrown.
"Egypt voted, and they elected Morsi," said Egyptian-American Hiba Attia at an Islamist rally in Nasr City on June 30. "It's like the U.S. throwing Obama out of office after one year. That's not democracy."
Some protest-weary Egyptians fear that neither Morsi nor SCAF will create an environment of true democracy. "The protests are awful," said a young man who sells books in Tahrir and asked not to be named. "Everything is messed up. No matter what I do, the government will always do what it wants to do. It doesn't look like it's going to get any better." The only hope he has is with God, he said.
But Ali Selit, who recently finished mandatory military service and is now looking for a job, sees the current political situation as a step in the right direction." We are seeing new people in the streets, many who have never protested before," he said next to the presidential palace as thousands of protesters chanted "Masr! Masr!" (Egypt! Egypt!) to the sound of beating drums.
"The Arab Spring is a work in progress," he said. "It's not just a spring. It will go on for years. We are in it for the long haul. We are a new Egyptian generation asserting our rights for a free and equal society."
Kassas, who has been trying to rally her fellow Egyptians to demand democracy for nearly ten years now, says she sees June 30 and its aftermath - however daunting it may be - as Egypt's defining moment.
"Now, people are aware that they can play a role in their destinies," she said with pride. "We have a choice - and we're making it."