Russian Orthodox Video Game Invites You to Whack Pussy Riot With a Cross
Score enough points and get all of your sins wiped clean in Russian heaven!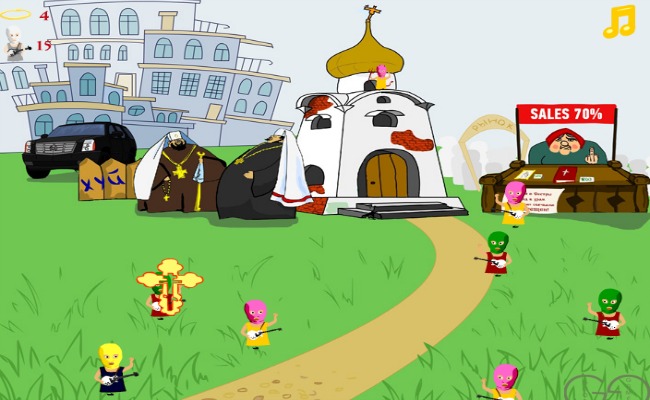 A video game was showcased at a recent Russian Orthodox youth festival in Moscow that encourages players to "kill" members of the feminist punk-rock collective Pussy Riot.
In the game, "Don't Let Pussy Riot Into The Cathedral," players use an Orthodox cross to snuff out the balaclava-clad women before they enter a domed white church.
Throughout the game, Pussy Riot's "Punk Prayer For Putin," which some of them performed in Moscow's Christ the Savior Cathedral in February 2012, earning three of them jail terms, plays in the background.
When the Pussy Rioters enter the church in the game, they reappear atop the church with horns on. The building gradually falls into disrepair and ominous clouds gather.
A version of the game, which used the name "Inquisition," was posted online late last year.
Neither the Orthodox Church nor any representative of Pussy Riot has commented publicly on the game, which was unveiled on July 11.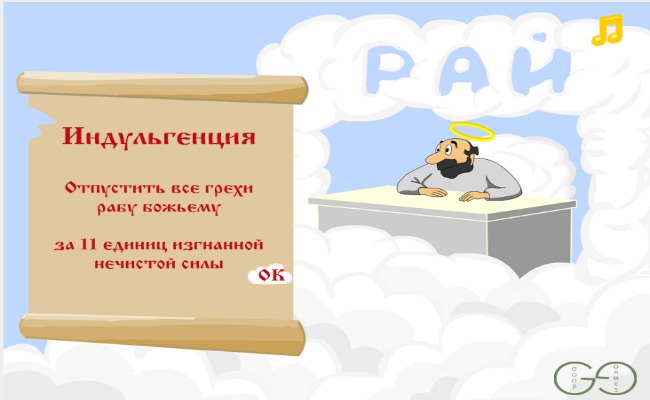 "Don't Let Pussy Riot Into The Cathedral" screen grab
In August 2012, three members of Pussy Riot -- Nadezhda Tolokonnikova, 23; Maria Alyokhina, 25; and Yekaterina Samutsevich, 30 -- were sentenced to two years in prison for performing their "Punk Prayer," in which they called on the Virgin Mary to free Russia from President Vladimir Putin.
Samutsevich was released on probation in October.
The Pussy Riot case has led to controversial legislation aimed at protecting the "religious feelings" of believers. Putin recently signed an antiblasphemy law under which offenders may be sentenced to up to three years in prison and fined up to 500,000 rubles ($15,000) for offending the religious sensibilities of Russian citizens.
Aleksandr Davydkina, a representative of the youth festival where the game was unveiled, told Interfax that it is aimed at attracting young people to the church.
"There are young people who do not have a relationship [with religion] and do not wish to talk about the church," Davydkina said. "But when they see this game, we have the chance to talk to them about what is happening at the church and why it is necessary."
In August 2012, Magnus Vulp, an Estonian graphic designer, launched the video game "Angry Kremlins," in which players seek to free Pussy Riot from captivity. In that game, players hurl the heads of Russian officials like Putin and Patriarch Kirill at a cage holding members of the band.
---
This post appears courtesy of Radio Free Europe/Radio Liberty.