NSA Spying Rankles Privacy-Loving Germans
Some say the PRISM scandal may hurt an important trade agreement that's being negotiated between the EU and U.S.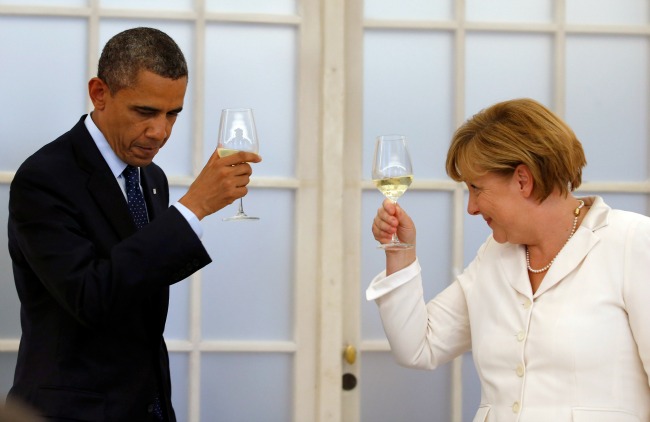 As President Barack Obama delivered a speech at Brandenburg Gate a few weeks ago, dozens of protesters voiced outrage over the U.S. government's global surveillance program, holding signs reading, "Yes We Scan."
And since then, things have gone from bad to worse -- especially given revelations that Germany's intelligence services have been working in close cooperation with their American counterparts throughout the NSA's vast spying system.
Amid a deepening scandal, Chancellor Angela Merkel's government has watched the growing furor with dismay over the past month, as the demands for answers have reached a fever pitch.
"The German government has a duty under international and German law to protect their citizens against such schemes, and they have to make clear that they're actually doing that on an international level," said Alexander Dix, the Berlin Commissioner for Data Protection and Freedom of Information.
The controversy swirling around Merkel has boiled down to a fundamental question: who knew what, and when. As news broke in early June that the NSA is tapping into millions of phone calls, emails, and text messages, and that Germany is one of the agency's targets, Berlin responded with measured surprise, promising to investigate the extent of the NSA's activities on German soil.
But as was reported last weekend, Der Spiegel magazine found that the country's federal intelligence service, the Bundesnachrichtendienst, or BND, used software provided by the NSA and even flew representatives to Washington in April for guidance and advice from a specialized unit there.
At her final press conference before heading into the summer break last Friday, Merkel stuck to her claim that she first learned of PRISM's reach in Germany through media reports. She said her coalition government still didn't have all the details it needed on the affair.
"It's not my job to familiarize myself with PRISM," she said flatly, adding that Germany is "not a surveillance state."
But the BND is directly subordinated to the chancellery, and Merkel's line of defense is wearing thin.
"I can't believe that the chancellor, six weeks after the first revelations, still has not looked into what the federal intelligence services actually do," Thomas Oppermann from the opposition Social Democrats told German media.
"I'm the boss. I know nothing" said a headline in the national daily Sueddeutsche Zeitung.
Hans - Christian Stroebele, a parliamentarian from Germany's Green Party, said the government's reaction makes it clear that there was knowledge of PRISM before media reports broke.
"With such a dramatic case of espionage, where even diplomatic representatives are affected, the government would have reacted in a much more dramatic and intense way than it has," he said.
The plot continues to thicken for Merkel. Her interior minister, Hans-Peter Friedrich, was roundly panned in the media and public after returning from high-level meetings in Washington -- intended to clarify the PRISM program -- empty-handed. Instead he praised the American intelligence services, arguing that safety is a "super right," with priority over privacy.
"It was just window dressing," said Stroebele of the visit. "Mr. Friedrich acted as if he couldn't work up the courage to ask his American counterparts hard-hitting questions."
During President Obama's visit to Berlin in June, he argued that PRISM has helped thwart numerous terrorist attacks and keep Americans and Germans safe -- something Merkel has echoed. But that approach has done little to soothe the fears of the public.
"I'd really like them to show us exactly which terrorist plots were actually stopped because of this," said Kathrin Holighaus, a photographer and graphic designer in Berlin. "The majority of the time, (spying) ends up implicating innocent people who are under suspicion even though they've done nothing."
That is a sentiment many Germans share. From the gestapo to communist East Germany, many Germans share painful memories of just how data can be abused, and they have a deep aversion of surveillance of any sort. Germans in then-West Germany were the first in the world to enact a national data protection law in the 1970s.
Part of the problem with PRISM, say analysts, is that the scale and the methods the NSA used simply don't comply with German law, even though the spying included German citizens. The BND, meanwhile, could not employ similar methods if it wanted to.
Under German data protection law, the BND is not allowed register and store communications data on a wide scale, or randomly tap phone conversations. Instead, they have to use sensors and look for keywords within phone and email conversations -- but even there, they are only allowed to scan 10 percent of international communication.
"That may sound quantitatively different, but it's also a qualitative difference because the German intelligence service are not allowed to store it all," said Alexander Dix.
Merkel, herself a child of communist East Germany, is well aware of Germans' concern over data privacy, and she for the first time pushed back at Washington last week, calling on her American counterparts to respect German data privacy law on German soil.
But analysts say Merkel may have stopped short of saying more -- of demanding that Washington shut down any surveillance involving Germans or Europeans -- because she knows her counterparts across the Atlantic won't heed her calls.
"Since the Americans aren't going to come up with some great political gestures, the German government is careful to not demand things it is not going to get, which would be embarrassing in an election year," said Henning Riecke, a specialist in transatlantic affairs at the German Council on Foreign Relations. "The Americans don't feel bad about this. They don't feel caught in something they shouldn't have done, there's no feeling of having done something unlawful."
Dubbed the "Teflon chancellor," Merkel has enjoyed impressive poll numbers throughout her first two terms in office, even despite the European debt crisis and unpopular international bailouts. Yet with elections looming in September and a third term at stake, it seems the PRISM scandal has finally managed to chip away at the chancellor's steely armor.
In a recent poll conducted by Infratest Dimap for German public broadcaster ARD, more than two-thirds of Germans say they are unsatisfied with the government's handling of the scandal.
That is why Merkel is refocusing her efforts on her European counterparts, pushing for an EU-wide defense of data privacy. The union is already working on a draft regulation to defend against private companies using Europeans' data, but the PRISM revelations have prompted calls for even greater protections.
However, Germany itself has had only marginal success trying to get companies like Google and Facebook to adhere to privacy rules. Varied legislation across states within Europe has meant data protection harbors being set up where it is weakest.
In April, a court ruled that German data protection could not apply to Facebook because it is based in Ireland and has no data processing taking place on German soil. Both Google and Facebook were criticized for their "uncooperative attitude" in May by the German interior minister.
Merkel and her European allies do have one trump card, though. The Obama administration is keen to push ahead with the Transatlantic Trade and Investment Pact, or TTIP, a deal the president announced during his most recent State of the Union address. But with the NSA scandal brewing, some EU officials are calling for a halt on negotiations in the wake of the PRISM scandal -- especially as rumors of possible business espionage swirl.
"People want to rest assured that there is a level playing field when they come to the table in terms of negotiations because they fear that maybe all of their patents and R and D have already been tapped into," says Sudha David-Wilp, a senior program officer at the German Marshall Fund of the U.S.
Meanwhile, in Germany some are coming to the realization that, with Google and Facebook already accessing their data, there is little that can be done when it comes to a sweeping international surveillance program like PRISM.
"It's hard to build a wall around Germany because this a global society; information sharing is a globalized affair," said David-Wilp. "Germans can and should demand a level of privacy, but there is a certain balance between privacy and security, and the intelligence services cooperate on a worldwide basis."