No Turning Back: Inside Egypt's Coup
Many Egyptians claim they were "suffocating" under Morsi, others say his ousting was a conspiracy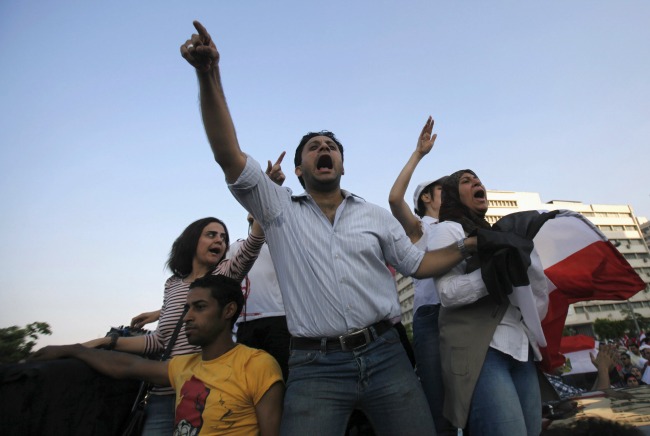 CAIRO -- As army leader Gen. Abdel Fattah al-Sissi stood at the podium, Egypt held its breath. From remote villages in Upper Egypt to seaside cafes in Alexandria, televisions and radios broadcasted one man's voice. His words would change the course of Egypt's history.
Following Sissi's powerful declaration that Morsi was no longer the president of Egypt, some supporters of the democratically elected leader say their revolution was sabotaged. But for many, today marks the day their revolution was restored.
"We were suffocating under Morsi," said Assad, who took his family to demonstrate at the presidential palace in Cairo. "Now we can breathe."
In his speech to the country, Sissi detailed a transitional plan. Adly Mansour, chief justice of Egypt's Supreme Constitutional Court, will be sworn in on Thursday as Egypt's interim president, and the controversial constitution imposed by the Muslim Brotherhood dominated parliament will be temporarily suspended. He said that early elections will be planned and a committee made up of all political factions will be formed to discuss amendments.
A sea of Egyptian flags fluttered in the night sky at the presidential palace, the smell of gunpowder from hundreds of fireworks lingering in the air. A pulsing drum beat led the crowd as they chanted, "the people have overthrown the regime!"
Morsi, who assumed office a year ago, has been accused of igniting sectarian tensions, mismanaging the country's already dire economic state, and leading a "Brotherhoodization" of state institutions.
"The Muslim Brotherhood is a terrorist organization," said Kalaf Atta, a protester who sat on a dusty car, taking a break from the night's festivities. "Morsi is a terrorist. He should end up in jail."
But some Egyptians, mainly those who support former President Morsi, say that Egypt's first democratic government has been wrongfully and illegally overthrown, threatening the revolution's founding principles.
Mohammad Abdel Ghani, a Morsi supporter who headed to the Islamist demonstration in Nasr City, a neighborhood in Cairo, after the army's statement, was devastated by the news. "People are crying here," he said on the phone. "Some have left and others are vowing to stay and continue protesting."
Ghani believes the military ousting of Morsi is a conspiracy that the armed forces have been planning since his election. "Morsi was never really president," he said, "They never allowed him to be."
As the 48-hour army ultimatum ended, Morsi offered to form a consensus government as a way to solve the crisis threatening his leadership, but to no avail. Hours before the military statement, the army began mobilizing around demonstration areas. In Nasr City, where Morsi supporters have gathered to stage their own demonstrations in recent days, the army's presence was viewed as an act of betrayal.
Immediately following Sissi's speech, three main Islamic channels were taken off the air and the Ministry of Interior announced the arrest of scores of religious media employees in Cairo's Media City for pending investigations. Arrest warrants for around 300 members of the Muslim Brotherhood have reportedly been issued.
While Cairo's streets are erupting with cheers and fireworks, the threat of violence is still very real. Over the past few days, deadly clashes between opposition protesters and Morsi supporters have erupted across the country.
While some international leaders, like Saudi King Abdullah Bin Abdul Aziz, commended the ousting of Morsi, the transfer of power has left the United States in a sticky situation. U.S. federal law stipulates that non-humanitarian aid - both military and economic - cannot be given to countries where a military coup has assumed power over a democratically elected government. This could threaten around $1.3 billion in annual American military aid, and $250 million in economic aid to Egypt. But the Egyptian military maintains that a coup has not taken place because the armed forces will not be ruling the country.
The road ahead for Egypt will no doubt be rocky, but for now, the feeling among many Egyptians is one of profound hope.
In one Cairo suburb following Sissi's speech, Egyptians ran out of their apartments crying tears of joy, pouring into the streets with delight, and a popular revolution song, "Al Medan," written about Tahrir Square, came on one car's radio.
"No turning back," the singer's voice floated down the street. "Our voices are finally heard and the dream is no longer out of our reach."