Is the British Royal Family Worth the Money?
The monarchy appears to bring in as much in tourist revenue as they cost, at least in years with familial events like births.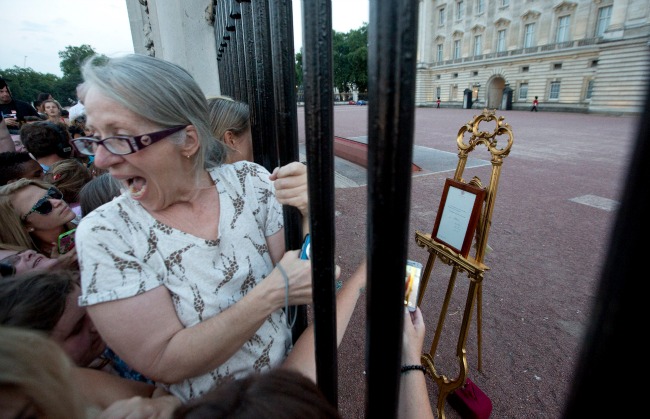 There's always a moment after major events involving the British monarchy -- Jubilee, wedding, birth, what have you -- when sort of a collective royal hangover sets in. We laugh as we see news stories about our over-the-top fascination with a seemingly trivial development (It was the hottest day in seven years! This lady's cake melted!) We wonder why it is the royal family captivates us so, anyway.
Some people go a step further, arguing that we shouldn't just pay less attention to the majestic goings-on, we should do away with the non-democratically-elected head of state altogether -- even if their role is largely ceremonial. Over at Gawker, Hamilton Nolan published an impassioned plea for the monarchy to end, likening it to the mafia and saying it siphons needed revenue away from millions of unemployed Britons, or any number of other, more worthy causes.
"For the sake of all that is holy, please allow this Royal Baby to grow up free of the clutches of this crime family, lest its innocence be lost," he wrote.
Calls for the U.K. to abolish the monarchy and become a republic are ever-present, but they tend to tick up during big, royal-centric events. Still, about 80 percent of Britons approve of the monarchy fairly consistently.
And that may be for good reason -- there's at least some evidence that the monarchy brings in heaps of tourism revenue.
According to Buckingham Palace, sustaining the royal family costs Britons 53 pence, or about 81 cents, per person, per year. The total came to about 33.3 million pounds (about $51.1 million) for 2012-2013, according to the Palace, up from 32.4 million pounds the previous year.
However, the awesomely titled Sir Alan Reid, Keeper of the Privy Purse, noted that figure is actually down by 24 percent from 2008-2009, for what it's worth.
But some British republicans -- those who want to abolish the monarchy -- say the actual cost is much higher, once you factor in things like security detail and the cost of preparing for royal visits. Their figure is about 200 million pounds, or $307 million.
The group Republic broke it down to include things like 3.9 million pounds for travel, half a million pounds for Prince Charles and Camilla Parker-Bowles, and some 400,000 pounds for public relations.
The royal couple's bundle of joy will drive up that cost, of course, as babies tend to do. The price of delivery at the duchess's birthing suite in St. Mary's hospital reportedly costs 10,000 pounds, or about $15,300. "Of course, that doesn't include the reported pre-delivery yoga classes at Kensington Palace or visits to private birthing coaches," the Christian Science Monitor noted.
But there's an upside to shelling out for a tradition that some think should have gone the way of the penny-farthing or the Puffing Billy.
The British tourism agency has reported that the royal family generates close to 500 million pounds, or about $767 million, every year in tourism revenue, drawing visitors to historic royal sites like the Tower of London, Windsor Castle, and Buckingham Palace. The country's tourism agency says that of the 30 million foreign visitors who came to Britain in 2010, 5.8 million visited a castle .
Tourism is the third-biggest industry in the U.K., the tourism board claims, and supports about 2.6 million jobs -- or about one in 12.
Baby Cambridge is set to boost consumer spending even more, according to Britain's Center for Retail Research, to the tune of $383 million. (Commemorative tea cups or iPhone covers, anyone?) The chief U.K. economist at the consulting firm IHS Global Insight also predicts that the birth would have an "overwhelmingly positive" economic impact.
What's more, a British firm called Brand Finance, which evaluates "intangible assets," said the royal wedding alone boosted London's economy by 107 million pounds ($165 million) through "accommodation, travel, and nightlife," even while factoring in the economic drag of time off work.
Judging solely from those statistics (which obviously vary in their methodology), it does seem like the monarchy pays for itself, at least in the years that feature familial mega-events.
Now, Nolan and others argue that tourists would continue to flock to attractions like Buckingham Palace and the Tower of London even if the royal family no longer existed (they still sometimes live in the Palace, but not the Tower). And Nolan says the royals don't put in enough effort to earn their -- admittedly really lavish -- income.
The Royal Family does not "work" for that money. The Royal Family does not sit inside Buckingham Palace from 9-5 every day, posing for pictures with tourists for $25 a pop. And even if they were, we certainly wouldn't pay them $50 million a year for that.
To be fair, the royals do "work," in a sense: they put on charity events, they travel to meet with foreign dignitaries, and occasionally they have military duties (William is in the Royal Air Force) -- but the question of how much they should be paid for that is a different debate. And most countries spend on ceremony that isn't strictly essential, which is why American kids roll eggs down the White House lawn every year, to name just one example.
Leaving that aside, I agree that it's unfair to prop up an uber-rich family in a world full of deprivation. But I'm skeptical that England's attractions could still draw the same numbers of tourists without the physical monarchs in place. Sure, people would still visit African savannas if they didn't have elephants, but probably not as many, or as often. Similarly, the royal family acts as a sort of charismatic megafauna for the entire royalty-tourism ecosystem.
That doesn't necessarily mean that the Crown is a legitimate institution, just that it's a significant part of what makes England an international destination. Without the royals, Buckingham Palace would be just a less-spectacular Versailles. With them, we have the closest thing we can get to a fairy tale, or if you prefer, an alternative historical universe, one where the traditions Americans abandoned from our start live on. Tourists have paid for sillier things.