Is Sexism the Reason Julia Gillard Was Unseated?
The fiery Australian female prime minister was ousted by Kevin Rudd, and some think her gender might have played a role.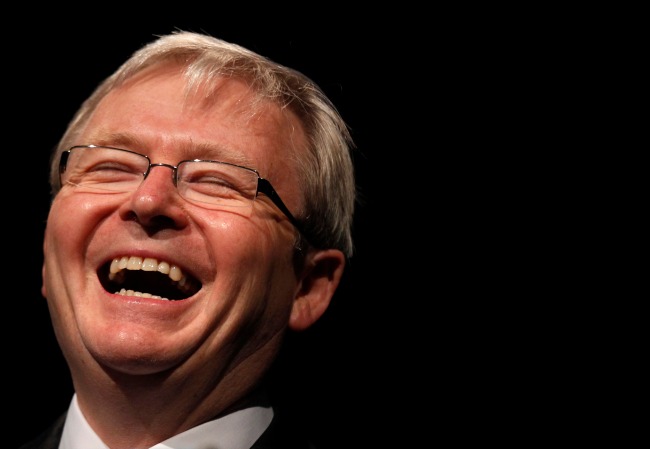 In a classic sixth-season episode of The Simpsons, Bart is indicted for fraud in Australia after a long-distance collect call to a home in the outback sticks its residents with an astronomical phone bill. Bart's mistake, we soon learn, was to prank the friend of a member of Parliament, who appeals to his prime minister for help in punishing the cheeky American. Australia's head of government, a middle-aged bogan who answers to "Andy," is introduced floating in a cow pond, nude and sipping a can of Foster's.
If this is the only image most Americans have of Australian politics, they can hardly be blamed. Like a sun-baked, antipodean Canada, Australia has flown below the radar thanks to its own success and constancy. It's a nation that breeds odd wildlife and imperceptibly foreign Hollywood stars, but little in the way of Machiavellian intrigue. If you've read anything at all about Canberra, Australia's remote capital, it's probably that the planned seat of government is pleasantly dull.
But if you didn't catch the events in Canberra last week, you missed a political drama worthy of House of Cards, in which an unexpected last-minute shift in allegiances allowed a former premier to retake the executive reins from his predecessor.
The winner of this struggle, at least for the moment, was Kevin Rudd, a Twitter-loving Mandarin speaker who had previously served as prime minister from 2007 until 2010. The victim of the coup - or "spill," if you speak Australian - was incumbent Julia Gillard, who led the successful effort to unseat Rudd in 2010, and is also the first woman to serve as Australia's chief executive. Both politicians are members of the ruling Labor Party, and their contest was determined based on which would be best able to hold off the opposition Liberals in September's general election.
"Liberal," in Australia's political lexicon, refers to those of the classical variety (centrist economic liberalism), which explains why Tony Abbott, the Liberal Party leader, turns out to be a conservative as well as - pause again to consider the context - an ardent anti-republican, meaning he wants to preserve the country as a constitutional monarchy. Today, Abbot may be best known outside Australia as the target of a broadside Gillard delivered last October on the floor of Parliament, a scathing indictment of misogyny in Australian politics that went viral:
With Rudd having unseated Gillard, such fireworks are less likely to recur in the general election. But some in Australia have questioned whether the same attitudes that Gillard deplored last fall also played a role in her downfall, with a British correspondent describing casual racism and sexism as "common" in Australia, and noting that criticism of Gillard always had "distinctly sexist tinge, although it was complicated by the fact that she was also unmarried, had no children, and was an atheist."
Not long ago, none of these events would have aroused much interest in Washington. But as the U.S. rebalances attention and resources towards the Indo-Pacific, Australia - long a reliable ally - is poised to become a key player in American regional strategy. This development has left one expert marveling at "the sudden vogue for Australian foreign policy" overseas. Doings in Canberra may still be less fun than "Down Under" stereotypes, but their resonance will be felt beyond Australia's shores.
---
This post is part of a collaboration between The Atlantic and the Johns Hopkins School of Advanced International Studies.