In the Wake of Clashes, Some Egyptians Lose Faith in the Armed Forces
"We are stuck in the middle between military and fundamental authoritarianism."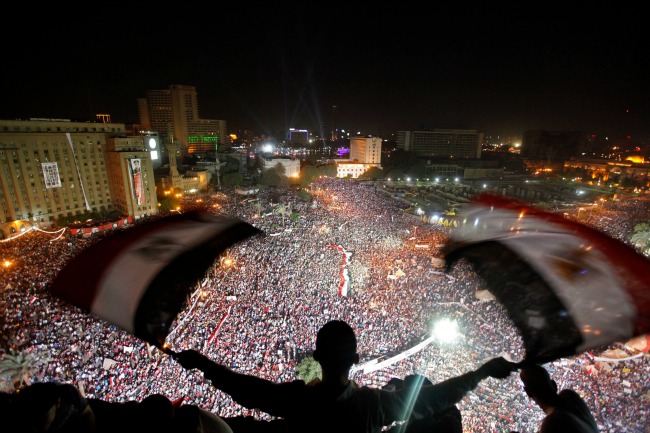 CAIRO -- When General Abdel Fattah al-Sisi, head of Egypt's armed forces, called for the military's supporters to take to the streets on Friday and provide him with "a mandate to confront possible violence and terrorism," unrest seemed inevitable.
Hundreds of thousands of protesters heeded Sisi's call, converging on Cairo's Tahrir Square, waving Egyptian flags, clambering on tanks for photo opportunities, and cheering wildly when military helicopters buzzed the crowd.
Meanwhile, across town, security forces fired on counter-demonstrators in what became the worst mass killing since Hosni Mubarak's dictatorial regime was overthrown in 2011.
Supporters of Egypt's first democratically elected president, Mohammed Morsi -- who was ousted by the military on July 3 -- massed at Rabaa al-Adawia mosque to demand his reinstatement.
Demonstrators moved out from the mosque, which has been at the center of a sit-in since Morsi was removed from power, and attempted to march across nearby October Sixth bridge. There, eye witnesses say, they were met by security forces backed by armed men in civilian clothes, who attacked them with tear gas and birdshot. Later, they used live fire. The intent appeared to be to use lethal force against protesters reported to be armed with little more than rocks, fireworks, and spent tear gas canisters.
At least 74 were killed, according to Human Rights Watch, while doctors who had treated the casualties in the makeshift hospital behind the mosque put the toll at as many as 120 and hundreds more injured. It was the second mass killing within a month after 51 Muslim Brotherhood supporters were killed in the July 3rd Republican Guard's club shooting.
At the makeshift field hospital behind Rabaa mosque, doctors said that most of those killed died from bullet wounds to the head, neck, and torso. Dr. Mohammad Elatfy, who lives and works in Manchester, was in Cairo visiting family when he saw an appeal for doctors on local television. He arrived shortly after 5 a.m., when the casualties were beginning to overwhelm the underequipped facility. "I treated one man shot in the leg, one in the chest and one in the neck. There were three dead one the floor in front of me, with bullets in their heads," he said. "I'll never forget it... These scenes of the blood will turn a huge number of people against Sisi. I'm sure of that."
Response from the international community has certainly been damning. In a statement, U.S. Secretary of State John Kerry voiced concern about the violence and said Egyptian authorities had "a moral and legal obligation to respect the right of peaceful assembly and freedom of expression."
British Foreign Secretary William Hague condemned the use of force and called on the Egyptian authorities to respect the right of peaceful protest and to "cease the use of violence against protestors, including live fire, and to hold to account those responsible."
The attacks came at a time when suspicion about the military's behavior was already rising.
On Thursday evening in Alexandria, Hakeem Abdelnaeem, who describes himself as a revolutionary socialist, suggested to me that the military might use Friday's demonstrations as an excuse to consolidate power and make a "total coup." He said he isn't sure that what happened earlier this month was a coup, but he is certain it wasn't a revolution.
Analysts also suggested that the military's recent actions might have been a play to extend its powers. "I think, it's clear that the issue is the role of the military in politics. Sisi is very much at the forefront in the process of undermining the democratic process," says Maha Azzam, an associate fellow on the Middle East and North Africa program with the Royal Institute of International Affairs.
"I think as each day passes... it's becoming less credible to stand by what is becoming clearly both a coup and a military takeover and a return of the old regime," she added. "There's no grey. You either stand with the military takeover... or you stand against the coup."
More and more Egyptians may be falling into the latter camp. The Salafist Nour Party -- a former ally of the Muslim Brotherhood which then supported the military's ouster of Morsi -- said in a statement on Wednesday that the call for protest "foreshadows civil war."
Other, more secular groups who welcomed Morsi's ouster also saw Sisi's announcement as a move designed to provoke violence and create an excuse to impose curfews and increase the military's hold on power. "We are stuck in the middle between military and fundamental authoritarianism," says Bassam Maher, an activist and NGO worker.
He added, that while many "revolutionary" activists are becoming increasingly suspicious of Sisi's motives, they have been reluctant to stand against the military directly because they do not wish to be thought of as aligned with the Muslim Brotherhood or other Islamist groups, which they also oppose. Many activists describe themselves as paralyzed and conflicted about opposing the army's recent moves.
A few, however, are willing to take a stand. On Friday, while most of the city divided itself into pro-Morsi and pro-military groups, a small number of protesters opposed to both camps attempted to establish a "third square" in central Cairo. The demonstration was tiny in comparison to the mass rallies held elsewhere, but it did signal the appearance of a new force in the protests."Once the military starts building its powers, they will not just be used against the Muslim Brotherhood, but against all social movements," said Mohamed Hazem, a leftist protester. "We believe that once people will realize the military is against the revolution and things the revolution is asking for, like social justice and freedom and democracy, people will oppose them."
Since the attacks, the military has moved to further tighten its grasp. On Sunday, Interim President Adly Mansour gave Prime Minister Hazem El-Beblawi the authority to enable the military to make civilian arrests. The previous day, Interior Minister Mohammed Ibrahim announced that departments axed after the 2011 uprising would be reinstated, including one dedicated to pursuing religious "extremism." The move prompted suspicion even from close allies, such as Tamarod, the youth group which was heavily involved in the June 30 protests and had encouraged Egyptians to take part in Friday's demonstration. Spokesperson Mahmoud Badr said: "Our campaign supports the state's plans in fighting terrorism; however, we have earlier stressed that this support doesn't include the taking of extraordinary measures, or the contradiction of freedoms and human rights."
The group held another protest on Sunday. After a nervous start, hundreds flocked to the square, more than doubling Friday's attendance.
Ahmed Nasser, one of the protest's organizers, said the movement was opposed to Islamist and military rule, both of which, he said, it saw as a continuation of the Mubarak regime. He did, however add that they viewed Morsi's overthrow as being undertaken at "the sound of the peoples' request."
Nasser described the group's goals as being more closely aligned with the original revolutionary movements that overthrew Mubarak in the first place. "I believe these people are the first sparks of the 25th of January revolution. They're not aligned with any particular party, but just trying to determine a new future for Egypt."
Whether this movement can gain a genuine foothold remains to be seen. In Tahrir on Friday, support for the military seemed unavoidably tangled with nationalist sentiment. "This protest is a symbol of the revolution, we're here to support Egypt as a country," said Mahmoud, who declined to give his surname. "We support the army, and we support the country."
In Rabaa, the violence only seems to have firmed resolve and radicalized the sit-in's participants. Dr. Sallahidine Hassan, a surgeon still clad in bloodstained whites, smiled when he talked about their cause. "Our revolution will be a success. They can kill another one million of us and it won't stop us. People will die to protect our votes," he said.
Even as the dead were still being transferred from the mosque to local hospitals, others were digging in still further building and rebuilding brick barricades on the approach roads to the mosque.
"I will die for our country, our vote, our revolution," said Hassan Ali, an Arabic teacher who had been at the mosque since July 3. He went on to describe how a close friend returned from the massacre in tears because he was not martyred in the fighting.
There is no doubt that further attacks or attempts at dispersal will strengthen the resolve of the pro-Morsi protesters, but it remains to be seen whether voters who would have opposed him in the polls will now begin to turn against the military. Egypt is now, more so perhaps than ever before, a country split between two fiercely divided camps.