In a New Trade War, Chocolate is Russia's Weapon of Choice
Moscow is battling Ukraine's duty on imported cars with a new ban on sweets.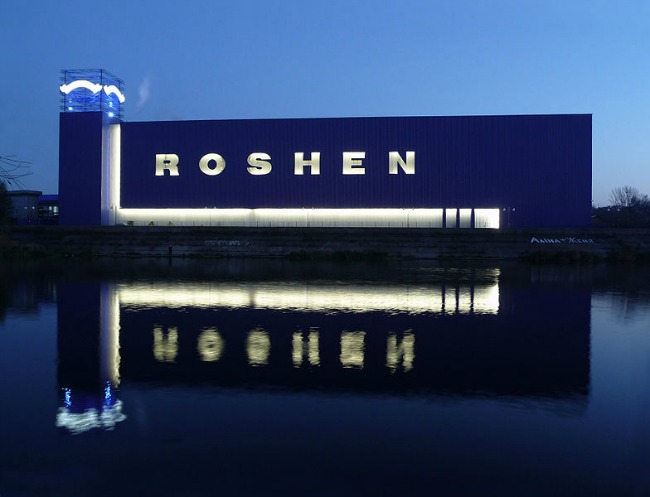 The Kremlin might call it a case of just desserts.
On July 29, Russia's chief health inspector, Gennady Onishchenko, announced a ban on imports of chocolate and other sweets from the Ukrainian confectioner Roshen.
Speaking to the Interfax news agency, Onishchenko said Russia's consumer-goods watchdog Rospotrebnadzor had detected a range of "systemic violations" in Roshen products, including high levels of the carcinogen benzopyrene in milk-chocolate items.
Roshen has strenuously denied the claims, saying its factories uphold both Ukrainian and Russian health guidelines and that it has never received a complaint from Russia or any other importer in 15 years of service.
Roshen -- the maker of dozens of sweet treats, including Elegance Extra-Dark chocolate bars, Milk Drop caramels, and Crazy Bee jelly candies -- also says it has yet to receive formal notification of its alleged infractions from Russian authorities.
The move brings a bitter aftertaste to weekend celebrations in Ukraine marking the 1,025th anniversary of the region's conversion to Christianity, a holiday which the Kremlin had sought to promote as a reminder of Russian-Ukrainian unity.
Instead, Onishchenko's announcement, which he has been mulling for most of July, is likely to return bilateral ties between the two neighbors back to its usual combative stance.
Some are interpreting the brewing "chocolate war" as payback for Ukraine's decision to impose a special customs duty on cars imported from Russia.
Kyiv has also opted to back the World Trade Organization (WTO) in a trade dispute with Russia over a recycling tax imposed on used foreign automobiles.
Russia, angered by Ukraine's defiance, earlier this month announced retaliatory customs fees on imports of Ukrainian coal, chocolate, and glass.
But, in an interview with Russia's Dozhd-TV, Anton Onufrienko, business editor of Komersant-Ukraina, maintained that few expected the dispute to escalate to the point of an outright candy ban.
"People believe that the exacerbation has to do with the car import tax and the recycling tax, in particular," he said. "Even the [Ukrainian] ministry had a feeling that the dialogue [with Russia] is gearing precisely toward the understanding that, if the car tax were to be lifted, then Roshen would be spared problems as well."
Ukrainian First Deputy Prime Minister Serhiy Arbuzov addressed the chocolate ban on July 29 by denying that the countries were engaged in a "trade war," saying officials were looking into the matter and would issue a statement in the coming days.
Russia is known to employ food-safety issues as a pretext for pressuring regional neighbors during political disputes.
In recent years, Onishchenko has personally announced bans on Moldovan and Georgian wine, Belarusian sugar and milk, and Ukrainian cheese.
Moscow defended each of the bans as a necessary public-health measure. But the decisions also coincided with low ebbs in Russia's relations with its neighbors.
The 2012 cheese ban, for example, was seen as an attempt by Moscow to use economic blackmail to force Ukraine to compromise on gas issues, trade ties, and Kyiv's European integration.
The same three topics were on the agenda this weekend as Putin and Ukrainian President Viktor Yanukovych met for bilateral talks on the sidelines of the Orthodox anniversary.
Onishchenko's announcement may suggest that Putin walked away with fewer concessions than he would have liked.
Former Ukrainian Foreign Minister Volodymyr Ohryzko says the latest claim by Rospotrebnadzor is no accident.
Ohryzko says such moves are only likely to grow in the coming months, as Ukraine looks to sign an Association Agreement with the EU at November's Vilnius summit -- a move viewed with deep resentment in Moscow.
"In my opinion, there's no such thing as a random coincidence when it comes to Onishchenko's announcements," he said. "After Roshen, there will be pipelines. After the pipelines, there will be cheese. And after the cheese, there will be something else. This is one and the same line. Furthermore, I'm afraid that this isn't the end, and the closer we get to the Vilnius summit, the more these threats of 'nonstandard' situations in Ukraine will grow."
Roshen -- which exports to nine post-Soviet countries as well as the United States, Canada, Germany, and Israel -- has seen steady growth in Russia, with net profits climbing 175 percent in 2012 to 1.3 billion rubles (nearly $40 million).
Its owner, billionaire "chocolate king" Petro Poroshenko, was a close ally of Orange Revolution President Viktor Yushchenko and has maintained thorny ties with both Yanukovych and Russia.
Poroshenko -- who used the middle portion of his surname to brand his chocolate company -- is considered one of Ukraine's most influential figures, and he has been mentioned as both a potential contender for mayor of Kyiv as well as the presidency.
He refused to comment on the imbroglio, saying only that it was the government's responsibility "to ensure that politics don't get mixed up in such things."
---
This post appears courtesy of Radio Free Europe/Radio Liberty.