Between Crime, Separatism, and Racial Tensions, Can Spain Pull Through?
The Mediterranean nation is straining under economic and social turmoil. Will it weather the storm?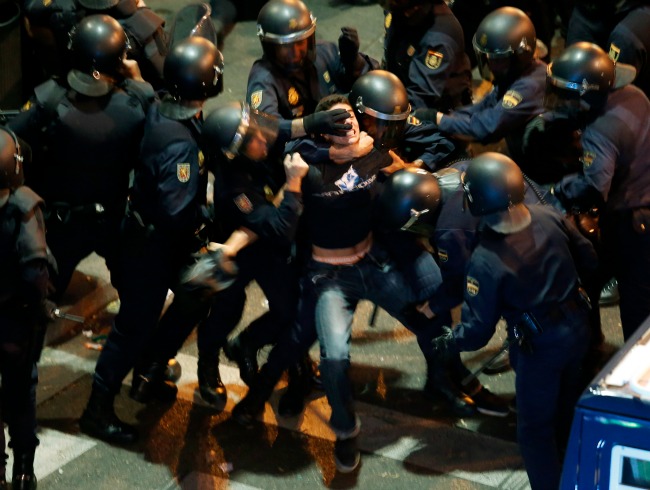 The slender North African man's eyes dart back and forth as he scours the area surrounding the cafe in Sevilla, southern Spain. He heads inside, slowly approaching the bar. He leans across to get the server's attention, a five-euro note in hand; she ignores him and walks toward another customer. Minutes pass. An elderly couple standing next to the North African mumble and shuffle away. The veins in his neck begin to bulge.
He doesn't make a sound. The waitress eventually heads his way and snatches his money from his hand. She returns with a glass of water, which she slams on the bar. He looks her in the eye and thanks her; she doesn't return his gaze.
As he returns to his table outside and recoups his bag, the young man notices a Guardia Civil officer walk by. Momentarily, he freezes. The policeman eyes him up and down. He moves on.
"Always," the young man mutters in fluent Spanish. "Always the same. It's always this way."
In fact, Spain wasn't always this way -- simmering with racial tensions. A country perhaps best known for its (largely mythical) siestas, sun, sea, and sand, Spain was also for centuries the model of multiculturalism that any modern society would wish to emulate. Following the Moorish invasion of the Iberian peninsula in 711, Spain survived for more than seven centuries as a home to Muslims, Christians, and Jews. All three religions were welcome, sometimes under the same roof (the Great Mosque of Cordoba was built on a Visigoth site believed to have previously been a Roman temple; in 1236 King Ferdinand III ordered the mosque transformed into a cathedral, keeping the Islamic elements intact). The state's common interest in these different groups lay in the fact that they all paid taxes to the Spanish government. In 1492, however, the tide turned. The Spanish army defeated the moors at Granada, restoring a Christian rule that would also expel Jews and gypsies who refused to convert, and eventually, even many of those who did.
Rifts have only widened since. As Spain has sought to move away from its dependence on a centralized government in Madrid, tensions over racism, religious diversity and separatism, as well as how to handle a rollercoaster of an economy, have all set the stage for a turbulent 21st century for the Iberian peninsula. In the wake of the economic crisis and corruption scandals involving the highest levels of officialdom, the question now is whether Spain can get back on track and survive as a prosperous multicultural haven.
Multiculturalism has always been a challenge to sustain in Spain. It wasn't until the death of Dictator Francisco Franco that Muslims could openly return. The country also took its time to open back up to Jews. Slowly, plans to build mosques were hatched - and met with a frosty reception by the Christian majority.
Then, in 1996, the era of Jose Maria Aznar began. His administration was credited with turning the economy around, but the conservative prime minister from the Partido Popular -- who had won with the backing of the Basque country and separatist Catalans -- rankled critics with his decision to back Coalition forces in Iraq (according to polls at the time, less than 10 percent of Spaniards supported the war). His administration's initial placing of the blame for the March 11, 2004 Madrid train bombing on the Basque terrorist group ETA -- when all evidence pointed to Al Qaeda -- prompted mass protests and a landslide victory for opposition candidate Jose Luis Rodriguez Zapatero. Aznar further alienated Spain's one million Muslims by later claiming that the Madrid bombing was not a result of "the support given by the Spanish government to the Iraq war," but caused by something far more entrenched. "The problem with Al-Qaeda came from before that - as long ago as 1,300 years." With mosques springing up throughout southern Spain, he was preying on the very real fears of a Muslim re-conquest of Al-Andalus, an aspiration that was being spouted by Al Qaeda members. "We have always reclaimed the spirit of Al-Andalus, but not the territory, because this is our home and therefore there is nothing to reclaim," responded Mansur Escudero, then-president of the Junta Islamica in Spain and the founder of the country's modern Muslim community. "When a terrorist group says that it wants to re-conquer Al-Andalus, it raises suspicions about us... people might think that we are a kind of fifth column." The words carried a lot of weight in a nation that had in the past feared Franco sympathizers - then known as the so-called fifth column, aiming to undermine those loyal to the state - during the Civil War.
Zapatero, leader of the Spanish Socialist Workers' Party, or PSOE, would inherit a host of problems -- from Spain's involvement in Iraq to growing discontent over Muslim growth -- but would also benefit from one key element: a booming economy. Zapatero implemented key reforms, and Spain began creating jobs at an unprecedented rate.
In some ways, ETA may have helped Zapatero's Spain. After three years with little violence -- an ETA car bomb had killed two policemen in late May 2003 -- Zapatero traveled to the Basque country to initiate a ceasefire in 2006.
Some members of ETA, as it turns out, were already rethinking their strategy. Bombings and assassinations would no longer be the modus operandi, ETA representatives claimed. The Basque country had economic clout -- it generates about 66 billion euros a year, accounting for roughly 7 percent of the Spanish economy. Local economists have calculated that fears of terrorist activity have been responsible for as much as a 10 percent drop in GDP - and would use that as leverage for any demands for separatism. Madrid was rightly skeptical of the claims about forsaking violence coming from a group responsible for more than 800 deaths since its inception in 1959. According to polls taken at the time, the Spanish public was skeptical too - 54 percent of citizens doubted ETA's intentions.
On Dec. 30, 2006, their fears were confirmed: a car bomb exploded at Madrid's Barajas Airport, killing two Ecuadorians. The government broke off the peace process, which was only restored after an international conference in San Sebastian in October 2011. Days after the conference adjourned, ETA's remaining leadership issued a statement: "A new political time is emerging in the Basque country. ETA has decided the definitive cessation of its armed activity. Through this historical declaration, ETA shows its clear, solid, and definitive commitment."
Whether or not this new political time has really emerged remains to be seen. In San Sebastian today, there are few overt signs of ETA presence. The rebel graffiti that once lined the city's walls has largely been washed off. Locals don't appear to want to discuss the terrorist group, or its ideals; the economy -- built around industry rather than tourism and property development, which are considered much riskier -- is just about holding up, and that's everyone's primary concern. Bilbao and San Sebastian are living proof that money can co-opt even the most radical ideology.
But in the sleepy fishing village of Donibane, just a few miles away, ETA remains entrenched in the soul - for better or for worse.
A seven-year-old boy playing with a military vehicle on a bench by the waterfront quickly rejects the notion that it belongs to the Spanish army. "It's from here," he growls.
"It's Basque."
Is it an ETA vehicle? "No. Basque."
Many locals quickly cover their faces as soon as one attempts to take a photograph; an air of rebellion definitely hangs over Donibane. There's a distinct lack of trust in the Spanish authorities, ETA, and the local politicians. Jose Maria Soparzazu, 65, claims to have been a member of ETA in the 70s and 80s. He was swept off his feet by the romance of it all, he says; there were few other figures to follow. Now, he wants nothing to do with any of them. "The politicians and ETA just steal - for weapons and for themselves. You can't trust any of them." Soparzazu, who has learned to speak Spanish, argues that Basque citizens need to follow what he calls the Brazilian model - learn to move forward by themselves, economically, and not rely on either Madrid or separatists who seem more interested in instilling terror than serious societal progress.
There's good reason for skepticism about both ETA's claims and aims. While attacks overall have declined, every so often the group still strikes. On the island of Mallorca in 2009, just before the 50th anniversary of the founding of the group, a bomb attributed to ETA killed two Guardia Civil officers. A car bomb destroyed a police barracks in the northern Spanish city of Burgos around the same time, injuring 60. The authorities clearly don't believe ETA has called it quits: Earlier this year, French police nabbed three suspected ETA bomb-makers; just a couple of months later, they arrested a man they believed to be ETA's top military ops specialist, Oroitz Gurruchaga Gogorza. The Spanish and French authorities claim - not for the first time - that they have seriously compromised ETA's ability to wage war.
The authorities also fear that while ETA may be staying under the radar at home, it is expanding globally. Colombian officials claim ETA has long had links with the Revolutionary Armed Forces of Colombia, or FARC; a 2010 indictment by a Spanish judge against Arturo Cubillas, a Basque exile believed to have run training sessions for FARC and Venezuelan guerrillas further fueled suspicions of sinister ETA expansion. (The indictment also suggested Cubillas had received support from Venezuelan Gen. Hugo Carvajal, who is on the U.S. Treasury Department's list of FARC supporters.) The same week the indictment was handed down, Portuguese authorities arrested Andoni Zengotitabengoa, an alleged ETA militant and suspected bomb-maker, as he tried to board a Caracas-bound flight.
Concerns that Spain might become a global hub for terrorism and illicit trafficking have been warranted. In June 2007, Monzer Al Kassar, a Syrian arms dealer, was nabbed by agents from the U.S. Drug Enforcement Administration (DEA) who convinced him they worked for the FARC; they struck a fake $8 million deal for him to supply surface-to-air missiles, RPGs, machine guns and explosives. Al Kassar had long been a resident of Spain, living in Marbella, and he was arrested at Madrid's Barajas airport. He was extradited to United States and handed a 30-year sentence.
Spain is indeed a hub, or at the very least, has the potential to become one. As DEA Chief of Operations, Michael Braun repeatedly pointed out to Congress the need to increase resources in Spain and Portugal, which he called "the principal gateway" for drugs entering Europe, both from Latin America and Africa. With about 500 tons of cocaine now heading to Europe each year, Braun warned that Europe "has naturally emerged as the perfect, latest playground for these ruthless cartels... I see Europe today teetering on the brink of a drug trafficking and abuse catastrophe similar to the one our nation faced about 30 years ago. If you need a visual on what I predict Europe is facing in the years to come, just picture Miami in the late 1970s, followed by the 'crack' cocaine epidemic that exploded all across our nation in the 1980s."
Braun's fears appear to be understandable: During a break from dealing drugs, 26-year-old Sahoudi (he wouldn't reveal his last name) explained how his illicit trafficking enterprise works in San Sebastian. Born in Murcia, Spain, he recruited his Tunisian relatives into the business five years ago. What started as a few suitcases on a passenger flight has turned into a one-ton-a-month operation involving a helicopter (from Tunisia to Murcia), a boat (off the coast of San Sebastian, to store the cannabis prior to distribution), and relatives in Holland and Belgium who act as distributors in those countries. And the authorities? Sahoudi laughs. His brother is in the local San Sebastian police corps; he makes sure his colleagues, the Guardia Civil and the Coast Guard, turn a blind eye. Sahoudi's story was impossible to corroborate, but it jibes with reports by counter-drug authorities. In August 2012, a cousin of Mexican drug lord Joaquin "El Chapo" Guzman Loera was arrested in Madrid, further fueling fears that major organized crime syndicates like the Sinaloa cartel are setting up operations there. Authorities have noted an increase in Latin American gang presence in many parts of the Iberian peninsula, although they also have cautioned against unwarranted hyped fears of gang-related violence.
At the end of the day, Spain may just have had too many problems for the Zapatero-era bubble to hold itself together. When the construction bubble burst, Madrid had to resort to desperate measures to salvage the economy. According to economists, interest rates had fallen so low that Spanish banks lent recklessly while property developers and home-buyers collectively borrowed, spurring a property bubble. Madrid had to borrow and spend desperately in a bid to prevent the economy from collapsing, while many of the country's banks appear to have done everything they could to operate outside the realm of legitimacy -- payments were allegedly made to high-level executives who then bailed out, and in some instances, unqualified political appointees were chosen to run banking operations themselves. Corruption scandals -- including one involving the King's son-in-law -- have done little to restore public confidence. Earlier this summer, former Partido Popular treasurer Luis Barcenas was jailed for failing to explain the origin of up to 48 million euros in Swiss bank accounts.
It's this mixture of financial anxiety, melting pot tensions, immigration and emigration, distrust of authority, and worries over terrorism that makes Spain so difficult to grasp today. Beleaguered Prime Minister Rajoy is increasingly unpopular; his disapproval rating recently climbed by nearly 22 percent in a matter of months. He's now facing heavy fire and the threat of a no-confidence vote from opponents after text messages in which he appeared to sympathize with Barcenas emerged while the former treasurer was under investigation. To top it all off, Rajoy's administration has also been accused by critics of pressuring public broadcasting networks to fire journalists who ask tough questions of officials.
The National Statistics Institute estimates that more than 50,000 Spaniards will leave the country each year for the next decade in search of employment opportunities; already last year, the level of emigration rose by 36 percent, as the unemployment rate hit 24 percent (perhaps even more worryingly, more than 50 percent of Spanish youth under the age of 25 cannot find work). Meanwhile, Spain's Muslim population is expected to double by 2030.
Will the newcomers be engulfed by radicalism? Will they simply disappear into Spain's version of the Arab street? Will they find jobs and embrace both capitalism and their new home? Are domestic rebels and activists on the verge of crossing the thin blue line to engaging in nefarious activity? Andres Zamora, a retiree who lives in the industrial city of Terrassa, about 20 miles north of Barcelona, is just one optimist amid the fog. Originally from a small commune near Sevilla, Zamora embraced communism during the fascist Franco era and attended a Marxist seminary in Romania at age 16. He then went to Nicaragua to fight for the Sandanistas; Cuba was next, to work on building Castro's communist dream.
Now, his revolution is a social and local one: He helps immigrants pay rent and obtain citizenship documents. But he remains staunchly against the system. He doesn't believe the state has any interest in helping immigrants, and he plans to set up a communal diner to help build up much-needed goodwill and community spirit in Terrassa. "You don't beat capitalism with guns," he says. "It's impossible to win. You win by being more intelligent. You learn the laws they use to control you -- then, you use those laws to control them."
Attitudes like this are prominent in Terrassa, and they keep the authorities ever-vigilant. Officially, Terrassa is home to more than 10,000 Moroccans and a few thousand West Africans. There are four Latin American barrios here (they're responsible for bringing in the drugs, according to the Moroccans interviewed for this story.) The city has a history of racial tensions: on numerous occasions, anti-xenophobia marches have resulted in beatings, arrests and even stabbings.
Terrassa is also home to the Badr Mosque, which was, until recently, headed by a radical imam from Morocco, Abdeslam Laaroussi. According to locals, Laaroussi benefited from the economic crisis, as Terrassa's Muslims were lured to the mosque for words of hope and comfort. Instead, however, they allegedly received lectures on how to beat "errant wives," and keep their women in check (using a stick, fist, or hand, so that no bones are broken and so as to draw no blood, was reportedly the imam's advice.) The authorities, who have long kept an eye on the Badr mosque, recorded the imam's speeches and in March, they hauled him in for questioning. He has so far refused to give testimony, claiming that his remarks were taken out of context, that he does not advocate violence against women, and perhaps most important, that he does not recognize the authority of the Spanish state.
As their radical imam sits before the judge, many residents of Terrassa - young and old - bide their time sitting outside the Cafeteria Soraya, smoking marijuana and conjuring up get-rich schemes or pessimistically talking about world politics and the failure of the Spanish state.
Thirty-nine-year-old Mourad Louarradi is one of the pessimists: He was deported not long ago, but he says the Moroccan authorities didn't want him because he comes from the border region with Algeria, his accent is different, and they didn't like the look of him. So they told him to go back to Spain, and he did. His eyes shift incessantly; he speaks and moves as if he hasn't told the truth in ten years. But he can still laugh, and does. He finds the fact that the authorities in Morocco, Spain, and even France apparently want nothing to do with him somewhat amusing.
His younger peers don't see it that way. It's only 9 a.m. on a Friday, and 27-year-old Fahd Touiss Larache is on his second cup of coffee; he has sold four cigarettes to passersby for two euros. He's lived in Terrassa for eight years; for three of those years, he had a job in construction. That work dried up, and now he has few options. "What do I do all day now? I get a coffee and sit for 10 hours with my coffee. What else can I do?" He's not angry, but his frustration is palpable. Forget about finding a girlfriend, or starting a family. "No work, no girlfriend," he says. At this, he and his friends find reason for a laugh.
Terrassa is a melting pot that in many ways is always near boiling point. The mosque has a new imam -- Taoufik Cheddadi -- who preaches a pleasant mix of history and harmony. "I preach a discourse of integration," he says with a laid-back smile as the faithful flow into the mosque for Friday prayers. "To be Catalan, what does that mean? It means to be Christian, Jewish, Muslim, Greco-Roman. I don't want to present Islam as part of immigration. It's part of the history of Catalunia."
He urges his followers to embrace their position in modern Spain. He wants them to think: "I am a Muslim, I am a citizen, I am not an immigrant. I have rights." He doesn't want Islam to separate his flock from the Spanish state. "For us, the goal is adoring Allah. For you, it is human rights."
But in troubled Terrassa, Cheddadi is faced with a serious reality. "I'm not scared of conventional racism," he says. "But I'm scared of economic racism."
There's also undoubtedly a tendency for the police in Terrassa to view residents with paranoia, and vice-versa. When a homemade molotov cocktail was thrown during a Terrassa street protest, local cops began talking about "terrorism callejero," - literally, street terrorism.
Twenty-three-year-old Mohammed Younes, who moved to Terrassa from Tangiers in 1999, says the police have started to look at him differently in recent years. "The crisis, their paranoia about terrorism..." he says. "They don't speak to you the same. You feel it."
"I don't feel frustrated or angry; I just feel like I don't exist," he adds, his bicep muscles noticeably tensing up.
Terrassa is also home to tensions between North Africans and gypsies, who have been around for decades, and the arrival of Latin American drug traffickers -- who now have more economic clout than many of the older residents -- has done little to ease concerns. "The Latinos are in charge here now," says Younes. Listening to the young North Africans, one notes a distinct sense of apathy, from which only the mosque is likely to benefit, given their chances of finding solid work. "If we don't follow the imam, we won't do well in life," says Fahd Touiss Larache. "We won't have a goal in life. Without the imam, there is no end."
Like the imam, it's clear some authorities throughout Spain are trying to put the best spin possible on the current situation in a bid to avoid a calamity and offer some sense of direction for a large portion of the population that, if it's not raging in the streets, appears completely lost at sea. In Barbate, a spectacular southern port town just 30 miles from the Moroccan coast, the tourism ministry is highlighting the town's tuna industry; unfortunately, the move is depressingly similar to the central theme of the film Cloudy with a Chance of Meatballs (a troubled town tries in vain to revive its sardine industry while a creative kid with new ideas simply finds himself coming into constant conflict with the authorities). Anyone who has studied the Spanish tourism industry's ups and downs over the past few decades knows that it is impossible to rest on one's laurels in this era of cheap air travel and countless beach options.
The mayor of Barbate has also caused controversy with his candor: last year, he effectively admitted to turning a blind eye to youths dealing drugs and told The New York Times that "a youngster has absolutely zero chance right now of finding a fixed job here... The politicians in Madrid who consider my views on youngsters occasionally dealing drugs to be those of a caveman either don't understand or don't care about how much people are struggling here." Since, the mayor has effectively placed a gag order on his staff, no longer allowing them to speak to the press. One of his aides, however, spoke on condition that her name not be used: She admitted that yes, Barbate does have drug trafficking problems, but that Sanlucar de Barrameda (located roughly 50 miles away) was worse.
Barbate is also one of Spain's most multi-cultural towns, which the authorities are starting to recognize as a draw. Barbate has a largely tranquil history -- officially known as Barbate de Franco, the town renamed all its streets in 2008 to erase all memory of the dictator -- and the police boast of a harmonious relationship between locals and immigrants, many of whom arrive by boat and often pass through immediately to other parts of Spain and Europe. But tensions do flare every so often. According to a 47-year-old Senegalese man from Dakar who sells baskets and other handmade goods along the beach with his Spanish wife, racism in Barbate is always bubbling near the surface. On one occasion, he says, he went into a bar near his stall to go to the bathroom. "You people bring your s--t in here," the owner said, pointing at his skin. The Senegalese immigrant, who goes by the name of Samba Gay, pointed to his own heart. "Inside, I'm good. Inside, you're s--t." He had come to Barbate on the recommendation of a friend; the police don't bother him as long as he doesn't bother them, he said. Other West African immigrants expressed similar sentiments: "There's no racial tension - as long as you keep to yourself," explained a man from Senegal who identified himself only as Abdullah.
Whether or not Spain's immigrants, separatists, unemployed, and other disillusioned citizens choose to avoid clashes with the state in the coming months and years remains to be seen. More than 100,000 so-called indignados (also known as the May 15 movement, or M-15), the young protesters who rose to international notoriety after inspiring the so-called occupy movements worldwide, took to the Spanish streets again last year to express a long list of grievances, at the top of which lies outrage at the political leadership. Shortly after Spain's victory in the European Championships, a group of pro-ETA thugs beat up several supporters wearing Spain soccer jerseys. Following protests in early 2012 over riot police beatings of student demonstrators, violence erupted again during the summer as tens of thousands of protesters took to the streets in 80 cities throughout Spain to protest Prime Minister Rajoy's latest austerity package. Protesters torched a cafe and smashed the windows of a bank in Barcelona; in Madrid, riot cops used batons, rubber bullets and tear gas to disperse a crowd trying to enter the Congress building. More than 100 people were injured in clashes with police and 176 were arrested; about a dozen policemen were believed to have been injured. The protests have not abated: in mid-October, several thousand angry citizens marched through the streets of Madrid banging pots and pans in protest of the austerity measures, and in early July of this year, there were further demonstrations against corruption. Spain received a gloomy economic forecast for 2013, but in mid-July, it received some positive news: the recession which began in 2011 is over; growth should resume in the second half of this year. Strong tourism numbers this year and last have also contributed to a drop in the unemployment rate, officials say.
Whether this good news will reverberate throughout Spanish streets remains to be seen. Back in Terrassa, the young men have largely skipped the protests, opting instead to sit around the cafe and talk the day away. "The world's problems are the fault of the Jews," says one. "Not at all," says another. "We're all to blame." Another suddenly jumps in, asking why the United States hasn't invaded Syria yet. Lacking answers, the conversation returns to the current crisis surrounding them.
No answers there, either.