How International Justice Is Being Gutted
Critics accuse one judge of creating legal precedents that make it impossible to convict senior commanders for human rights abuses.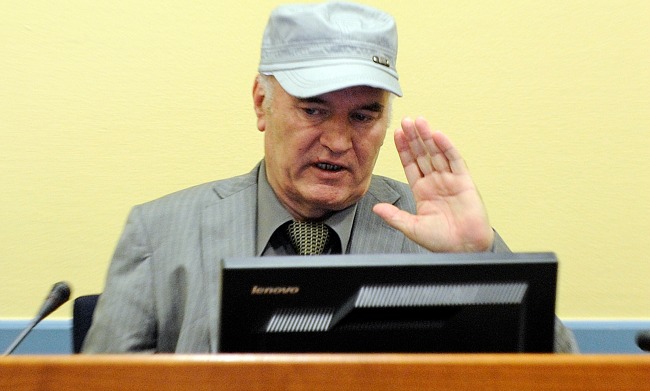 Over the last eight months, a series of surprise rulings at the international war crimes tribunal for the former Yugoslavia has sparked extraordinary controversy in the staid world of international law.
Critics say the decisions weakened World War II-era precedents that hold commanders responsible for war crimes. Supporters say their impact is being exaggerated and the judge associated with them is being unfairly maligned.
In interviews, two former tribunal officials said the decisions reversed years of progress in the field and endangered the recent war crimes convictions of former Liberian President Charles Taylor. They said they feared that the United States and Israel pressured judges to reverse precedents that could limit both countries' counter-terrorism operations.
"We are taking steps back," said one of the former officials.
The epicenter of the controversy - and a mystery - is Judge Theodor Meron, the 83-year-old president of the U.N. tribunal. A holocaust survivor, Meron has worked for decades to create international war crimes tribunals.
But Meron is being harshly criticized for writing recent appeals court decisions that overturned the convictions of two top Croatian and a senior Serbian general for aiding and abetting war crimes. After Meron's rulings, other tribunal judges acquitted two top Serbian secret police officials, Jovica Stanisic and Franko Simatovic, of aiding and abetting war crimes as well.
This surprise decision found that the two Serbian secret police leaders had trained, paid and supervised Serb paramilitary combat units that for years carried out widely-publicized war crimes across Bosnia and Croatia. Yet the judges said a conviction required evidence that the leaders "specifically directed" their aid be used to commit war crimes, something critics say virtually no commander is foolish enough to do.
A spokesperson for the tribunal said that Meron, like all judges at the tribunal, declined to comment on specific decisions.
Critics accuse Meron, who was born in Poland and worked as an Israeli diplomat before immigrating to the U.S. in 1977, of pressuring other judges to endorse legal precedents that make it virtually impossible to convict senior commanders for human rights abuses. Defenders say he exerted no such pressure and is being unfairly attacked for decisions reached by a majority of judges in each case.
In an extraordinary breach of protocol, a Danish judge who serves at the tribunal emailed a scathing letter criticizing Meron to 56 lawyers, friends and associates. In the letter, which was leaked to the Danish press, Judge Frederik Harhoff accused Meron of putting "tenacious pressure" on judges to acquit commanders and speculated that U.S. and Israeli military leaders could now "breathe a sigh of relief."
"Have any American or Israeli officials ever exerted pressure on the American presiding judge (the presiding judge for the court that is) to ensure a change of direction?" Harhoff wrote. "We will probably never know."
Before the acquittals were issued, the CIA and some former American military officials submitted letters of support for some of the defendants, citing their close work with the United States during or after the conflict. But U.S. officials denied pressuring Meron or other judges to make the rulings.
The two former tribunal officials said there was no evidence that Meron acted at the behest of American or Israeli officials. Instead, they argued, the judge was implementing his conservative view of international humanitarian law.
"It's about ego," one of the former tribunal officials said. "Leaving his mark on how the law will be interpreted for generations to come."
David Kaye, a University of California at Irvine law school professor who has worked with Meron, said it was unfair to label him "conservative." Kaye said Meron and his peers were interpreting laws crafted by states that wished to limit the court's reach.
"The law was developed originally by governments, and in that sense, that's what's conservative," Kaye said. "Asking Meron or others to be especially progressive in this area is easier said than done."
Eric Gordy, a professor of politics and sociology at University College London who follows the tribunal's work, said the visceral reaction to the rulings reflected deep disagreement in the international legal community.
"People in international law are divided," he said. "Divided over how much oversight international law ought to have over military activity."
International war crimes prosecutions expanded rapidly throughout the 1990s, but the Sept. 11, 2001 attacks vastly altered the debate. In a 2001 essay, an American military lawyer, Charles J. Dunlap Jr. coined the term "lawfare" -- a practice where militarily weak opponents use "law as a weapon of war" against superior military power.
Former Bush administration official John Bolton and other American conservatives say Palestinians and their allies use "lawfare" to falsely accuse Israeli forces of war crimes. They warn that international courts could target American military and intelligence officers and eventually limit the U.S.'s ability to use military force and support allies.
Kenneth Roth, the executive director of Human Rights Watch, criticized the personal attacks on Meron and speculation about American and Israeli government pressure.
"I've known Ted for decades to be a man of principal," he said. "These personal attacks are just wrong. "
Roth said he disagreed with the aiding and abetting ruling, but believed it was an attempt to protect the court from attacks from the American right.
"My guess is that the tribunal was trying to narrow the concept of aiding and abetting," Roth said, "to avoid far right fears in the United States that U.S. military aid would lead to criminal liability if the recipients unexpectedly committed war crimes."
Diane Orentlicher, a war crimes expert who teaches at American University, said she too was troubled by the personal attacks on Meron, who she said had "made singular contributions to humanitarian law." But Orentlicher criticized the secret police ruling, which she called "a road map for how to provide indispensable assistance to mass murderers and still beat the rap."
Whatever the motivation, the recent decisions are major setbacks that create unrealistic standards of command responsibility. They weakened a system of international law that should be strengthened.
This Thursday, thousands of mourners gathered in eastern Bosnia to mark the 18th anniversary of the Srebrenica massacre where 8,000 Bosnian Muslim men and boys were slaughtered. Families buried the remains of 409 victims which had been exhumed from mass graves and recently identified through DNA analysis. The dead included 44 boys between the ages of 14 and 18 and a baby girl who perished after being brought to a U.N. compound for safety.
In neighboring Serbia, meanwhile, the two secret police commanders, Stanisic and Simatovic, enjoyed their new freedom. They had trained, funded and supervised the paramilitary units involved in the brutal killings around Srebrenica -- but judges ruled that they had no responsibility for the executions.
The legal battle is not over. The Tribunal will issue additional decisions on command responsibility before it closes its doors in 2016. Reversing the destructive precedents recent rulings established would further the cause of international justice and honor Srebrenica's victims.
---
This article also appears at Reuters.com, an Atlantic partner site.