Gay and Transgender Migrants Face Staggering Violence in Mexico
LGBTQ people endure a treacherous journey on the way to a better life.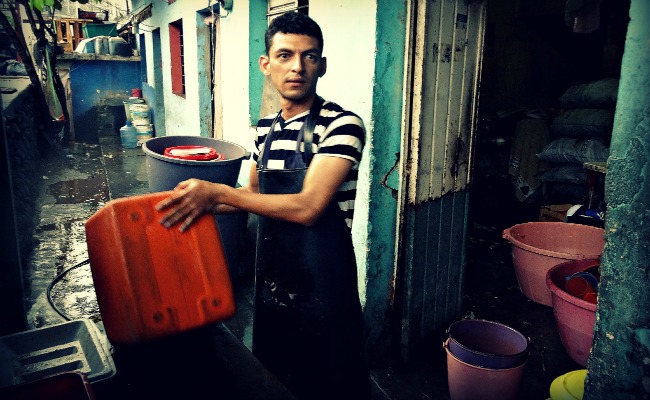 Tapachula, Mexico -- Julio Campo kept to himself during his three-night stay last month in a resting house for migrants, but a few cold, lingering stares made him uneasy.
"I felt like a joke, like I was immediately disliked," explained Campo, 30, a migrant from El Salvador who is gay. "It was just very uncomfortable and I wanted to get out quickly."
The fear that Campo felt in the migrant shelter is manifesting into a unique challenge for church officials who run Mexico's scattered, free stopovers for migrants. Faced with increasingly higher numbers of arriving gay male and transgender female migrants, some shelters are starting to separately house people who identify as lesbian, gay, bisexual and transgender (LGBT).
"We're seeing more and more transgender migrants and it's difficult for the migrant houses because they don't know where to place them," said Leticia Gutierrez Valderrama, executive secretary of the Pastoral de Movilidad Humana, a humanitarian branch of the Catholic Church that runs 66 migrant shelters. "The women say 'No, he is a man, I don't want him here,' and the men say, 'We don't want to be staying with a woman.'"
But the risks for transgender migrants, in particular, are greater than just the discrimination they face. Nearly 36 percent of transgender people who stayed in a migrant shelter in Mexico reported experiencing some form of violence, according to a 2013 study of 862 migrants conducted by the Mexican National Institute of Public Health. Meanwhile, 57 percent of transgender migrants who did not stay in a shelter reported violence.
The prevalence of violence among this particular group - which accounted for roughly 3 percent of all migrants - surpassed that of women, another vulnerable population. About 27 percent of female migrants who stayed in a shelter reported experiencing violence, but the rate rose to 35 percent for those who did not stop in shelters. The rates were much lower for men -- in that group, 20 percent who stayed in shelters, and 21.3 who did not, reported violence.
The capacity to protect transgender - as well as gay - migrants in shelters appears limited, despite the fledgling efforts to create safe zones.
"The shelters and the state are not prepared to accommodate trans and gay migrants," said Rosember Lopez Samayoa, the director of an HIV-prevention nonprofit organization, Una Mano Amiga en la Lucha Contra SIDA, or A Friendly Hand in the Fight Against AIDS, based in Tapachula, a small city just north of the porous Guatemala border. "If a man arrives dressed like a woman, it can become a huge scandal for them and they really won't know how to register them or treat them."
Lopez's organization is the only known group along the border that works directly with gay and transgender migrants, who often use Tapachula as a launching pad to stop and work until they have enough money to continue on to the U.S., or, more often these days, to a larger city in Mexico.
The persecution that many of these migrants fled from in Honduras and Guatemala trails them to the conservative streets of Tapachula, which Lopez says has seen eight reported murders of gay and trans people from January through May 2013.
Rafael Zavala, the head of the UN Refugee Agency office in Tapachula, said that the organization is planning to document the trend of arriving Central American LGBT migrants, driven by the perception of higher numbers of arriving gay and transgender migrants, and violence against these migrants in Tapachula.
Not all migrants actually come out as gay or transgender, well aware of the danger this revelation could bring, says Lopez. That could explain why in San Luis Potosí, a year-old LGBT-friendly room in a migrant shelter has not been in use for more than two months. More than 60 other shelters plan to replicate the model of this church-run shelter, but according to Geraldine Estrada, an official there, she has not seen gay or trans migrants for months, and the segregated room is now occupied by other people.
In Tapachula, Father Flor María Rigoni designated a row of beds just for gay men and transgender women in a corner of the men's dormitory about four years ago, when he began to notice groups of up to nine or 10 transgender migrants arriving together. But the room is not divided, he says, and the two-story house has limited space: he delegates the shelter's handful of private rooms to families, pregnant women and girls who have been trafficked.
"We can put transgender, transsexual, transvestite or gay people in a separate area, but it is an open space and if you want to, you can go over there and then it can be hard to avoid problems, because there are problems," said Rigoni. "We do not patrol the rooms at nighttime."
Campo was not aware of the option to sleep in the LGBT-friendly area at Rigioni's shelter, and says that he would not have considered the option, anyway.
"It's wrong to classify people. The best thing to do would be to educate people," he said.
Campo left the shelter without incident, but he made it only to downtown Tapachula. The former stylist lost all his money in robbery along the Mexico-Guatemala border and is now working to save enough to reach his final destination of Mexico City, a city he believes is big enough and far enough to distance himself from his abusive ex-boyfriend. He is also applying for refugee status in Mexico.
Campo says he isn't happy in Tapachula, where he thinks he could get killed for walking down the street holding hands with another man. Still, it's better than El Salvador, where he says the police denied him protection from his threatening ex-boyfriend, who he learned had ties with an organized crime group.
"I am very afraid of him and I don't want anything to happen to me," said Campo, briefly taking a break from the casual roadside restaurant where he now works. "I will never go back there."