With Bus Fares Reduced, What's Next for Brazil's Protests?
At the very least, the demonstrations have shown that Brazilians can turn out en masse and spark change.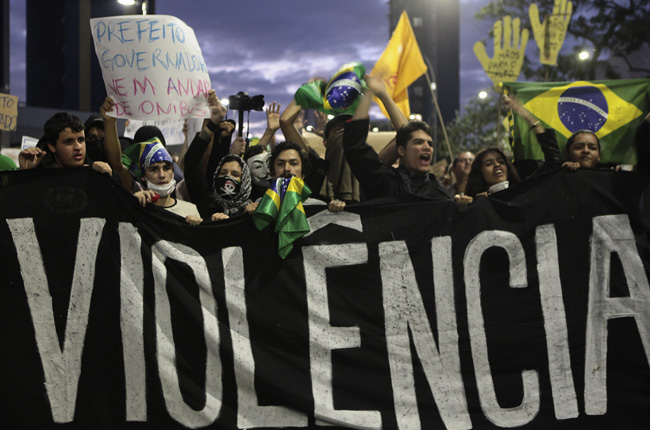 The enormity of Monday's protests across Brazil was astounding: more than 200,000 people, an estimated 100,000 of them in Rio de Janeiro alone , took to the streets in mostly peaceful demonstrations. The nationwide movement, which has adopted the "Salad Uprising" moniker for protesters' use of vinegar to ward off tear gas, has drawn solidarity demonstrations in over 70 cities globally. While the protests may have surprised much of the international community, they are the product of deep resentment here.
At first people took to the streets in opposition to $0.09 increase in bus fares. After videos and images began to surface documenting police violence, however, the rallies gained new momentum, tapping into a reservoir of complaints ranging from rampant political corruption to poor-quality social services to a large tax burden.
Brazilians are taxed at similar rates as Britons and Germans, but receive far less in return. For paulistanos (residents of São Paulo) making minimum wage, public transportation usage can account for roughly 26 percent of their expenses. Regarding social services, Brazil ranked second-to-last in education quality in an Economist Intelligence Unit evaluation of 40 countries conducted last year. Meanwhile, lavish stadiums are being built and infrastructure projects are being undertaken ahead of the 2014 World Cup and 2016 Olympics, with taxpayers footing the majority of the bill. As a result, some protesters have begun calling for new schools and hospitals to be built to the " FIFA standard," meaning they should be just as state-of-the-art as the new sports facilities.
The magnitude of the protests is one unseen for an entire generation, drawing comparisons only to the 1992 demonstrations against then-President Fernando Collor de Mello, who at the time was being investigated for an influence-peddling scheme that led to his impeachment and eventual resignation.
Late yesterday afternoon, both São Paulo and Rio municipalities tried to accommodate the original demand, announcing a reversal of the bus fare increases. These measures follow similar ones one day earlier by other state capitals across the country such as Recife, Cuiabá and Porto Alegre. But it appears to be too little, too late: "It's not just about 20 cents" has become a popular rallying cry, and a popular Facebook graphic refers to the bus fares " the tip of the iceberg ."
Roughly 50,000 paulistanos showed up again in São Paulo, South America's largest city, on Tuesday for a follow-up demonstration. Another protest is planned for this afternoon in Rio, the turnout of which may well top Monday's showing.
But where does the movement go from here?
Eduardo Maciel, an IT analyst and a carioca (resident of Rio), believes protestors have the wind at their back: after last night's fare reduction, "I believe there will be a feeling that people can actually change things," he says. But also taking note of the imbalance in education level of those who have turned out -- 77 percent of them have a college degree, prompting popular Brazilian daily Folha de S. Paulo to write that they "are not representative of the Brazilian demography" - Maciel, 26, adds that the protests will truly gain momentum "if somehow we can reach a bigger portion of society." Indeed, a group from the impoverished Complexo de Alemão favela will participate in tonight's march.
Juliana Marques, a 24-year-old sociology student at the Federal University of Rio de Janeiro, is less optimistic. She believes that while today's protest in Rio will likely be very large, perhaps to show support for Monday's success, crowds will taper off in the future due to a lack of consensus. "Those who will regularly continue to go are more activist people who have a specific agenda," argues Marques. Such a description, of course, doesn't apply to every participant.
The Salad Uprising has been a largely leaderless endeavor, with different factions - opposition political parties, social movements, and student organizations - jumping into the mix and bringing with them a wide-ranging directory of concerns. The Brazil chapter of international hacktivist conglomerate Anonymous has issued a set of demands. Operation Stop the Increase, formed after the bus fare hike, is now calling for the fare to be revoked entirely. Some protestors on Monday expressed dissatisfaction toward TV Globo, a popular privately-owned nationwide channel that is seen by some as a mouthpiece for the government. Marques points to her desire for the formation of a parliamentary commission to investigate secretive bus contracts in Rio. Maciel supports the rejection of a controversial impunity bill currently being debated in the Brazilian Congress, as well as the resignation of Senate President Renan Calheiros, who is currently embroiled in his own corruption scandal. The laundry list goes on.
President Dilma Rousseff, whose October 2014 re-election victory had seemed inevitable mere months ago, has found herself on much shakier ground. AnMDA Pesquisa poll taken before the protests gained steam indicates that only 52.8 percent support would vote for her today, a number that likely has dropped since. Rousseff was booed for a full minute at a soccer match on Sunday.
The protests have also largely coincided with the FIFA Confederations Cup, a test competition running through June 30 as a precursor to next year's World Cup. FIFA President Sepp Blatter has suggested that protestors are exploiting the international spotlight intended for the Cup, saying "I can understand that people are not happy, but they should not use football to make their demands heard." Marques comments in response that protestors "are being strategic with the fact that international media is here and focusing on Brazil, but I don't think this is enough of a reason to make the protests stop" once June ends.
The Brazilian economy, which enjoyed a decade of phenomenal growth backed by the commodity boom and high credit, seems to be slowing. Economists have forecasted below 3 percent growth for 2013, a marked change from a 7.5 percent GDP increase just three years ago. Inflation is increasing and the national currency, the real, is weakening quickly against the dollar. Brazil has one of the highest costs of living in the world - its Big Mac is the third-most expensive - and Brazilians finding less money in their pockets has certainly contributed to the demonstrations. If the economy were to hypothetically improve, Marques believes that the Salad Uprising would subside, but there are few signs of that happening in the near future.
Even if fewer people have shown up for rallies as time has gone on, crowdsourcing through social media has been the most popular form of communication and will likely remain so. While shares and retweets can certainly have an impact, they are difficult to supplant physical turnouts like the ones we all witnessed from the past week. The military police are disliked here - a Brazilian commenter called them " a very nasty legacy of the dictatorship years" - and excessive police brutality can always stir up sustained popular discontent. But the Salad Uprising's staying power will likely be judged whether demonstrators can coalesce around a common set of principles.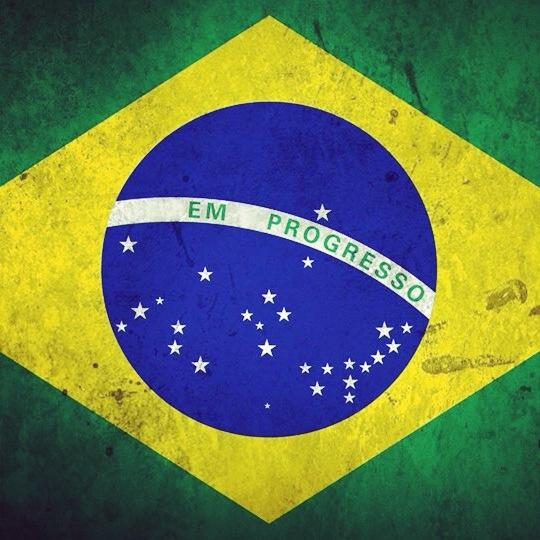 Should this not happen, at the very least the protests have proven that Brazilians can mobilize which, as Marques notes, can form indelible memories in the Brazilian psyche that its citizens "can go to the streets and they can express their dissatisfaction." This is a phenomenon which, especially among Brazilian youth, has been hard to come by until now.
During this period of uncertainty, the state of the Salad Uprising can be best expressed by an viral image of the Brazilian flag containing the country's motto - "Ordem e Progresso" (Order and Progress) - emblazoned in the middle, only to have a few letters blocked out, leaving the words "Em Progresso" : In progress.