Why the Foreign Minister From High-Growth Poland Still Supports the EU
His country has largely weathered the eurozone crisis, in part because of its fiscal autonomy, so why is Radek Sikorski still such an advocate of the union?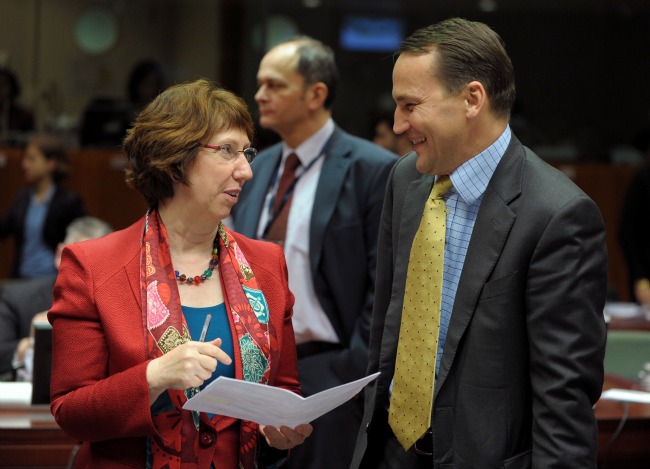 As the foreign minister of Poland, Radek Sikorski hails from a country that has defied Europe's sluggishness over the past four years. In a time when the rest of the EU saw growth rates of zero (on average), he said, Poland's economy expanded by nearly 20 percent, even as its historically richer neighbors saw record unemployment.
So it might come as a surprise that Sikorski is doubling down on his confidence in the beleaguered EU, arguing that more -- not less -- integration between the member states is the best way to make the continent safer and more prosperous.
At a time when Britons are weighing whether to leave the union entirely, Sikorski advocated both stricter oversight for EU economies and stronger defense partnerships in a recent conversation with The Atlantic's Steve Clemons.
Perhaps it's geography -- Poland has not historically been blessed with friendly neighbors, so being part of a big club really helps, Sikorski said.
"What bothered us the most over the last few years is the prospect that the eurozone might fall and the EU itself might not survive that, and that might mean re-nationalizing foreign policies in Europe," he said. "Then we're back to being between Germany and Russia, and we didn't like that the last time it happened."
Indeed, Sikorski's comments were a rare note of EU boosterism at a time when "Europe" almost always signals bad news.
Because so many European governments have slashed military spending in recent years amid rising budget deficits, he advocates "pooling and sharing of European capabilities." He also said EU and NATO forces should work more closely together in combat zones: "It's only by acting as Europe as a whole that we can have an impact. Imagine what bang for the buck you would be getting if you had 51 air forces, land forces, and so on."
Sikorski also touted improved trade as one of the major benefits of strengthening the union. The European Commission, he points out, is much better positioned to negotiate with Microsoft, for example, or to push back against Gazprom, than any one of the single member states alone. He's gung-ho for the Transatlantic Trade and Investment Partnership, the proposed U.S.-EU trade agreement that's scheduled to enter talks next month, and which, if enacted, would cover half the world's economic output and a third of global trade.
That agreement faces a number of stumbling blocks: U.S. agriculture policy, intellectual property rights, and strict European food-safety regulations . A 2009 study found that ironing out these differences would bring in $158 billion in annual GDP for the European Union and $53 billion for the United States.
Perhaps to note just how trivial such obstacles are in the face of such tremendous opportunity, Sikorski told the crowd at The Atlantic, "The use of some chemical used in the process of cleaning dead chickens in the U.S. might mess up the entire process."
Poland has also initiated the Eastern Partnership with non-EU bordering nations in order to better coordinate visas, trade, and other matters -- something Sikorski says is like a supercharged NAFTA, "transforming those countries legal regimes. They adopt the majority of the EU's ... legislation. They become compatible with the EU in the regulatory sphere."
Of course, the euro itself is far from being a bright spot, at least for now. Poland has grown partly thanks to some domestic belt-tightening -- the country reigned in domestic debt at 60 percent of GDP, while Greece's tops 150 -- but also as a result of currency depreciation that caused exports to rise. As part of its treaty agreement, Poland must join the eurozone eventually, which may prevent it from having similar autonomy over its monetary policy in the future.
Warsaw moved back its target to join the eurozone from 2012 to 2015 because of the financial crisis, but even now, support for the euro remains low. Just 30 percent of Poles support joining the currency now, down from 49 percent who said they would be "very and rather happy" to do so in 2006.
"If it hadn't been for the crisis, we would be in it (the eurozone) already," Sikorski said.
But Sikorski also has said that joining the euro is a fundamental part of Poland's becoming more fully enmeshed in a new, improved EU. For now, the plan is to watch and wait. Slovakia joined in 2009, and its economy is still one of the strongest on the continent. ("Some eurozone countries are doing very well, thank you very much," Sikorski reminded The Atlantic.)
"Toward the end of the decade, if (eurozone members) fix themselves, and our neighbors are doing alright, then we can make the argument and persuade the (Polish) people," he said.
Meanwhile, Sikorski has been lobbying for tougher debt rules for member states (the union's Stability and Growth Pact, which provides for fiscal monitoring, has been broken more than 60 times, he pointed out in one recent speech.) And the European Central Bank, he's said, should be more like a "real" central bank, acting only as a lender of last resort. The answer to the euro crisis, in his view, is a more responsible -- but still very much existent -- eurozone.
"No matter how dismayed the majority of citizens may be with the economic situation, they are proud to be part of this unique project called the EU, with its free movement of goods, services, labor and capital," he wrote ina recent New York Times op-ed with Guido Westerwelle, his counterpart in Germany. "We are confident that if it ever came to choosing, they would not let the Union unravel."