Why a Lack of Direction May Foil the Istanbul Protests
Some demonstrators want Erdogan to step down, some simply want the park to be left alone. Will the activists be able to find a common cause?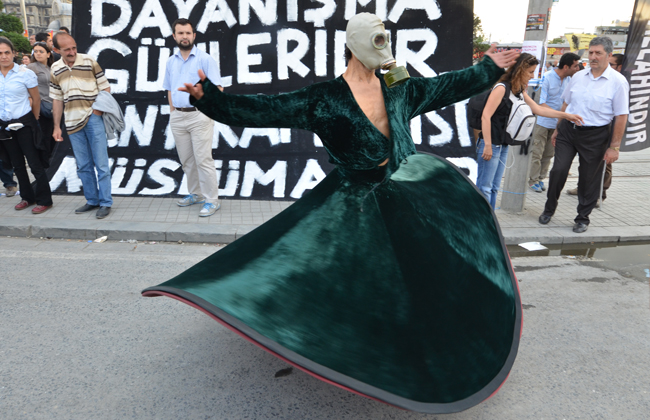 G. David Campbell.
A little girl swings from over-head bars inside a torched bus now serving as a barricade; her mother tells her to smile for the camera. In the distance, a smoldering building has become a playground for children with toy swords. A vendor selling fresh watermelon rolls his cart over used gas masks from days of protest.
For seven days, protests have rocked Istanbul. Initially stemming from a small-scale sit-in over plans to turn Gezi Park into what many protesters say would be commercial concrete wasteland, it has quickly morphed from a fight over sycamore trees to a battle over the country's direction.
But as days of protest drag on, deep divides are emerging between demonstrators over which direction would best lead Turkey. A violent police reaction in Istanbul earlier this week united Turkish protesters to an unprecedented degree in Taksim, but the initial push to revolt is now muddied with a slew of different demands and opinions, and no clear leadership.
"[The protests] are about us, our freedom, " said Selin Yanik, a young woman who beamed as she watched groups of protesters dance hand-in-hand around musicians playing traditional Turkish folk music. "It's about the people."
But some in the Taksim crowd voiced grave concerns over pro-Kurdish protesters, insisting the demonstration was aimed at addressing the violation of Turkish rights. Reports of clashes between rivaling protesters have also emerged in recent days.
While Erdogan labeled protesters as extremists and foreign provocateurs, prompting even more uproar, many protesters have articulated an increasing fear over foreigners in Turkey, like the presence of Erdogan-supported Syrian rebels, as well as hundreds of thousands of Syrian refugees who have flooded the country seeking refuge.
---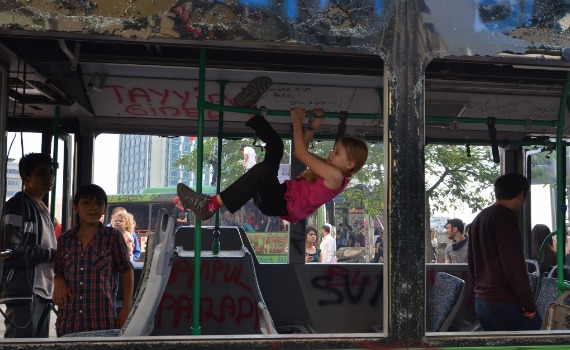 G. David Campbell.
---
"There are terrorists in our country who want to hurt Turkey," said Bahar, a student who didn't want to give her last name because she hadn't told her mother she was protesting in Taksim with her friends. Mirroring widespread fear following the Reyhanli bombings near the Syrian border, she added that the government must protect innocent Turkish people, a main reason she was raising her fist in Taksim this week.
For many protesters, the government's plan to build a shopping mall in place of Gezi Park was the last straw, a final overstep of state power that revealed a deep disregard for public opinion.
"We all want our rights," Bahar said as a protest chant erupted in a crowd. "Turkey has democracy, but lately, there has been more [autocratic] pressure by the government."
While Turkey has made notable progress in recent years, many Turks feel that Ergodan has taken advantage of the people, and is now more dictator than democratic leader.
Demonstrators noted alcohol restrictions, bans on kissing in public, press censorship, government moves to limit legal abortions, and a crackdown on peaceful protest as factors that prompted the widespread uproar, as reasons for taking to the streets against state policies and actions.
Demands range from the removal of governors in Istanbul, Hatay, and Ankara to Erdogan's resignation from office to the halt of the proposed Gezi Park demolition. Some protesters merely ask for a sincere apology.
---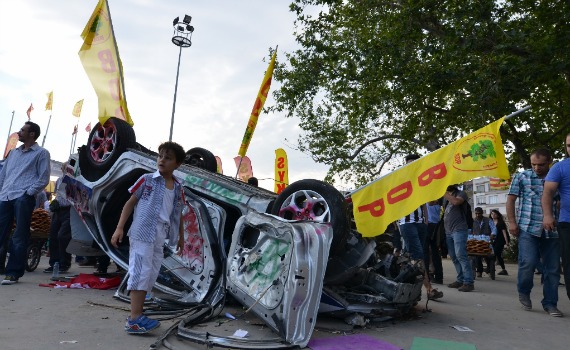 G. David Campbell.
---
Taksim is now a scene where students, grandparents, union strikers, and tourists alike come together in infectious jubilation. Anger has paved way for a common platform to address serious concerns over government wrongdoings, as well as hopeful plans for a truly democratic Turkey. But how these concerns will transform in real, organized action remains to be seen.
Spray-painting everything from roads to embassies has become the norm in Taksim. While some shops and hotels around the square have catered to the protesters, selling bottles of water in large crates and keeping their doors open even amid the potential for great unrest, others have lost days of business and will soon have to address the expensive feat of cleanup and repair.
While many protesters have lovingly renamed their city "Resistanbul," not all feel the same thirst for resistance, nor is it evident throughout most of the city. Wednesday afternoon, picnicking families could be found lounging on the banks of the Bosphorus River, seemingly oblivious to the mass protests just up a series of steep steps leading to Taksim.
Protests have spread to at least 67 of Turkey's 81 provinces and three people -- including one police officer -- have died and over 4,300 have been injured, according to the Turkish Human Rights Foundation.
Some demonstrators say they imagine the protests will simmer down in the coming day, but others are in it for the long haul. As the sun set on Wednesday night, groups of teenagers donning Guy Fawkes masks collected garbage from the day's protest and piled dozens of trash bags on the side of the road.
In the distance, a home-made banner read, "We hope your end will be the same as Mubarek, Tayyip. Everywhere is Taksim, everywhere is resistance!"