These Charts Show How Crucial Twitter Is for the Turkey Protesters
How a small group of "hidden influencers" spread their message far and wide.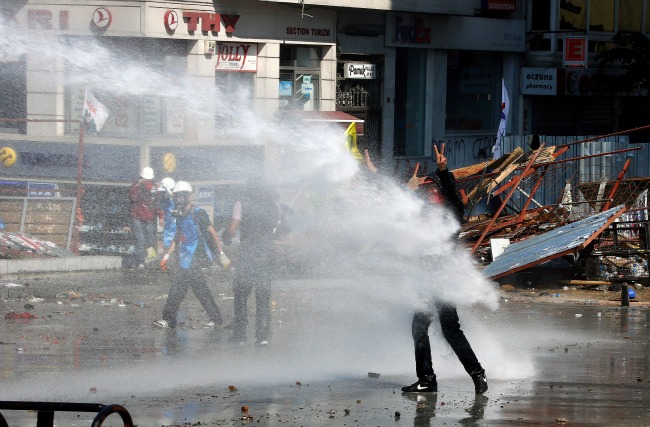 Riot police once again used water cannons and tear gas to disperse thousands of protesters who had gathered in Taksim Square on Tuesday, the latest show of force by Turkish authorities in the demonstrations that have been raging there for nearly two weeks.
Thanks to shoddy-to-nonexistent domestic news coverage in the early days of the protest, social media played a pivotal role in both organizing the demonstrators and in broadcasting the events to the wider world. Some reports said that 15,000 users sent at least one tweet from Gezi Park, and at one point, Turkish Prime Minister Recep Tayyip Erdoğan even blamed Twitter for the unrest, calling it a "curse," a "menace," and a "scourge."
Two recent studies shed light on how twitter messages about the events spread rapidly both within and beyond Turkey's borders. Here are some of the insights that Sandra González-Bailón at the Oxford Internet Institute and Pablo Barberá and Megan Metzger of NYU's Social Media and Political Participation laboratory found by analyzing Twitter activity surrounding the protests, in studies published originally on the blog Monkey Cage .
1) Unlike in some protests, almost all of the earliest tweets originated from within Turkey: Only about 30 percent of people tweeting during the Egyptian revolution in 2011 were actually in Egypt, but around 90 percent of all the Gezi-related tweets came from inside Turkey, and 50 percent came from Istanbul, even though at times 3G and Wifi was unavailable in the area: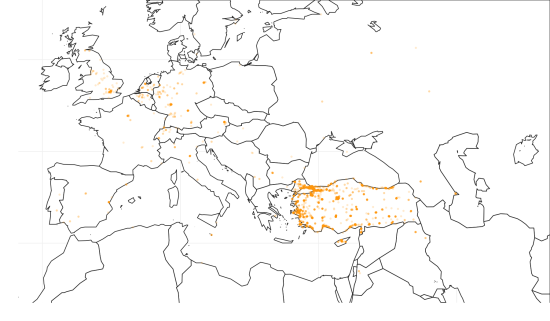 The authors attribute this to the failure of Turkish media to cover the protesters and their grievances: As Turks were being blasted in the face with tear gas, CNN Turk aired a show about penguins. At one point, thousands of the Gezi tweets appended "#BugünTelevizyonlarıKapat," which means, "turn off the TVs today," Barberá and Metzger wrote.
Here's a video of the Turkey tweets starting to take off:
2) A small group of protesters drove almost the entire conversation: Just one percent of users generated about 80 percent of all retweets, and three-quarters of users talking about the protests got no retweets at all. The authors say this means the protest has been driven by so-called "authorities," who generated content, and "disseminators," who pushed it out there by quoting and retweeting.
2) Some of these Turkey protest "authorities" are not very central to the overall Twitter-sphere. Some of the protest's biggest influencers were folks who have average followings or follow more people than follow them back, so they only became prominent on Twitter during the protests -- the authors dubbed them "hidden influentials." (They're on the upper right corner of this graph):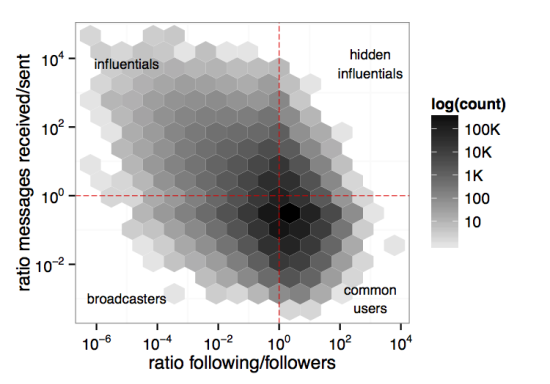 3) Tweets about Turkey quickly spread to the English-speaking Twitter community. Twitter news about Taksim quickly broke out of the Turkish-language bubble and into the hands of English-speaking hacktivists, who in turn helped spark international attention, Gonzalez-Bailon and Barbera write:
While the protests started as a local, grass-roots mobilization opposing plans to remove Gezi Park, they soon escalated into anti-government demonstrations, and were quickly internationalized, with the "occupy" movement being particularly active after the third day of the protest: by the fourth day, more than 30% of unique users employing protest hashtags were English speakers; Twitter accounts like "YourAnonNews", "AnonOpsLegion" or "AnonOpsMob", part of Anonymous, a network of hacktivists, also started to appear among the most retweeted.
You can see here how Turkish tweets slumped and English tweets ticked up after June 2: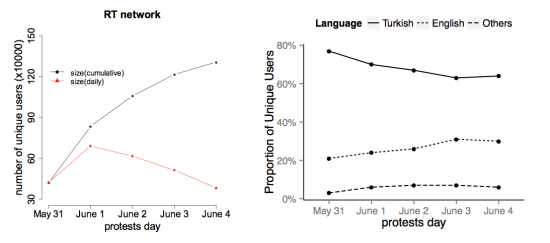 Various takes on #Taksim and #Gezi have been trending intermittently throughout the past few weeks on Twitter -- a place where (and I say this as an online foreign editor) international news rarely makes such a big splash among American users. I was also pleasantly surprised by how quickly our Turkey stories and photos skyrocketed to the top of the "most popular" charts and how many comments they generated. Knowing how news of the demonstrations ignited on Twitter and trickled onto the streams of international users explains a lot.