The Unintended Consequences of Cracking Down on Tax Dodgers Abroad
A regulation makes banks report foreign accounts to the IRS, but some are finding loopholes in the law aimed at closing loopholes.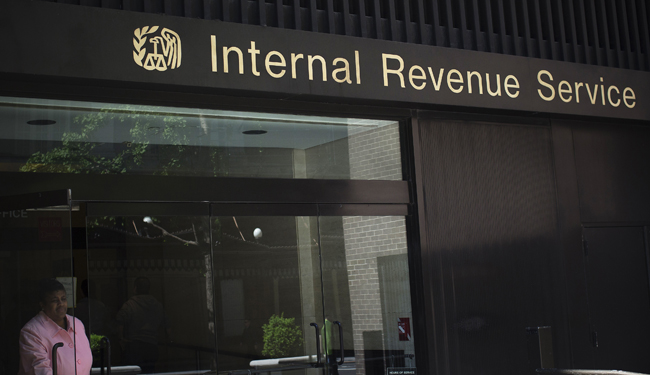 Last week, Germany announced it would sign an American tax treaty that essentially makes German banks agents of the Internal Revenue Service.
The agreement is called the Foreign Account Tax Compliance Act (FATCA). And it's the U.S. government's latest attempt to make aiding American tax dodgers so laborious and potentially expensive for foreign banks that banks will either willingly pass tax evaders' information on to the IRS or drop these customers entirely. The measure effectively forces banks to register foreign account holdings or face steep fines.
Some experts say that Germany's approval of FATCA spells a tipping point for other countries around the world to give in to U.S. pressure to turn over financial data on American expatriates and green card holders.
It isn't surprising that Germany signed on: FATCA's goals jibe with that government's aggressive and legally questionable strategy of pursuing its own tax cheats, which in the past has seen authorities purchase stolen bank data on Germans with bank accounts in Switzerland and elsewhere.
It also isn't surprising that almost a dozen other countries including Singapore have come together on FATCA. Nations are seeking to generate revenue in an era of austerity, and FATCA is a convenient way to do so, especially for the U.S., since overseas Americans lack any meaningful political representation or lobbying muscle in Washington.
FATCA's sad reality -- according to experts in both Europe and the U.S. -- is that it will not have a notable effect on wealthy Americans who stow money in complicated offshore vehicles. Experts say that tax schemes of the sort that became a political liability to Mitt Romney during his run for president remain largely untouched by FATCA rules.
FATCA and FBAR (Report of Foreign Bank and Financial Accounts) comprise a set of rules that are disproportionately hurting middle class U.S. citizens and green card holders who happen to reside abroad or maintain accounts outside the US.
One New York-based lawyer expressed exasperation over how foreign banks in FATCA signatory countries are freezing accounts linked to Americans.
"I know of one client whose parents live outside the US," he said. "They are in their 90s, and have a bank account in their home country. They added their son as a signatory because if they become incapacitated, they want him to have access to money to pay their bills. But their account has now been frozen because he's American. The bank wants the son to provide the last five years of his tax returns before it will unfreeze the account. He has had to hire a lawyer to sue the bank to let his parents access their own money."
Banks domiciled in FATCA signatory countries will have to apply for "global intermediary identification numbers" on a U.S. government website this summer.
And apply they will: for if they do not actively participate in the program, and are found to be holding money for U.S. citizens with accounts containing over $50,000 in assets, the U.S. says it will find out, label the banks "recalcitrant," and impose a 30 percent fine on the aggregate volume of said bank's US-based transactions and/or U.S. clients.
According to Keith Lawson, chair of a tax advisory group at the Organization for Economic Cooperation and Development (OECD), the United States is giving countries two models from which to choose.
In one version, foreign banks would send data on to their home governments, which would then pass this information on to the IRS. The UK, Germany, France, Italy, and Spain have preliminarily joined this program.
The second option would see foreign banks transfer the data directly to the IRS, bypassing their own governments. Switzerland and Japan have signed on to this variant.
Switzerland negotiated a proviso to its deal, so that Swiss officials could participate in FATCA without technically violating the nation's famous banking secrecy laws. Under their agreement, American clients of Swiss banks can direct their banks not to give their data to the IRS. Swiss banks will comply; but at some point when prompted by the IRS, they will then release lists of "non-disclosures" by American account holders at Swiss banks.
The IRS will then send letters to the Swiss tax administration demanding information about the accounts in question.
Swiss banks have indicated that they will, at this point, furnish requested information to U.S. officials.
The one silver lining to FATCA is that those with less than $50,000 of currency or assets in their accounts will be spared the IRS's fishing net (the original threshold had been $10,000). But that sum is only theoretical, because Americans who hold $10,000 or more in a foreign bank account already have to report their assets under existing regulations.
Meanwhile, FATCA's disclosure requirements will not just be limited to banks. Germany's insurance industry lobbying group (GDV) sent a 12-page letter to the U.S. Treasury this May, outlining what it called vague language and unclear guidelines in FATCA.
According to the GDV's reading of the act, life insurance products, foreign retirement pension accounts, and reinsurance contracts (rarely sold among individuals), could also be subject to FATCA's tax rules.
Douglas McFadyen, a tax partner at Shearman & Sterling LLP in New York, thinks FATCA costs a lot for banks to comply with but fails in its goal of eradicating tax evasion. What's more, it makes the U.S. a less competitive place to do business.
"FATCA is another stop on the road to making the U.S. a less attractive destination for foreign capital, and U.S. capital markets less and less competitive," McFadyen noted in a telephone interview. "The U.S. government still thinks we're living in the 1960s, which is when these offshore tax avoidance regimes first came into being. At that time, New York was the only functioning capital market in the world. But that's not the world we live in today. The U.S. government no longer has the ability to dictate tax policy to the rest of the world. People can go to Tokyo, Hong Kong, London. They don't have to deal with the headache of doing business in the U.S."
Yet FATCA's most troubling legacy might be its impact on highly skilled Americans living and working aboard.
The measure is creating tax headaches for companies that give corporate officials with green cards or U.S. passports signature authority over their internal accounts.
But at least here, some companies have devised a quick and easy solution: they've stopped hiring Americans.
A bi-partisan coalition called the Americans Resident Abroad Working Group found that some foreign firms are excluding U.S. citizens from consideration for senior executive posts for which they need to have signature authority.
"More generally," their report said, "Americans are disadvantaged in competing for jobs in multinational companies if they are covered by expatriate packages because their double exposure to income tax makes them more expensive."
The report quoted one employee of a global American company who said U.S. expat headcount had been "been significantly reduced in recent years due to increasing cost and administrative burden."
The group's Swiss chapter noted that threats of fines and penalties from the IRS -- including for unknowingly breaking rules in the past -- has led to "a sense of fear and anxiety."
Many expat Americans are eligible to take on the nationalities of countries in which they reside. And some are doing just that.
Nearly 1,800 individuals renounced their U.S. citizenship in 2012. That's about 600 percent more than in 2008, according to the U.S. Treasury Department's own figures. Some experts say the numbers could be even higher.
Now back to Germany, because Germany's signing on to this deal is relevant -- particularly in light of that country's strict and rigid privacy protection laws.
If Germany actually does go ahead with its first bank data dump to the IRS in September 2015, as is planned, it could be putting itself in a precarious legal position.
Data protection experts believe there exists an inherent conflict between FATCA and data protection laws in Germany-- laws which protect foreigners living in Germany just as they do German citizens.
FATCA could potentially violate an individual's right to informational self-determination, a right enshrined in the German constitution.
Will America's nearly 100,000 expats living in Germany challenge FATCA in court? It's too soon to tell.
But experts say they might have a very good case.