Alper, a 26-year-old Turkish corporate lawyer, has benefited enormously from Prime Minister Recep Tayyip Erdogan's rule. He is one of millions of young Turks who rode the country's economic boom to a lifestyle his grandparents could scarcely imagine.
Yet he loathes Erdogan, participated in the Taksim Square demonstrations and is taking part in the new " standing man" protests in Istanbul.
"The prime minister is continuing to blatantly lie about the demonstrations," said Alper, who asked that his last name not be used because he feared arrest. "People are actually scared that if they stop this momentum, then the government will feel free to exercise more force."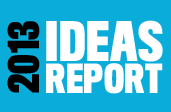 Modest ideas that can change the world.
See full coverage
From Turkey to Brazil to Iran the global middle class is awakening politically. The size, focus and scope of protests vary, but this is not unfolding chaos -- it is nascent democracy. Citizens are demanding basic political rights, accountable governments and a fairer share of resources.
The movements may lose their way. The demonstrations will have a limited long-term impact if they fail to become organized political movements. And the violence and criminality that erupted during some protests in Brazil have prompted a popular backlash.