Syria's Increasingly Grim Refugee Picture
The bleak future facing the country and its massive population of displaced.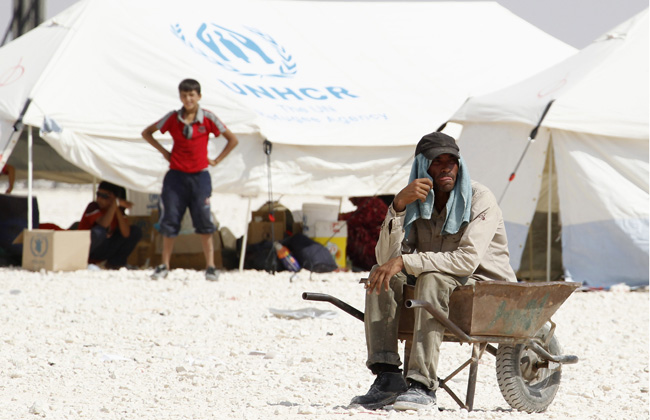 One year ago, the United Nations said that over 78,000 people had fled Syria, as the conflict between President Bashar Al Assad and various opposition movements moved unmistakably towards full-on civil and even regional war. The number now tops 1.6 million, in addition to roughly 4.5 million internally displaced, whose movements are extremely difficult to track, and who, unlike refugees, are in conflict zones that are often outside the reach of international agencies and aid groups.
At a World Refugee Day event at the U.S. State Department on June 20th, Secretary of State John Kerry put a brave face on the American response to the world's worst refugee crisis in decades. "When the stakes are high, you need to up your game, and I'm proud to say that the United States is trying to do that," Kerry said, before citing some impressive statistics about America's humanitarian commitments: the U.S. is planning on dedicating $890 million to the Office of the United Nations High Commissioner for Refugees in 2013. The U.S. is the top provider of aid to the agency, contributing more than the next six countries combined.
This kind of aid has undoubtedly helped make refugee flows more manageable for neighboring governments -- particularly in a place like Jordan, a politically fragile and by no means prosperous country that's already home to 480,000 Syrians. But in the first half of 2013, the refugee crisis (and the war in general) accelerated at a rate that few had really anticipated , and there's a real possibility that, barring a resolution to the conflict, Syria's neighbors will simply become too overburdened --or too worried about internal stability -- to take in additional refugees. After Kerry's speech, two of the world's leading officials dealing with refugee affairs gave me the sense that decision-makers are anticipating a significantly worsening crisis. And they're acutely aware of a nightmeric possibility from a humanitarian standpoint: the potential that Syria's neighbors, overwhelmed with refugees and threatened with spillover violence, will simply seal their borders.
Alexander Aleinikoff, the U.N.'s Deputy High Commissioner for Refugees, says that his agency's planning figures assume that there will be 3 million refugees living outside of Syria by the end of 2013, along with 6 million internally displaced -- if this happens, one out of every four people in Lebanon will be a Syrian refugee a little over six months from now. There are no refugee camps in Lebanon, a cycically unstable country where over 550,000 Syrians compete with locals for jobs and resources; inside of Jordan, only between a quarter and 40 percent of Syrian refugees actually live in camps.
Aleinikoff says that it's "absolutely...viewed as a possibility" that neighboring countries could tighten border controls based on any number of factors. "If the numbers [of refugee arrivals] continue at this level or grow, if the war spreads across borders, if the fight in Syria now begins to be seen as a substantial security risk in the bordering countries....I would expect to see the borders if not closed, than much more closely managed," he says.
This has already started to happen, to an extent: Aleinikoff says that there are "tens of thousands" of Syrians living along the Turkish border, waiting to be admitted into the country's northern neighbor. This situation in Iraq is even more troubling. "The Iraq border has been closed in parts for people trying to flee into Iraq," says Aleinikoff.
Anne Richard, the Assistant U.S. Secretary of State for Population, Refugees and Migration, confirmed this. "At one point the Iraqis were letting people across for medical care but they weren't allowing men of fighting age," she said.
Iraq has taken in over 150,000 Syrian refugees, a substantial number by any standard. But their reported stinginess along the border isn't surprising, and is an example of how humanitarian concerns might dovetail with political ones: Iraq has a mostly-Shi'ite leadership that has given overflight rights to Iranian aircraft resupplying the Assad regime. Meanwhile, Iraq's minorities have chafed against the increasingly unitary rule of Prime Minister Nouri Al Maliki, leading to a rash of terror attacks in the country's Sunni heartland, and tension with the Kurdish north over a proposed oil pipeline with Turkey.
Freedom of movement is a humanitarian imperative. But the injection of several hundred thousand additional Syrians into this already-volitile mix could prove catastrophic, especially if some of them end up being sectarian militants. In his speech, Kerry explained that helping refugees is a global and even a specifically American moral obligation. Yet refugee flows are also a chief way in which a problem in one country can deepen the already-explosive problems in another. Syria is an acute example of the alarming political ramifications that attend most mass displacements. "Iraq is worried about absorbtive capacity and also security issues," says Aleinikoff. "That's true for all of these countries, obviously. Both go together."
Richard believes that the Jordanians aren't going to close their border any time soon, even though she added that "there's always a possibility that any country that sees so many refugees come across...will think about taking steps to control the borders." She says that Jordan is doing an exemplary job of trying to integrate the majority of refugees who aren't living in camps: "In Jordan kids are going to double shifts in schools, but we're also grateful that they're letting kids go to school."
Whether that's sustainable is an open question, and it's one that concerns both Richard and Aleinikoff: both emphasized the importance of providing humanitarian and infrastructure aid to refugee host nations. The only certainty is that the Syria conflict isn't going to lessen in the immediate future: few are expecting a breakthrough at the planned Geneva peace talks, especially after the battle over the rebel-held city of Qusair in early June, which ended in one of the Assad regime's biggest victories of the war. Neither side has much of an incentive for peace. Political and humanitarian issues will continue to bleed into one another, and it's likely that not even a hypothetical end to the conflict would end the refugee crisis.
"Even if there were peace today we would not expect all of the refugees to return the next day," says Aleinikoff. "There has been such destruction inside Syria...this will be a problem that will be with us for a long time."