Standing: The Newest Form of Protest in Turkey
After weeks of violent clashes, a Turkish artist tries a motionless form of resistance -- and starts a movement.
On Monday night, Turkish artist Erdem Gunduz arrived in Istanbul's Taksim Square, the site of weeks of ongoing protests and violent clashes with police, and tried something a little different: he put his hands in his pockets, gazed at a picture of Ataturk, and stood perfectly still. He stood there quietly for five hours, and as the night wore on others joined him: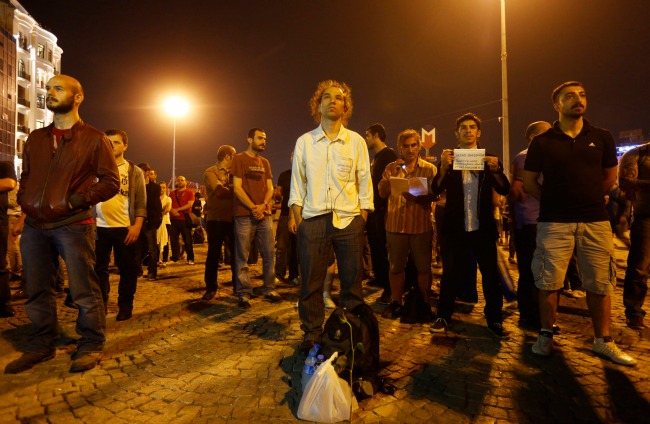 Gunduz's quiet vigil has spawned a wave of similar shows of defiance all around Turkey, as groups of people paused in government buildings, in front of state-run media, and elsewhere, and essentially planked -- vertically -- for democracy:
Some of the standers interviewed said they were demonstrating for peace, rather than for a particular side. The unrest has left four people dead and about 7,500 injured, according to the Turkish Medical Association.
This morning, Turkish police dispersed the crowd standing in Taksim, detaining several protesters. Later, others returned and resumed standing, according to the AP.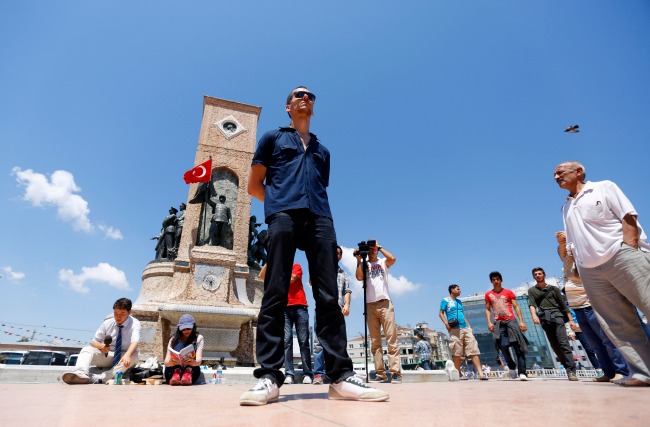 "I'm standing against all violence," Koray Konuk, one of those arrested, told CNN. "I'm standing there so that the events that we've been witnessing and the events taking place over the last two to three weeks can come to a standstill."