Seeking New Leadership, Millions of Egyptians Take to the Streets
The Arab Spring, take two.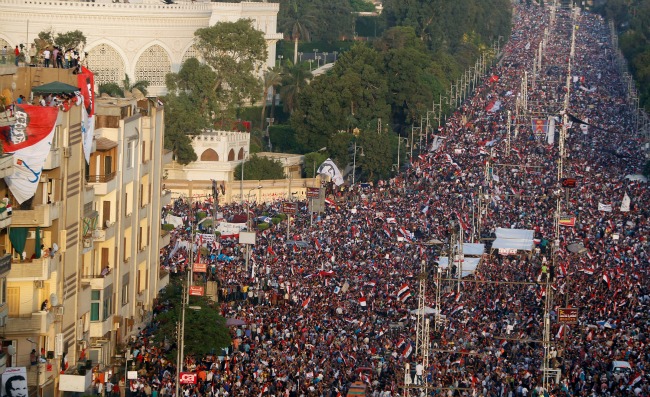 (Amr Abdallah Dalsh/Reuters)
On June 29, 2012, Egyptian President Mohammed Morsi stood before millions crowding Tahrir Square on the eve of his inauguration, telling them "you are the source of power and legitimacy. There is no person, party, institution or authority over or above the will of the people."
A year later, millions of Egyptians have gathered in cities across the country demanding his resignation. Morsi won the country's first free elections, but since then he and his party, the Muslim Brotherhood, have alienated one segment of Egyptians after another.
Late Sunday night, clashes were reported as hundreds of opposition protesters gathered outside the headquarters of the Muslim Brotherhood in Cairo, which were set on fire. At least five people were killed and 35 others injured.
At a late-night press conference, a spokesman repeated the president's viewpoint, laid out in a speech in the past week, acknowledged some mistakes, and invited the opposition to a dialogue, but refused to entertain any "unconstitutional" measures like the removal of Morsi.
But a coalition of opposition groups -- dubbed Tamarod, or "rebel" -- says it has collected more than 22 million signatures from Egyptian voters who want to see Morsi gone. If verified, the petitioners would far exceed the 13 million that voted Morsi into office.
"As far as they can see, Morsi had one year, but he has not doing anything," says Khaled Fahmy, a professor at the American University in Cairo. "They didn't accomplish the aims of the revolution."
The opposition is calling for the military or the country' top court to take power and oversee fresh parliamentary elections and the drafting of a new constitution that is more inclusive of minority rights and distributes power more equally between the government branches.
Both sides have held rival protests, and many confrontations have turned deadly.
At least eight people were killed and hundreds wounded in clashes north and east of Cairo in the past week. Most of the victims have been Muslim Brotherhood members, and opposition forces have attacked the party's offices in several cities. This morning, Egyptian police announced they seized more than 142 grenades and 440 rockets from two apartments in Cairo near Tahrir Square.
Three opposition protesters were killed today in Asyut in a confrontation near a Muslim Brotherhood office. A member of Al Gamaa al-Islamiya -- a group allied with the Muslim Brotherhood -- was killed in Beni Suef, south of Cairo.
But the largest opposition protests of the day remained peaceful. Egyptians came out to more than 18 locations throughout Cairo, assembling by the tens of thousands and marching on the presidential palace.
Just as those marches got underway, supporters of Morsi staged their own rallies.
Inside the Raba'a Al-Adawiya mosque in the conservative suburb of Nasr City, an old woman made rounds poking young men with a large stick, imploring them to get up and assemble in the streets. "Go to the street!," she said, "You are not here to sleep!"
Thousands of Morsi supporters have been camped out in front of the mosque, which is situated next to the Ministry of Defense, since Friday, hoping to show that Morsi is able to mobilize as many people as the opposition. But their numbers were few, and many seemed tired from the days-long stakeout.
Egyptian soldiers stood on the Ministry of Defense's balcony as hundreds of armed Muslim Brotherhood members below marched in formation.
Facing repeated attacks across the country, Morsi's supporters have developed a siege mentality.
"We will defend ourselves, but only if we are attacked," said Muhammad Zaki, a member of the Muslim Brotherhood. More than half the men at the pro-Morsi rally carried large sticks and batons, and Zaki was one of a few hundred that also sported a helmet and a shield. A former conscripted soldier himself, Zaki said he expects the military to side with Morsi. "We voted for Morsi, he should stay for four years. Is there any democracy in the world where they change the president every year?" He said Morsi made some mistakes, but he prefers to keep him in office so that the country remains stable.
"The constitution says the President stays for 4 years," said Akram Elkot, a 27-year-old physician and a Morsi supporter from Alexandria. "If you don't agree with the president, then wait for new elections."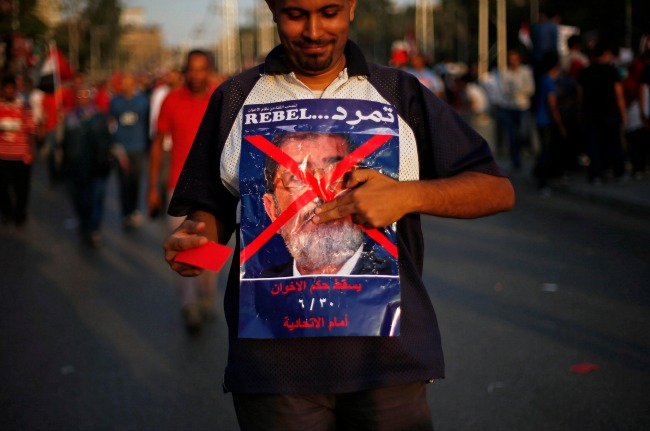 (Suhaib Salem/Reuters)
The Muslim Brotherhood is used to waiting.
Largely denied any political role for more than 80 years in Egypt, the group focused on building networks of professional Muslims and teaching them the Brotherhood's Islamic curriculum. Each Brotherhood member in turn pays dues to the organization, and in ran a massive charity in Egypt's poor areas.
Brotherhood members were systematically targeted by former leader Hosni Mubarak's regime after the group was implicated in the assassination of his predecessor, President Anwar Sadat. Those wounds are still fresh for many of the Islamists that support Morsi.
Medhat el-Husry, a doctor in Kefr Sheikh, a rural area north of Cairo, says he went to jail several times in the 1990s for things like praying in a congregation at his university. Thousands of Brotherhood members like el-Husry met in secret for decades, fearing the Mubarak regime. They used code words to communicate and frequently changed meeting locations in an attempt to avoid drawing the attention of Mubarak's security forces.
"They're like the Free Masons," says Magdi, an anti-Morsi protester in Tahrir Square. "They control everything and only help each other."
Conspiracy theories aside, the Brotherhood has used its massive charity network to mobilize voters, and Morsi seems to be concerned foremost with scoring points in foreign policy and shoring up his own party's influence.
"They used poor people," says Bassam Abbas, a 38-year-old real estate agent camping out in Tahrir Square. Abbas says the Brotherhood is not focused on Egypt, and instead seems to be following an international agenda, as evidenced by its recent statements against Syria's Bashar al-Assad and its alliance with Hamas. "You live in Egypt, your family lives in Egypt. Take care of Egypt first, then worry about the rest of the world."
In June, Morsi appointed 17 new governors, 11 of them from Islamist parties. Seven were members of the Muslim Brotherhood.
Opposition protesters responded at the time by surrounding the governors' offices, refusing to let them in and sparking violent clashes.
When Morsi appointed a Muslim Brotherhood member to the Ministry of Culture, hundreds of artists and intellectuals descended on the ministry's offices in Zamalek, a posh neighborhood west of Tahrir Square. For several weeks now, they have been occupying the building, refusing to let the Brotherhood take over because they fear its Islamist stance. Along with promoting Egyptian culture and arts, the ministry has the power to censor films and theater performances.
Morsi's supporters see themselves as the true protectors of the 2011 revolution. The opposition, they chanted at the Nasr City rally, is "fulool," or composed of remnants from Mubarak's regime.
Last year, Morsi pushed through a new constitution for Egypt despite objections and a boycott by liberal, leftist, and minority groups. He then issued a statement granting himself powers beyond the courts' reach, a move that drew sharp criticism from opponents. But Morsi said the declaration was necessary because the country needed a constitution and the courts were standing in the way.
What is seen by Brotherhood members as necessary in a post-revolution Egypt is viewed as an attempt to co-opt the revolution by the opposition. They point out that Morsi has allowed the prosecution and arrest of journalists and politicians that have spoken out against him, like the popular comedian Bassem Yousuf.
"He betrayed the revolution, betrayed Egyptians, and arrested everyone who opposed him," said Amal Sharaf, one of the founders of the April 6 Youth Movement, one of the earliest revolutionary groups in Egypt. In last year's elections, it supported Morsi, but it's now one of his most vocal critics.
"He thinks only he can write the constitution, only he can safeguard the Parliament, and he appoints governors from his party only...everything is his," Sharaf said.
Sunday's protests were not the first against Morsi. Anger over Morsi's attempt to grant himself new powers simmered over into large protests last December, which resulted in at least five deaths.
The difference this time, though, is that Morsi's failures have hit every Egyptian, and hit them hard. "The electricity used to not go out for a whole year," said Ali Shinawi, in the village of Damas, north of Cairo. "Now it goes out two hours every day." The power cuts have hit everywhere, even Cairo.
For the last three weeks, Egyptians have also been dealing with a severe gasoline shortage. Lines stretching for several kilometers are a common sight, tying up traffic on roads and highways and sparking violence between drivers. The Morsi government says the problem is being caused by smugglers who sell the fuel on the black market and deplete the supply for everyone else. But critics say the Brotherhood insists on keeping fuel prices extremely low. Egyptians pay only about $0.50 per gallon for gasoline, which is heavily subsidized. To pay for the difference, the government takes out loans, and in the past few months, Egypt's creditors have come asking for payments.
"Without the fuel shortage, we would not have this much support against Morsi,"
said Hashim, a volunteer from the opposition camp in the square. "We see completely new faces here this time, people that never even came to the [2011] revolution."
At the opposition protest in front of the presidential palace, Apache helicopters flew low, circling around. Each time they swooped down, the crowd erupted into cheers.
"See that, that is the Egyptian Army!" Mustafa proudly exclaimed, pointing to a massive parking lot that is housing dozens of armored cars and tanks. It's a staging ground for the military to quickly respond to unrest during the protests, but for opposition protesters like Mustafa, it's a sign that the army is on their side.
Back at the pro-Morsi rally, an announcer asks the supporters to "purify your intentions, purify your intentions for jihad." If the Army steps into the fray on the side of the opposition, there is a very real possibility some groups will respond with violence. "Legitimacy is the red line," one sign said at the pro-Morsi rally. Many Morsi supporters see it as their right and duty to protect a democratic constitution.
"They have to talk," said Abbas, the opposition protester in Tahrir. "We are revolutionaries, we can push the political leadership, but they have to talk. We just want them to take us back to the zero-point, to the point we were at during the [2011] revolution."