Rick Perry and the Muslim Brotherhood: Compare and Contrast
Mona Eltahawy on social conservatism in Egypt and the U.S.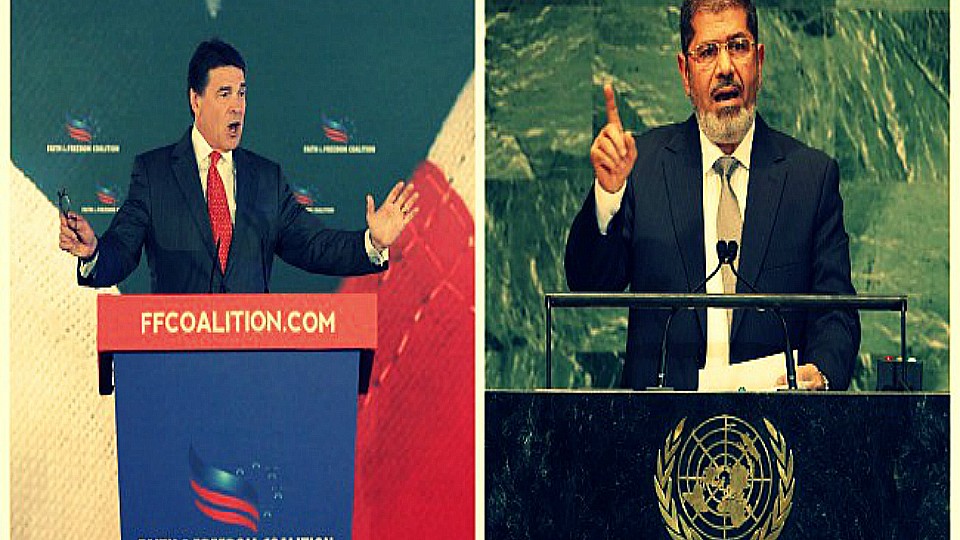 Mona Eltahawy knows Egypt, and she knows the United States. The journalist and democracy activist has dual citizenship between the one, where she was born, and the other, where she lived for many years before recently moving back to Cairo; and she's not shied from conflictual politics in either country. In 2011, Eltahawy was arrested in Cairo while covering protests Tahrir Square, held in custody for 12 hours, and assaulted, including sexually assaulted, by her captors, sustaining fractures on both arms. In 2012, she was arrested for spray-painting over a controversial American Freedom Defense Initiative advertisement in New York that equated support for Israel with opposition to "the savage" and "Jihad."
At the Aspen Ideas Festival today, Eltahawy drew a stark connection between socially conservative political currents in Egypt and America:
When I talk about the Muslim Brotherhood in the U.S., I like to compare them to what I call the Christian Brotherhood in the U.S.—and this is the religious right and conservative men in this country who are successfully trying to roll back reproductive rights. I always bring up Wendy Davis and what happened in Texas. And I say that Governor Rick Perry is an example of the Christian Brotherhood in this country. What they have in common is, the religious right—and especially the men in the religious right—are obsessed with our vaginas. And I would say stay away from my vagina unless I want you in there. I bring Wendy Davis in Texas in because it doesn't help to say "over there" and "over here." We have to look at women's rights, and the successive fights toward reproductive rights—the Beijing platform from 1995, I was in Beijing at the global conference: If we had a global conference today, we would not achieve a third of what we achieved in Beijing because of this brand of conservatism, especially regarding reproductive rights.
If you find this persuasive—or for that matter if you don't: two cheers at least for stable democratic political institutions ...