Rap Stars in Marseille Say Policymakers Are Out of Touch
One of France's poorest cities is named a European "Culture Capital," but some locals feel left behind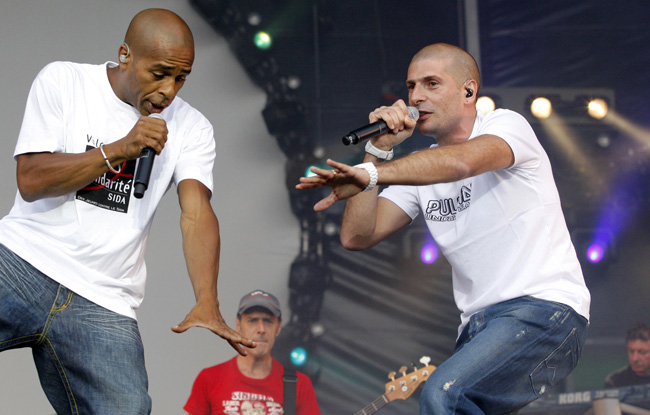 The best-selling album in France when it came out this April was Arts Martiens, Martian Arts, by IAM, a group that hails from Marseille, in Provence. The title refers to the city, which the rappers sometimes call Mars. IAM is huge. They've been together since 1985. They rap about their hometown, France's second-largest city, its poorest one, and the only one with poverty at its center as well as at its edges. People call it the most ethnically diverse city on the Mediterranean. It is extraterrestially different from Paris.
A few years ago, a European jury appointed Marseille a 2013 European Capital of Culture, intriguing the city's rappers. "When we first heard of this project, we told ourselves, finally, a project that can shed light on all we have been able to do for this city," says Boss One, a member of Le 3ème Oeil, a Marseillais rap group that topped charts late in the 90s.
Marseille is not known for its museums, or its theaters, or its opera. The port city is known for sunshine, pastis, and an influx of immigrants, of whom the newest are always the poorest. Mostly it is known for crime, corruption, and the French Connection -- politically networked mafia who ran the city for most of the 20th Century and, by the time they were disbanded in the 70s, refined and shipped out nearly 90 percent of the heroin consumed in the United States.
Over the past few decades, however, Marseille's rappers have established a different kind of international renown. "We have been ambassadors of this city," Boss One recently said around a cigarette, taking a break from recording a new solo album.
But Boss One does not appear in the Marseille-Provence 2013 festival, which kicked off January 12 and lasts all year. Neither does Keny Arkana, a rising star in Marseillais rap who wrote a protest song called "Capitale de la Rupture." The year's major music festival, This Is (Not) Music, includes a few Parisian and Dutch hip-hop groups, a couple of them partly Marseillais, and two rap headliners that are American: Mos Def and the Wu-Tang Clan. Akhenaton, the iconic figurehead of IAM, has said there are "grave mistakes" in the year's programming. "They do theater and opera for 2 percent of the population," he told local news last summer, darkly calling the festival's ends impossible: a "trendy, hip" Marseille, Marseille "like Berlin." Toward these ends, those who run the festival risk excluding local rap-star bards.
Arkana sings, "I don't recognize my city anymore, I don't recognize my street... European Capital of Culture, If it were a joke, we wouldn't have believed it."
The Capital designation, annually awarded since 1985, is meant to spur second-tier cities. Marseille-Provence 2013 is a $875-million infrastructure investment as well as a $135-million arts festival, funded by European, national, regional, and municipal governments, but mostly local businesses. Marseille's Chamber of Commerce pitched its bid. The designation has accelerated a decades-long renovation to attract tourists and a creative class to the fallen city. Impressive museums have lately sprouted from Marseille's port, beside cranes and billboards that advertise a sleek, impending complex of forty shops and restaurants near where an overpass once shadowed the neighborhood. Other signs promise new condos. A recent headline in local paper La Provence speculated that the dock here for ferries from North Africa would become one for yachts and cruise ships.
"The city's transformation is a tourism and real-estate project," says Eric Pringels, an architect who worked Capital festivals in Brussels and Lille, France. He helped to organize a simultaneous festival known as the "Off," which posits itself as an alterna-Marseille-Provence 2013. "It's a poor city, Marseille, and to extract itself it has decided to play the cruise-ship card."
Despite its current facelift, Marseille bears the scars of France's colonial history. There are many cultures here, and not all are represented in the Capital festival. "There is the official culture, which the city and Marseille-Provence 2013 seek to promote, which is elitist," says Boris Grésillon, a professor in urban geography at the University of Aix-Marseille and author of Un Enjeu "Capitale": Marseille-Provence 2013, or A "Capital" Issue: Marseille-Provence 2013. "But alongside this official culture, there is another, parallel culture in Marseille, that of the kids from the fringes of town."
If this second culture does not appear in the festival, Boss One, who was born in Comoros and raised in a housing project in Marseille, has a theory. "France has never considered rap as music because it comes from the ghetto," he said. "It allows people to lift themselves from low places, and they don't like that."
Marseille fell for a long time but really plummeted around 1962, when Algeria won independence from France after the bitter war. The city's erstwhile wealth had arrived through its port: French colonial businesses shipped through it, and Marseillais factories made soap, olive oil, and other products with the raw materials that arrived. After 1962, businesses in the former colony started to ship their goods elsewhere. The discovery of oil in Algeria further overhauled its economy. Marseillais factories closed. About 150,000 pieds noirs, the mostly white, ancestral French whose families had colonized Algeria in the 19th Century, flowed into Marseille, followed by other new arrivals.
Now about one in five Marseillais was born abroad. Of the immigrants who built the city --Italians and Greeks, Armenians in tens of thousands after the genocide, Southeast Asians after the Vietnam War -- recent waves come from France's former African colonies and protectorates, particularly Algeria, Morocco, Tunisia, and Comoros. About two million people arrived from North Africa to Marseille as its decline continued through the economic crisis of the 70s. The Front National, the anti-immigration far-right party, assembled a following in this part of France out of a lingering nostalgia for French Algeria.
According to UNESCO, the poorest area of France is a triangular slice of Marseille. The fat part of the triangle spreads across the city's northern, mountainous end, and its point is near the city center at Noailles, where the men take Moroccan mint tea at sidewalk tables and the desperate sell trash-found items arrayed over cardboard outside the market, which is fragrant with spices. More than a third of Marseillais live inside the triangle. Many are immigrants from North Africa and their descendents. A third of adults are unemployed.
The triangle encompasses abandoned factories as well as the residential towers of the North, quickly erected projects to house immigrants in the last half of the 20th century. The subway does not run to these northern neighborhoods. The train takes 15 minutes, but locals consider it too expensive for regular use -- 5 euros round-trip. The bus can take an hour. Locals say employers turn away applicants who have northern addresses.
"The youth of Marseille are very lucid. They know not to expect anything from the city. So they are not exactly disappointed," in Marseille-Provence 2013, said Grésillon. "For a long time they have placed their hopes elsewhere."
Mediterranean sun gets through glass paneling at central St. Charles train station and young men from northern neighborhoods breakdance around portable speakers. Absently snaking his arms in a figure-8, Trinh Mixay, who is 20 and has always lived in the city's North, recently described Marseille-Provence 2013: "There are some hip-hop things, but nothing really that close to our culture." He handed over a flyer for a dance show he had planned. "We're people from the northern neighborhoods. We have less impact, and our words carry less weight." Mixay's parents came to Marseille from Laos and Vietnam.
Virgil Ben Guesmia, who is 24 and Algerian, played an upright piano thickly cabled to a wall near the tracks. "There is no culture in Marseille," Ben Guesmia said. "There are drugs and murder. Theft. Settling of scores," between gangs. "Culture is what we make ourselves." To access the station, Ben Guesmia climbs a monumental stone staircase flanked by statues of bosomy, reclining women whose features are racial caricatures. One is labeled "Asian Colonies." The other reads "African Colonies." Ben Guesmia said, "When I'm frustrated, when I want to hit someone, I come here and play instead."
With the Mediterranean as a priority after Sarkozy's election, Marseille's festival bid emphasized the city's reach across the sea. It won over the European jury, but others were not so easily charmed. Marseille has always tensely co-existed with the nearby, richer cities that now share in its festival, namely Arles and Aix-en-Provence. While Parisians deride historically rebellious Marseille, the Marseillais respond in kind. "Marseillais generally are wary. They are wary of tourism, of institutions, and of Culture with a capital C," Pringels told me. Some local artists turned against the festival, saying it rerouted the subsidies they were accustomed to receiving. Over the challenging years between the bid and the festival, some officials left Marseille-Provence 2013. Ulrich Fuchs, the current deputy managing director, who is German, was recruited to the project in 2010 after having operated another Capital year in Linz, Austria. "Marseille was experiencing a delay in its cultural development," he recalls.
"The separation between rich and poor is very, very pronounced in Marseille," he says. One in four Marseillais lives in poverty, but Marseille ranks fourth among French cities in residents who pay France's wealth tax. "You also have a certain separation between rich and poor in terms of culture," Fuchs says. "Rap and hip-hop are the culture of the poor... Bourgeois people sometimes have trouble realizing it is a form of culture."
Marseille-Provence 2013 includes rap workshops for prisoners and has co-produced a hip-hop concert this month, as well as a showcase of young rappers from across the country. Its organizers told me they would schedule IAM for two concerts affiliated with the festival. However, on April 21, Akhenaton of IAM told La Provence, "We are not participating in Marseille-Provence 2013," partly blaming the preoccupying new album. Lately the group speaks vaguely about participating, saying the city asked it last-minute to play. B esides, the festival organizers did not fund a center for hip-hop that IAM proposed, a sticking point when the rappers describe their neglect.
Fuchs said his budget is meant for events, not construction, despite the renovation around town, and added that each artistic group always considers that it's not adequately represented in an event of this scale.
Daniel Hermann, deputy mayor for culture for Marseille, says Marseille-Provence 2013 benefits the city's youth as well as tourists. He says, "We take advantage of being the European Capital of Culture to try to sensitize the youth to big public events but also to literature, music, dance, and exhibitions."
I said, "So it's to sensitize the youth of the city to what is culture?"
"Absolutely," he said. "Voilà."
I said, "So it's to show them, this is it, this is culture?"
"Absolutely."
For rap and hip-hop, youthful urban stuff, Hermann and Fuchs directed me toward La Friche Belle de Mai, a former factory converted to studios, exhibition space, theaters, and an urban garden. It is being renovated with Capital funds. The space is industrial, but charming. Handsome conical sculptures of sheet metal adorn the top-floor restaurant. On a sunny day about 300 guests have salad and beers and rosé amid the rumble and clack of skateboard wheels that drift from the skate park below. As far as I can tell, they're all white. Downstairs a bookstore hawks arts magazines, graphic novels, and books about fonts.
Yanna Maudet, a spokesperson for La Friche, makes a face when asked about rap. "This is a personal opinion, but I think it's a little outdated," she says. "In the concerts scheduled here, it's mostly electro, rock, not so much hip-hop."
The Fifteenth Arrondissement tops the city. At the North of Marseille, it sits high on the mountain. Beside the Saint-Antoine station, Roma families illegally live in a parking lot. Girls sweep asphalt before the trailers and men stack scrap metal to sell. Breakneck folkish music issues from some boombox. Tanned boys toss balls. Weeds have room to grow here. This is the South of France, after all, so the weeds are poppies. Walk around the nearby boxy residential towers, and locals urgently say to hide the camera: the dealers who run the projects react poorly to photography.
"In this neighborhood, Marseille-Provence 2013 isn't a big deal," says Zohra Adda, a cook at a theater beside the Saint-Antoine project where she has always lived. "All the museums and shows are at the city center and there isn't much transportation here." An artist-in-residence at the theater is one of those scattered about the projects by Creative Neighborhoods, an initiative of Marseille-Provence 2013. Adda's grandparents moved into these towers after they arrived from Algeria. "At first, when immigrants arrived, they put them up here, far away, and forgot about them," she says.
M.O.H., an ascendant figure in Marseillais rap, releases his second album next month but remains in the northern project where he has always lived. "Rap from Paris is a lot of bling-bling. It's women, cars, American-style, money," he says. "But in Marseille, rap speaks to everything. It can address a couple's private life, or life in general. We are not enclosed within this bling-bling mentality."
M.O.H.'s project sits still higher on the hill, North of Saint-Antoine. Its residents are mostly Comorian, like him, or Algerian. Its towers stand twenty stories tall. M.O.H. enjoys the view that descends to the sea. As a boy, he watched the cluster of lights that was his city. It was far away, and sparkled. From the city's heights its center resembles a diamond bracelet on the long arm of the hillside. "We are the highest," M.O.H. says now. "We see everything. Our children look and say, 'What is that, down there? What is that shining thing?' "