Obama's Overdue Reckoning on Secrecy
The president is pledging to scale back the global war on terror while boosting the surveillance system that wages it.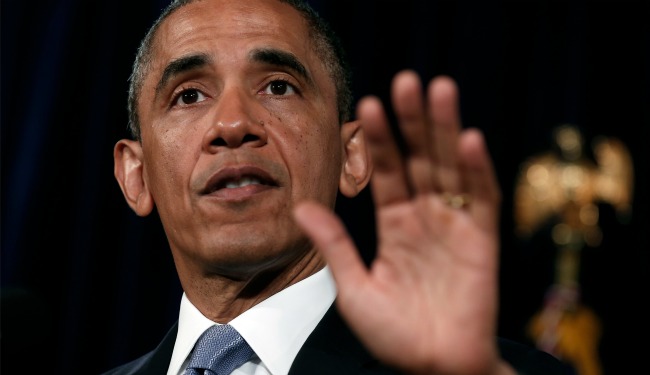 All day Thursday, officials from across the political spectrum scrambled to explain reports in the Guardian and Washington Post of unprecedented government collection of phone and Internet records.
James R. Clapper, director of National Intelligence, issued a rare public statement confirming the existence of a classified phone program but said it did not involve the surveillance of American citizens. Senator Dianne Feinstein (D-Calif.), chairwoman of the Senate Select Committee on Intelligence Committee, asserted that the government needed the information to catch those who might become a terrorist.
Senator Saxby Chambliss (R-Ga.), the ranking member and vice chairman of the intelligence committee, described the program as "meritorious" because it allows government to collect information about "bad guys."
On Friday, President Barack Obama defended the effort as well. Obama said that he and his aides had concluded that "modest encroachments on privacy" were "worth us doing" to protect the country.
"When I came into this office, I made two commitments that are more important than any commitment I make," the president said. "Number one, to keep the American people safe, and number two, to uphold the Constitution. And that includes what I consider to be a constitutional right to privacy and an observance of civil liberties."
The president is trying to have it both ways. Two weeks ago, Obama called for a scaling back of the "war on terror." On Friday, he defended the vast post-9/11 state surveillance system whose only justification is to wage it.
As al Qaeda weakens, surveillance should be decreased, not increased. Obama should be slowly dismantling the system, not regularizing and legitimizing it.
Dizzying rates of technological change have created unprecedented opportunities for government and corporate abuse. From drone strikes that make targeted killings politically easy to cell phones that automatically track our movements, technology has created torrents of data and unprecedented questions about how government and business should be allowed to use it.
Thursday's disclosure should spark a widespread public debate. There is too little awareness of government and corporate data mining. And far too few protections against its excesses.
It should also pressure the Obama White House to become more transparent. The disclosure of the sweeping surveillance programs was a blow to an administration intent on making government seem capable, not oppressive. The disclosure of sweeping and secret data collection strengthened a growing narrative of government overreach.
This spring, critics from the left and right have questioned CIA drone strikes that killed American citizens, Internal Revenue Service agents targeting Tea Party activists and the FBI seizure of journalists' phone and email records in leak investigations.
On Thursday night, Fox News commentators cited the NSA disclosure as proof of "government gone wild." And in a rare moment of agreement, the New York Times' editorial board criticized Obama as well.
In a blunt editorial, the Times dismissed Obama's long-running argument that internal administration reviews - which he refuses to publicly describe - were adequate safeguards for covert drone strikes and surveillance programs. "The administration has now lost all credibility on this issue," the paper said.
On Friday, Obama insisted that the surveillance programs strike a balance between security and privacy. "My assessment and my team's assessment was that they help us prevent terrorist attacks," Obama said.
After years of excessive secrecy regarding drone strikes, another assurance from Obama is simply not enough.
More information must be made public about the scope of the surveillance programs and their effectiveness. Claims that discussing the programs reveal counter-terrorism strategies are exaggerated. Terrorists already assume that the United States tracks their every phone call and online page view. Militant groups long ago developed detailed procedures to try to avoid detection.
In the United States, meanwhile, politicians use the false promise of total security as a justification for eroding privacy. Senator Lindsey Graham (R-S.C.) argued on Thursday that there was no alternative to sweeping surveillance.
"If we don't do it," he said, "we're crazy."
There are some in Washington who see the stakes. For months, Senator Ron Wyden (D-Ore.) and a handful of other surveillance skeptics in Congress, including Senators Richard J. Durbin (D-Ill.) and Mark Udall (D-Colo.), have warned about the scope of the classified program while being barred by Senate rules from describing it in detail.
Their efforts should be lauded and the sprawling post-9/11 American surveillance effort should be re-examined. As Wyden argues, Congress should tighten the Patriot Act's standards for which communications records can be obtained. Congress should also enact measures that create more transparency regarding surveillance.
We must develop clearer laws, standards and procedures for protecting our lives -- from terrorist attacks but also from government overreach.
---
This article also appears at Reuters.com, an Atlantic partner site.