Northern Ireland Attempts to Bridge Religious Rifts Through Youth Soccer
Little by little, Protestants and Catholics are coming together to form integrated teams, although tensions in their communities still run high.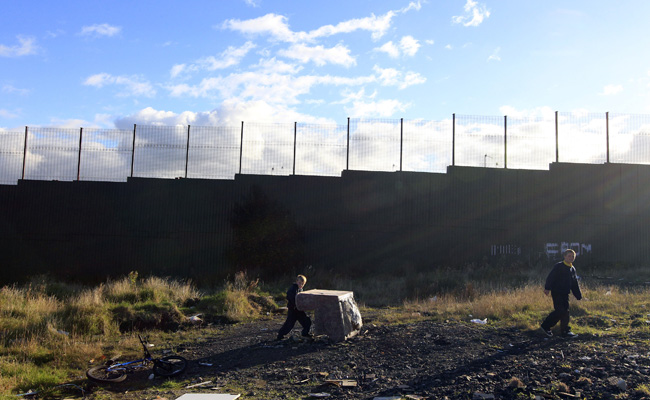 BELFAST -- Fair-skinned and wiry, Grace Ritchie looks no different than the dozen other boys staying dry in the locker room on this rainy Tuesday night. But the 13-year-old is in fact an oddity on his youth soccer team.
Ritchie's a Protestant on the nearly exclusive Catholic squad Cliftonville. As he finished suiting up in white shorts and a red jersey, Ritchie explained that the mostly Protestant team he had been playing for wasn't very good. He wanted to play for a better team, even if some here might consider him an outsider.
"You just have to get on with it," he said.
While that's the case for Ritchie, the perception remains, even among the most optimistic observers, that some of the Catholics and Protestants in this city's working-class neighborhoods aren't ready to get on with it.
Northern Ireland is part of the United Kingdom, and many Protestants align closely with fellow British passport holders. Catholics hold more allegiance to the Republic of Ireland, a separate country to the south. The two sociopolitical groups have long been in a violent struggle over what shape the nation's culture should take. Only recently have they worked cooperatively in government. There's arguably more people like Ritchie than ever, but there are still tensions beneath Belfast's chilly air.
The Protestant population of Belfast fell below 50 percent for the first time in December. With higher birth rates and a younger population, the Catholic population is rising and on pace to become the new majority. For Protestants already feeling left behind in a weak economy, the future looks even bleaker.
A decision by the Catholic-leaning Belfast City Council to cut the number of days that the United Kingdom's flag would fly atop city hall's copper-coated dome set off several weeks of demonstrations by Protestants who felt their symbol was becoming less significant. The protests rattled the nerves of many Belfastians.
"What we have is an uneasy peace," said Michael Cockroft, whose son was taking on Ritchie and Cliftonville. "This is the only way to move on -- to have this generation removed from the troubles."
Cockroft's son, Jonathan, is on the under-13 all-star team from the South Belfast Youth Football League. For the multi-cultural squad, the most vexing debates are over whether the team's bonding activity should be bowling, going to movies, or playing paintball. Just six of the 20 players on the team come from single-religion communities.
Still, Cockroft, a Protestant, told his son to be mindful of what professional jerseys he wore to practice because members of each religious group tend to support only a particular team.
On youth soccer pitches, the desire to stamp out religion brings about a policy of "don't ask, don't tell" even though names, addresses, and choice of clothing provide silent signs of affiliation.
"You never would dream of asking," league manager Robert Johnston said of religion. "But you could surmise. What you wear -- that'll tell a story in Northern Ireland."
However, many parents try to keep religion in the background of their children's lives.
One of South Belfast's players, Ryan Woods, earned a couple of looks when he sported a Northern Ireland jersey. Coming from a Protestant area, he was surprised to find Catholics preferred the Irish national team over the Northern Irish one.
His mom said he's been asking more and more questions about religion in light of both the flag protests and his new experiences on this team.
"You try your best to answer them, but sometimes it's hard for even me to understand what's happening," Gillian Woods said. "They find it all strange."
Fellow parent, James McAleenan, said the children are on this team to play soccer and nothing else.
"If kids are talking about religion at 13 years old, it's not them that's really talking," he said.
Paul Macguire's son, Matthew, is on the South Belfast squad, too. They live in a mixed-religion area, which has exposed his son to name-calling. Macguire said children have called his son a Taig, a derogatory term for a Catholic.
"But he really wouldn't know what that means," Macguire said. "Some kids say it and don't know what it means either."
The percentage of children nationwide who worry about being called names or harassed because of their religion has decreased from 24 percent in 2007 to 15 percent in 2010, according to the latest available government statistics. But attacks on churches annually remain steady in the teens and lows 20s. The number of sectarian incidents reported to the police have bounced around, though they're generally down from 1,700 in 2005 to 1,350 in 2011.
Meanwhile, Ritchie's not the only Protestant on his Cliftonville team. His coach is a Protestant, too. After six years leading a Protestant-heavy squad, this is Johnny Barnett's first year with Cliftonville.
"There's some giggles and there's some laughs as you adjust, but you just figure out their ways eventually," he said light-heartedly.
About 7 percent of children in government-supported schools in Northern Ireland are in integrated schools, a figure that hasn't changed significantly the past few years. But the Northern Ireland Assembly said in a January release that 70 percent of people interviewed in 2010 supported mixed-religion schooling. That marked the highest percentage in five years.
In the current void, programs such as PeacePlayers have been developing mixed sports programs.
Known as twinning, the group combines a class of seven-year-olds from each side for eight weeks at a time for four years. Parental permission is required. Rather than playing soccer against each other, they form new integrated teams. A peace development curriculum is tied in with the training.
"Two to three years ago, schools would have bought into it, but parents would have been resistant," said PeacePlayers' chief Gareth Harper. "There hasn't been anyone who's said no since -- the parents don't want to have relationships, but they don't want their kids to not have one."
The program seeks to serve as an incubator for a grassroots movement led by the young. The hope is that school-based program organically spurs integrated clubs in the streets and parks that are now separated by peace walls.
"Most things socially engineered work a while and then when someone from the community takes their eye off it, it disappears," Harper said.
Diarmuid O'Carroll, a 26-year-old on Cliftonville's most elite team, said it's tough for people to give up their local teams.
"It's your area and your team," he said. "That team in that area is the one you have pride for."
His pal, Michael Gault, a 25-year-old who two years ago became the first Catholic captain in the 125-year history of Linfield's top team, said religion has become less of an issue at the highest level.
"If we do our job, the rumblings stay away," he said.
The players say change is occurring because more fans now have access to games on their televisions. Some of the crazy fans stay at home rather than come to the stadium.
Yet, the vast majority of people acknowledge in surveys that better relations will only occur if the two communities have more bonds.
One coach, Neil McKee, called on the government to provide more funding to existing youth soccer programs. He said better coaches and facilities could inspire more children to form those much-needed friendships.
McKee recently caught grief from Catholics last year when he involved his team in a Royal wedding event. He was seen as promoting British culture, but he said he was just respecting the culture around him, not celebrating it. His experience was surprising, considering that it's been Protestants who have felt the most disenfranchised lately because of their dwindling numbers, lower education levels, and increasing poverty.
Former soccer star Raymond McCord said both groups need a pool of money that's not only bigger, but also only accessible to joint efforts.
Pointing to the Protestant community Taggers Bay outside one window in his office and the Catholic housing complex known as New Lodge outside the other window, he said he dreams of a North Belfast Boys all-star squad like the team from South Belfast.
"It would be nice if some rich benefactor from here or America put the money up for three years," he said. "Let's get it done and develop it from there."