No More 'Bunga Bunga' for Berlusconi
The former prime minister was convicted of having sex with a minor and trying to cover it up. Here's how extensive his sexual antics were, and how he got away with them.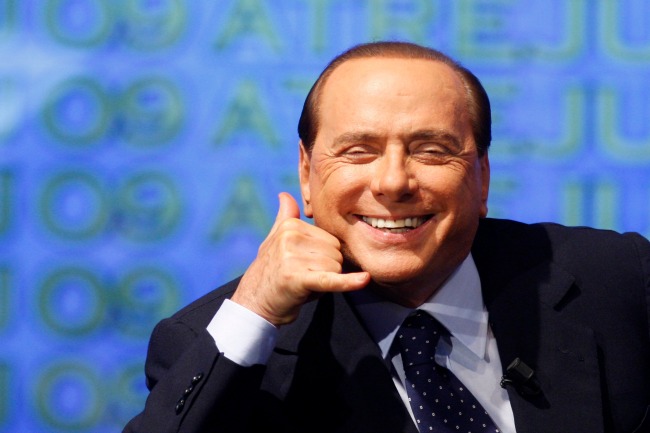 Reuters
Italy's former Prime Minister, Silvio Berlusconi, was sentenced today to seven years in jail and a lifetime ban from holding public office for having paid sex with a minor and for abusing his power in an attempt to cover up the relationship.
The country's most famous playboy is unlikely to ever see jail time, though: Italy generally allows convicts over 70 to live under house arrest, and he still has two appeals left in the country's notoriously convoluted and slow justice system.
Berlusconi's case has been in the works for years, but it stems from an incident in which he allegedly paid to have sex with a then-17-year-old Moroccan woman named Karima El Mahroug, and then pressured local police to release her when she was arrested for a theft. (Berlusconi had previously also been found guilty of tax fraud in a separate case, but he has appealed that conviction and a decision is expected within a few months.)
The El Mahroug case is no ordinary affair, though: Berlusconi is thought to have had countless such liaisons during his epic Bunga Bunga parties, or orgies at his Milan estate. El Mahroug has said that she attended half a dozen of these parties and was given an envelope with $3,900 in cash inside after each one.
In a 2011 Atlantic article, writer Anna Louie Sussman delved into the origins of the Bunga-Bunga parties and how they became synonymous with Berlusconi:
One reason these bacchanals went on unchecked is that the country struggles with a sort of endemic sexism, which touches on everything from womens' employment to the unsavory ways many female performers there make it into show-business:
Meanwhile, Berlusconi's control of the airwaves -- he owns the country's largest public broadcaster -- also helped normalize the kind of wanton female exploitation he seemed to be fond of, and it helped him push back against his critics when "BungaGate" finally erupted. Sussman writes:
It may be years until the case is resolved for good, but this verdict could be a sign that perhaps Italians are finally fed up with "Bunga Bunga" and the blatant abuses that come with it.