Iran's Jon Stewart Serves Up Illegal Political Satire
The tragic comedy of the upcoming presidential election, as told by Kambiz Hosseini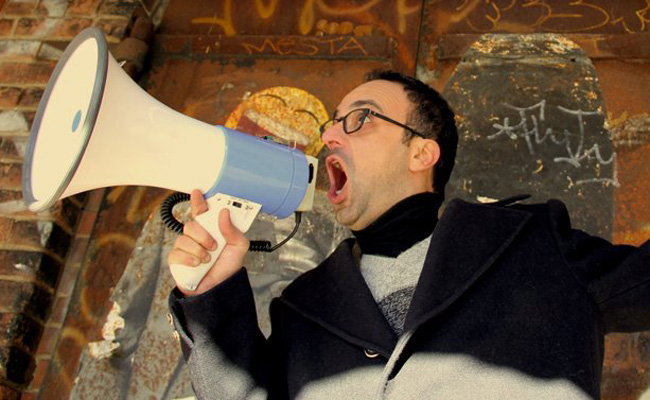 In the world of Iranian actor Kambiz Hosseini, almost everything about his country's presidential elections is side-splittingly funny.
"Becoming the president of Iran is like making a James Bond movie," Hosseini said in a recent CBCRadio program. "The characters stay the same, but they just keep changing the actors." He goes on to single out each one of the eight men selected last month by Iran's Guardian Council to contend for the presidency, leaving no one unblemished.
Hosseini's scathing and hysterical news podcast is an essential part of the weekly media diet of Iran's middle class. Produced by the New York-based International Campaign for Human Rights in Iran and incorporating sound bites from the week's headlines and commentary from Hosseini, the show channels the pathos of a generation desperate to intervene in a meaningful way in Iran's political charades.
Gaining access to Hosseini's show can be a complicated affair for Iranians. In Iran's capital, Tehran, years of Internet censorship and a crackdown on independent media that intensified after the 2009 Green Movement have transformed the way Iranians consume media. In a thriving city of 12 million, unfettered access to the Internet and satellite television channels has long been out of reach. Yet with less than a week before the nation goes to the polls to elect a new president, the appetite for independent political commentary in Iran is perhaps at its highest point in the last four years, only to be met with increased government censorship of websites like Facebook, YouTube, and Google.
It's perhaps difficult for web and media savvy Americans to imagine what its like to consume news in Iran.
"People are sick and tired of the state-run agencies with anchors who sit in front of them and deliver news with this dry structure," Hosseini says. Full of energy and always talking at lightening speed on his weekly podcast, the Hosseini that sits before me at a Starbucks in lower Manhattan is more contemplative. Nicknames and political debauchery aside, the longer arch of Hosseini's career reflects someone genuinely interested in how acting and journalism can play out in the political arena.
The Iranian diaspora in the United States -- of which Hosseini is a part -- has been growing steadily since 1979, all the while becoming a more significant pressure point on the regime from the outside. As the popularity of Five in the Afternoon demonstrates, the barriers that once separated Iranians from the international community are coming down. A survey of more than 2,000 Iranians conducted last fall showed that Iran's citizens are increasingly active on social media sites, with 58 percent reporting using Facebook, 37 percent Google+, and 12 percent Twitter.
These numbers are important because, as Hadi Ghaemi of the New York-based International Campaign for Human Rights in Iran explains, "the internet is the most prominent medium for communication and expression. In Iran, the Internet is the lifeline for people to interact with each other and the outside world."
The Campaign has monitored the disturbing evolution of Internet censorship in recent months as the presidential campaigns heat up. Two weeks ago, sources in Tehran reported Internet slowdowns happening several times a day. State-run and semi-official news agencies are given preferential treatment over autonomous news sources, creating a dearth of independent voices in the media and adding to the sense of isolation and dejection among Iran's rising generation. These are issues that in large part have been overlooked in the American coverage of the presidential race, which tends to focus instead on foreign policy topics that strike closer to home -- chief among them, the prospect for progress in nuclear negotiations with Iran.
The steady drumbeat surrounding the campaign's frontrunner, Saeed Jalili, offers little hope for a significant policy shift in Iran's negotiating strategy. Jalili, the country's current top nuclear negotiator, came under fierce attack in the last of three presidential debates last Friday. Ali Akbar Velayati, another contender and one of Ayatollah Khamenei's top picks for the office, singled Jalili out for his failure to produce any sign of progress on the nuclear issue after 18 months of talks.
The splits that emerged on Friday were noteworthy, suggesting that there is room for debate even among the close circle of hardliners and conservatives selected by the Guardian Council. But despite their differing policy platforms, these men are all still hardly representative of Iranian public opinion.
"What's missing from U.S. coverage of Iran's elections is the people," says Hosseini. "And what the people want is pretty universal. They want a good economy, peace with the world, the sanctions to be lifted. They want to be part of the international community."
But the "electronic curtain" -- as it has come to be called -- that the regime has pulled over its citizens pushes against the very desires nearest to their hearts. The only way to access shows created overseas such as Hosseini's is to use illegal proxies, which make it appear as if a computer is located outside the country. Even this widely used technology has come under attack recently. In March, the government began shutting down VPN clients across Iran, making it harder for ordinary Iranians to access the outside world through the Internet.
"It's really frustrating when you, as a member of society, think that you're powerless to change things around you," Hosseini explains. "And that's the atmosphere in Iran right now."
Hosseini uses the tragedy of the situation as inspiration for his dry and witty humor. Viewers are anticipating the launch of a new television show called POLETIK!, which he will write and host alongside his current podcast project. Hosseini fled from Iran 13 years ago in pursuit of a less stifling media landscape, which made it impossible to host a show like Five in the Afternoon. In the United States, he suddenly faced a hugely competitive professional field and a media environment not without its own barriers to diversity. Now caught between two worlds, Hosseini knows now that his tenure in the United States has made it impossible for him ever to return to his home country, where he would be faced with harassment and almost certain arrest for expressing subversive ideas.
He cites American political satirists like Jon Stewart as among his greatest influences. Indeed, Parazit has been dubbed the Daily Show of Iran in the Washington Post, and Stewart has invited Hosseini onto his show as a guest.
"In order to make something funny, especially in American media, you have to take sides," he explains. "Here, you have the Democrats and the Republicans. As for me, I put myself on the side of the people."
As much as Hosseini admires and draws inspiration from Jon Stewart, the comparison only holds to a certain extent. In substance, Hosseini's podcasts are darker, and equally hilarious as they are tragic. While American progressive satirical programming has highlighted absurdities in the Tea Party and America's own presidential horse races, Hosseini cracks jokes about people denied basic human rights -- journalists being interrogated in Iran's notorious Evin Prison, and women facing institutionalized discrimination, and medieval jurisdictional practices. Outside of the zany world of Five in the Afternoon these topics are no laughing matter.
"There is a limit for crying and then after that, you laugh," explains Hosseini. "Say you're in a ship and you're lost in the ocean and you have no connection to land anywhere. At that point, crying wouldn't help. It automatically becomes funny. In Iran right now, it's like that."
A combination of depression, anger, and inspiration drove Hosseini into the business of political satire. Like a rising tide held back by a stack of sandbags, the media-hungry population in Iran will always find new ways to illegally download, copy, and distribute dissenting voices such as Hosseini's. In fact, an email from a fan confirmed that Tehranis have recently been giving out copies of Hosseini's show on the streets by hand. Ironically, Iran's citizens are resorting to the time-old method of distribution on the streets to circumvent the government's censorship of modern technologies.
What gives Hosseini and other members of the Iranian diaspora hope that democracy may one day gain a foothold in their country is Iran's current demographics. About two-thirds of the country is under the age of 35, and of those, many are highly educated and politically engaged. At the same time, it is Iran's youth who face the harshest setbacks from unemployment and the most severe housing shortage the country has seen in decades. It was this volatile combination of factors that drove thousands into the streets four years ago to question the legitimacy of President Ahmedinejad's reelection. It is not unlikely, as scholars and commentators have speculated, that Iran will see large protests on par with the Green Movement again in the near future.
Yet Hosseini also expresses concern about Iran's young generation, a huge population that sees "election" as a dirty word, yet for whom the revolutionary fervor of three decades ago means little.
"I'm worried about the teenage generation because they don't have trust to participate in elections," Hosseini explains. "Voting in an election is not a positive thing. There is always a possibility of fraud, a possibility that the candidates do not fully represent all sides."
The least he can do from inside a studio thousands of miles away is give Iran something to keep it laughing, force people to gather in their living rooms to listen to a funny, smart, and sometimes painfully truthful podcast, and talk politics as Iranians have always loved to do.