In an Arab Idol Contestant, a Rare Glimmer of Hope for Palestinians
Mohammed Assaf has become so popular even local politicians are using him to try to gin up support.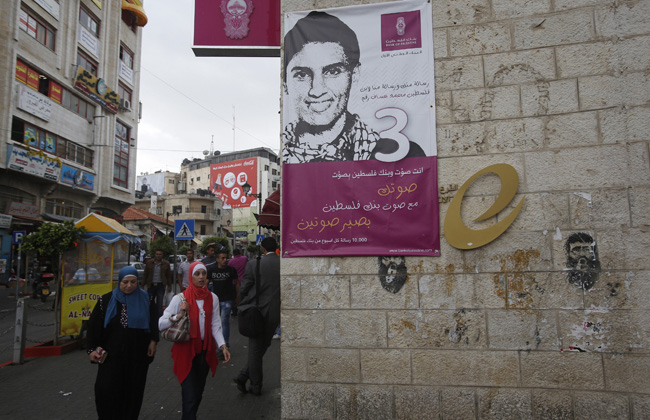 RAMALLAH, West Bank -- As of late, a new name has come to define Palestine throughout much of the Arab world. Posters of the young singer Mohammed Assaf, who shot to stardom in the singing competition Arab Idol (the Middle East's version of American Idol), are plastered across the dilapidated walls of West Bank refugee camps and the newly minted billboards lining the route to the Qalandiya checkpoint separating Ramallah from Jerusalem. Street vendors have devised new schemes to increase their sales by offering T-shirts with the crooner's face and the number three -- the digit assigned to him for SMS voting. In a place where despair has soared alongside a deepening economic crisis, a political quagmire and declining international aid, the native Gazan has quickly risen to symbolize hope.
In the West Bank city of Ramallah, every Friday and Saturday night, hundreds of Palestinians head to a part of the city normally reserved for fruit and vegetable sellers to watch the 23-year-old on a large screen mounted atop an old building. Plastic chairs are lined up horizontally, barely an inch separating one from the other, to ensure space is maximized for the expected crowds. As soon as the clock hits 9 and the show begins, throngs of young men and groups of families show up, some racing to buy from the abundant food options available in what's become an impromptu open-air theatre. Bucket-loads of turmos (cooked lupine beans), foul (fava beans), and roasted corn on the cob are available for a few Israeli shekels; their main competition being the charcoal-cooked lamb kabobs stuffed in vegetable-filled pitas.
The story of Assaf's rise to stardom has become just as popular as the singer himself. The young man -- born in Libya but raised in Gaza's Khan Younis -- arrived late to the competition's Cairo-based auditions after having trouble leaving the coastal enclave through the infamous Rafah crossing point. Once in the Egyptian capital, he literally had to climb a wall to gain entrance to the area where tryouts were being held in order to bypass the locked front gates. A fellow Palestinian who heard him belt a song gave him his audition slot because he believed Assaf had a better chance of winning.
The humble beginnings of this soft-spoken 23-year-old have made him all the more appealing to millions of Palestinians living in the territories and abroad. "He managed to unite Palestinians in Gaza and West Bank," said Itaf Said, a young mother, sitting with her husband and son, all clad in T-shirts bearing the face of the heart-throb. Indeed, reconciliation between Fatah and Hamas, the two factions feuding since 2007, has been preoccupying the Palestinian political landscape. For years, the party's leaders have been exchanging jabs, then handshakes, before launching wide-scale campaigns to interrogate or imprison loyalists. This is followed by flights to Cairo, where talks are held and agreements are inked under Egyptian auspices.
In the words of Ahmed Subhi, a young man who lives in Ramallah, Assaf seems to have helped locals forget how Palestinians, once united against the Israeli occupation of their land, are busy fighting one another. "No other figure since Arafat has been this popular," Subhi said. Does this mean he is more popular than the current president, Mahmoud Abbas? "We respect our president and the two issues are very different," he said, after a friend shot him a weary look. "This is cultural and has nothing to do with politics."
The man's observation seems to go against how politicized Assaf's partaking in Arab Idol has become. Soon after Assaf enchanted viewers with his voice, a phone call was made to support him by then-prime minister Salam Fayyad, who resigned following rising tensions with Abbas over his growing power. A week later, Abbas' son was seen in Beirut in the weekly live elimination session. No sooner after that, billionaire businessman Munib Al Masri was seen in the studio audience offering his support and getting a on-air shout out from Assaf.
Assaf's massive grass-roots support had grown so exponentially that it has captured the attention of political figures longing for some sort of legitimacy, said Ala Al Azzeh, who teaches at Birzeit University's department of sociology and anthropology. "Instead of tackling the political and economic crisis, they have reduced their efforts to turning Assaf into a national project," Al Azzeh said.
This past week, Abbas urged Palestinians to vote for the singer. He even went as far as to give instructions to the Palestinian Authority Ministry of Foreign Affairs to have international consulates and embassies around the world mobilize support for him. Abbas also telephoned acclaimed Lebanese singer and jury panelist Ragheb Alama to express his support for Assaf.
Palestinians taking to social media platforms have expressed an apprehension of what they dubbed an attempt by politicians to ride Assaf's popularity wave and hijack his prominence. Recently, two women on Facebook quibbled about why Abbas' son went to Beirut in the first place. Was he dispatched to shore up constituency support for his father?
Arab singers have long held an important role in society, especially at times of war. Umm Kalthoum, the legendary Egyptian singer, was hailed by Arabs from the Maghreb to the Gulf as a unifying pan-Arab figure. The songs by acclaimed Lebanese singer Fairouz are still being sung today, her patriotic lyrics ringing true at a time when a civil war is wreaking havoc in Syria and Palestinians are still living under Israeli military rule.
"There is a deep nostalgia for these days," Al Azzeh said. "But the context is different. These previous legends were part of a nationalistic project. Today, unfortunately, the only ones with a futuristic vision are the Islamists, and the progressive likes of Assaf do not fit in that vision."
Whether Assaf manages to unite his people as the legendary vocalists of Arab nationalism once did remains to be seen. His songs, however, have managed to capture widely held sentiments among Palestinians -- something that political and business leaders have tried but failed to do so far.