Does Iran's President Matter?
The convoluted system in which a supreme leader supervises the president, who in turn represents the people.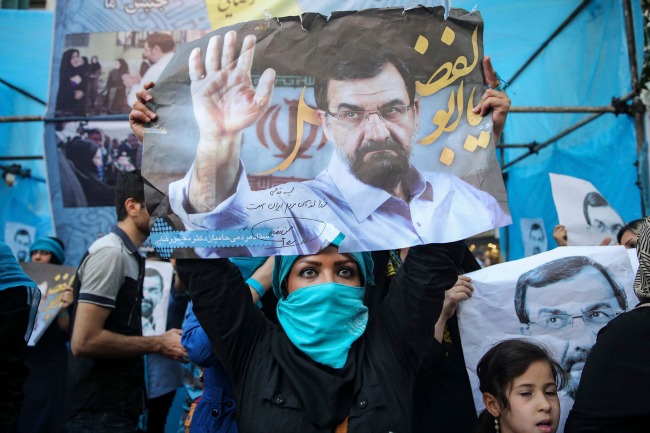 Campaigning in Iran's election marked its last day on June 12 with all the public trappings of an exercise in popular democracy.
As candidates made their last speeches before the June 14 presidential poll, Iran's Supreme Leader Ayatollah Ali Khamenei called on all eligible voters to participate enthusiastically and show their support for their country.
But in a political system where the supreme leader, not the president, holds the ultimate decision-making power -- including commanding the army -- how much does it really matter who wins?
The question is complicated because the Islamic republic is designed to balance two forms of governance: theocracy and democracy. Under the system, the supreme leader, the paramount expert in religious law, supervises the office of the president, who represents the people's will.
Joanna Paraszczuk, managing editor of EA World View, a website specializing in Iran, says the president "has latitude within the parameters set by the supreme leader." That latitude includes appointing key administration officials, initiating domestic economic programs, and representing Iran to the rest of the world.
But he does not have the authority to contradict Khamenei's own policies, including when it comes to dealing with Iran's most pressing problem -- its sanctions-hit economy:
"The new president is going to have to take on the almost impossible task of fixing the economy within the parameters of increasing Western sanctions," Paraszczuk says. "It really doesn't matter what kind of plan he has to put in place, he is still going to have to face the problem of not being able to blame anything on the sanctions because that is against the supreme leader's line, which is that sanctions are not really affecting anything and the resistance economy is actually working."
Khamenei has publicly blamed Iran's high unemployment and inflation rate on mismanagement of the economy by current President Mahmud Ahmadinejad, who leaves office under a cloud. During Ahmadinejad's two terms in office, he openly feuded with members of Khamenei's camp and was punished by seeing his hand-picked successor, Esfandiar Rahim Mashaei, barred from participating in the presidential race.
But if the next president will have to pretend the economy is not suffering from sanctions, yet somehow keep it working, he's likely to have even less latitude when it comes to foreign policy. That's because Iran's biggest foreign-policy challenge today is its nuclear program, an issue directly managed by Khamenei.
In the run-up to the election, a highlight of the candidates' debates was direct sparring between the two presidential candidates with experience as nuclear negotiators. One is Said Jalili, Iran's current nuclear negotiator; the other is Hassan Rohani, Iran's negotiator under former President Mohammad Khatami.
Rohani, who once agreed in negotiations that Tehran would suspend uranium enrichment, publicly faulted Jalili's uncompromising approach for putting Iran under increasingly punitive sanctions. But Paraszczuk says that whether Rohani could in fact change Iran's current negotiating stance if he were elected is highly debatable.
"What [Rohani] has done is to say that he would be willing to open up more direct negotiations with the United States, which Jalili has vehemently opposed. So, if Rohani were elected, I think we might see a change in more openness toward the West," she says. "But ultimately the supreme leader is going to have the final veto on that and I don't think he wants to move toward those sorts of negotiations."
A continuing question around this election is how many Iranians believe their vote matters enough to warrant casting their ballots.
For loyalists of the theocratic establishment, the answer is easy. They will vote for one of the five remaining conservative candidates because doing so is an expression of loyalty to the supreme leader and the system he dominates.
But for those who prize Iran's identity as a republic, the answer is harder. Paraszczuk says they first must decide whether they think the election will be fair.
"There have been a lot of opinion polls in Iran, and even though they are not particularly reliable in terms of methodology, one key feature that has come of out of those opinion polls is that something like 60 percent of Iranians have not yet decided who to vote for. They are going to leave that decision to the last minute and that indicates a level of apathy," Paraszczuk says.
"And the people who don't want to go out and vote are more likely to be the reformists and moderates, because they think that perhaps the election will be manipulated and so there's no point in voting."
These reluctant voters must decide whether they can rally behind the only candidate endorsed by reformists -- Rohani -- and whether, if he were to win, he would be allowed to represent at least some of their views.
Their only hope in both cases is that Iran's establishment still attaches enough importance to maintaining Iran's image as both a theocracy and a republic to let the people freely choose their next president. They were disappointed in Iran's 2009 presidential election and launched the Green Movement to protest the election as rigged. Now they have to determine whether it's worth trying again.
---
This post appears courtesy of Radio Free Europe/Radio Liberty.