Christian and LGBT Groups Have Brought the Battle for Gay Rights to the Caribbean
Controversy over the region's colonial-era "buggery" laws is exposing a new form of advocacy -- and anti-colonialism.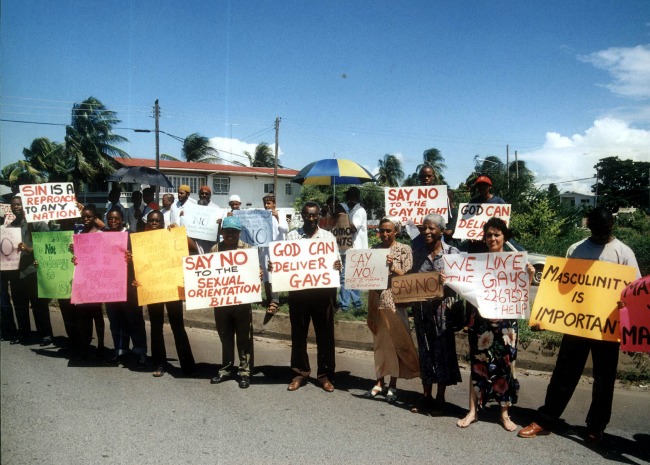 After two young men were seen having sexual intercourse in a university bathroom in Jamaica last year, they were set upon by a mob, who cheered as security guards kicked, punched, and slapped one of the boys. The attack was yet another sign that homophobia is alive and well in many Caribbean nations.
The West is known for exporting its culture, but also its culture wars. The fight for gay rights abroad is the latest example. Powerful, U.S.-based Christian-conservative groups and a network of pro-LGBT transnational actors have each become deeply involved in debates about homosexuality in many countries of the Global South.
These gay "proxy wars" are especially intense in former English colonies. These territories are inheritors of an acute obsession with sexual puritanism, which is evident in how their laws treat homosexuality. Convinced that native societies were morally corrupt and licentious, colonial governments and pastors prescribed harsh laws against same-sex relations in British territories. These "buggery" statues became a colonial mainstay in the 19th century. Originally, these laws banned any form of "unnatural connection," including bestiality, but their lasting impact has been the criminalization of male homosexuality. Today, criminal bans on sodomy still exist in a whopping 78 countries, many holdovers from British colonialism.
But 200 years later, change is starting to take root. Even in the most intolerant places, local actors have emerged to revoke these laws. Needless to say, they face formidable opponents.
International actors have passionately joined these foreign battles. For supporters of LGBT rights in the Global North, the myriad injustices that the world's sexual minorities suffer equate to grave human rights violations. Some European nations, and now even the U.S. State Department, have made LGBT-protection an important part of their objectives abroad.
For conservative religious organizations, mostly in the United States, foreign countries represent not just a fresh opportunity to influence the debate over homosexuality, but also a source of fundraising and followers. Even before the June 26 Supreme Court rulings on gay marriage in the United States, these groups recognized that they were losing the gay-rights debate at home, but they figure that their chances are better abroad.
The Anglophone Caribbean is a prominent example of this exported culture war -- sodomy bans exist in 11 Caribbean nations. Although though these buggery laws are hardly ever enforced, they give credence to actors who promote intolerance. From openly homophobic artists to tourist officials resistant to gay visitors, the English-speaking Caribbean is no gay paradise.
The good news is that these laws are no longer taken for granted. In 2011, the current prime minister of Jamaica campaigned promising to end buggery laws. On June 25 this year, the Jamaican Supreme Court heard a complaint against the nation's buggery laws. That case paralleled another petition to repeal Jamaica's law before the Inter-American Commission on Human Rights (IACHR). In May, the Belizean Supreme Court tried a challenge to Section 53 of its criminal code, which condemns "carnal intercourse against the order of nature" with 10 years in prison. Later that month, the prime minister of Dominica was compelled to weigh in on the debate in his own country, asserting that repeal of the sodomy ban was out of the question for the "foreseeable future." A few days later, newspapers in Grenada published a letter from the president of the senate urging a review of the island's buggery law. Similar legal challenges to sodomy bans have occurred this year in several other former British colonies - Singapore, India, and Northern Cyprus.
The bad news is that these folks are fighting not just local mores, but also a large battalion of U.S. churches and church-related groups siding with the defenders of the status quo.
Many of these small Caribbean nations frequently host Phillip Lee, director of the California-based religious organization His Way Out Ministries, which has ties to Focus on the Family. Lee, a man who says he's formerly gay and has renounced "the lifestyle," preaches that prayer can reverse same-sex attractions. He has met with high-level officials such as the governor general of Jamaica and the mayor of Port of Spain, the capital of Trinidad and Tobago. In his words, "the Caribbean is ripe for ex-gay ministry planting and development." In March of this year, Lee traveled to Guyana (which he claims to have visited some 20 times) as well as to Trinidad and Tobago. In both counties, he made several radio and television appearances, hosted well-attended workshops, and publically expressed support for keeping sodomy bans on the books. In Belize, the most prominent advocate of maintaining the country's buggery law is Scott Stirm, a Texan emigre and the founder of Belize Action, the main organization opposing the effort to decriminalize sodomy. As The Economist recently reported, Stirm's efforts are buoyed by support from the Alliance Defending Freedom, an Arizona-based religious advocacy organization.
Pro-LGBT international advocacy groups have sought to contain this crusade. Their strategy has largely hinged on the inclusion of LGBT issues within the human rights agenda of multilateral forums, such as the IACHR and prominent NGOs. AIDS-Free World, based in New York City, filed the challenges against Jamaica's buggery laws, both before theJamaican Supreme Court and theIACHR. It has also launched a lawsuit against two Jamaican TV stations and the Corporation for Public Broadcasting of Jamaica (PBCJ) over their refusal to air a pro-gay PSA, and is also challenging the travel ban on homosexuals in Belize and Trinidad and Tobago. In Belize, the Human Dignity Trust, the International Commission of Jurists, and the Commonwealth Lawyers Association have all joined the fray as interested parties in support of the complainant. Their representation includes Lord Peter Goldsmith, former attorney general for England and Wales.
Domestically, these international influences are generating backlash. A visit to Trinidad and Tobago by Phillip Lee in 2010 provoked, in the words of the country's most prominent gay rights organization, "the largest (and perhaps the first) GLBT protest in T&T's history." Young people, galvanized by the harmful effects that reparative therapy has had on their counterparts in the United States, organized the gatherings to challenge Lee's "message of exclusion and conversion." One organizer cited the elevated rates of suicides among LGBT youth in the United States as grounds to resist the ex-gay movement in Trinidad and Tobago.
At the same time, critics of LBGT rights have assumed a hyper-nationalist position, decrying international LGBT groups for importing their "foreign models." Advertisements in Belize, for instance, have sought to portray the case before the country's Supreme Court as an example of moral decadence being dragged into Belize by Barack Obama (see here, here, or here). Prior to the arguments before the Supreme Court, protestors in Jamaica lambasted the buggery case as emblematic of the attempt by gay rights advocates to "take over the world."
Local conservative groups have thus turned the debate about gay rights into a debate against neocolonialism. The paradox is that some of these groups decry interventionism even though they themselves are welcoming anti-gay Christian movements from abroad.
International pro-LGBT rights group thus have perplexing problem on their hands: helping local actors fight against transnational Christian forces while at the same time protecting themselves from accusations of neocolonialism. It seems that aid from religious groups is not subject to the same imperialist stigma, not to mention the fact that buggery laws themselves were imposed on Caribbean societies from outside.
Conditionality could become one way to fight the status quo. Foreign stakeholders are beginning to require countries to adopt friendlier gay policies in exchange for, in this case, tourist dollars or foreign aid. When the Grenadian president of the senate urged a review of the anti-sodomy law, a principal reason he gave was that wealthier nations could impose sanctions on the island as punishment for not doing so. AIDS-Free world, meanwhile, claims its petition before the IACHR is intended to shame Jamaica, thereby imperiling tourist revenues.
But these approaches can also be counterproductive. They risk placing local LGBT populations in an antagonistic position vis-à-vis society, as they stand to shoulder the blame for sanctions intended to punish homophobic lawmakers.
Colin Robinson, executive director of a gay rights organization based in Trinidad and Tobago, asserts that a model that hinges on international arbitration rather than domestic action often comes at the "expense of nurturing local political alliances, of building ownership of GLBT issues by other sexual rights stakeholders, of developing strategic power domestically, ... or simply of being politically innovative in response to local conditions." For example, Jamaica's main LGBT organization has sought to stem international boycotts of dancehall music. While this genre has been marked by virulently homophobic rhetoric in the past, local activists worry that foreign boycotts unwittingly punish reformed artists and alienate gay rights activism from an important component of national culture.
International pro-LGBT groups could also focus more on on-the-ground objectives - such as reducing school bullying, homelessness, workplace discrimination, police and teacher sensitivity training, scholarly exchanges. Swaying public opinion, which can only be done by domestic groups, might be better than turning punitive.
In the end, there is no easy solution. Local pro-LGBT rights groups need all the help they can get, especially where it is unsafe to be openly pro-gay, as it is in many parts of the Caribbean, and this alone is an argument for continued help from abroad.
International pro-LGBT actors should thus stand ready to help, but being careful not to create new problems for the very constituencies they are trying to support. The last thing the LGBT community needs is yet another pejorative label, in the form of "Made in the USA."