Children in the Syrian War: Tortured by One Side, Recruited by the Other
A new UN report comes amid staggering casualty numbers and Obama's confirmation that the regime has used chemical weapons.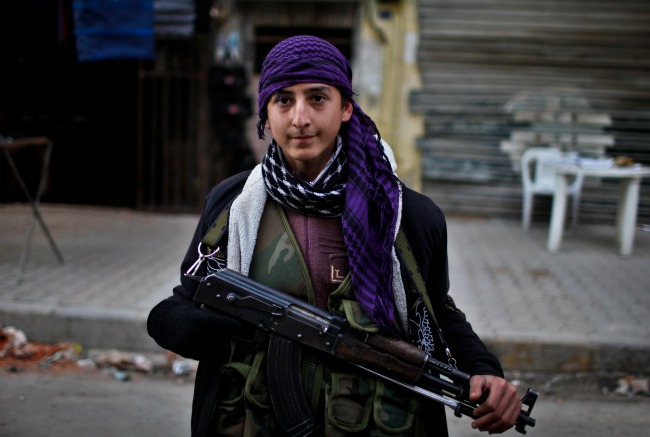 Last May, Syrian government forces stormed a primary school in As-Safira, Aleppo and took 55 children hostage, using them as human shields. This incident, as detailed in an annual United Nations report on children released this week, points to widespread atrocities committed against Syrian children by both government and opposition forces like the Free Syria Army (FSA).
"In Syria, schools are used as barracks and torture centers," said Leila Zerrougui, UN Special Representative of the Secretary-General for Children and Armed Conflict in an interview. "Children detained [are] sexually abused, raped, or [threatened that] their sisters will be raped. They are paying a very high price."
The report mentions a slew of abuses, including the recruitment of child soldiers, sexual violence and rape as a tool of war, the use of heavy weaponry and cluster munitions against civilian populations where children are present, and the targeting of schools and hospitals, which are protected under international law. In Syria, many children have not been to school in more than two years.
Children of opposition members and rebel fighters are routinely imprisoned by government forces and subjected to "electric shock, beatings, stress positions and threats and acts of sexual torture," according to the study. They are used as pawns to extract information on rebel involvement in local populations. Often, children are held for ransom until family members turn themselves into the government, facing almost certain death.
Rebel recruitment of children was another main concern in the study. As the war drags on, and the Free Syrian Army is pressed for able-bodied fighters, children are becoming more involved in the war, though some commanders have been documented turning away youngsters. While some children -- many between the ages of 15 and 17 -- serve as fighters, others load bullets, carry weapons, and distribute water and food.
Some children are sent to fight by family members. Other are recruited directly by the FSA, which has come under attack for allegedly bribing impoverished families with money. They are "manipulating the poverty of the people and the vulnerability of the population," according to Zerrougui, who added that children should never be allowed to fight, even if they volunteer.
The Syrian regime is accused of raping young women and girls in detention facilities, checkpoints, and during raids, though rebel groups have been also been accused of committing acts of sexual violence.
The war in Syria has claimed nearly 93,000 lives, according to another report released Thursday. Every month, 5,000 more people perish. While the report, complied from eight databases from March 2011 to April 2013, reveals the most accurate information on conflict-related Syrian deaths to date, it is still a conservative estimate. The new death toll only includes deaths where names, dates, and locations could be verified.
"The true number of those killed is potentially much higher," said UN High Commissioner for Human Rights Navi Pillay in a statement Wednesday. "States with influence could, if they act collectively, do a lot more to bring the conflict to a swift end, thereby saving countless more lives."
The UN reports come at a crucial time for international efforts to resolve the increasingly bloody civil war. Syria is at a crossroads following the recent capture of Qusair -- a strategic rebel stronghold in western Syria -- by regime forces. And just yesterday, U.S. and European officials confirmed that Syrian President Bashar al-Assad's forces used chemical weapons.
"Following a deliberative review, our intelligence community assesses that the Assad regime has used chemical weapons, including the nerve agent sarin, on a small scale against the opposition multiple times in the last year," said Ben Rhodes, Deputy National Security Adviser, in an official White House statement.
Rhodes said in a press call Thursday that the president has decided to step up military support for the Syrian opposition, and the New York Times reported this morning that the U.S. will start supplying the rebels with small arms and ammunition. Next week, world leaders will meet in Northern Ireland for the G-8 Summit, where the war in Syria will be a hot issue.
With no end in sight to the war in Syria, it seems the international community is running out of time to act. As Andrew Harper, UNHCR's representative to Jordan (where 20 percent of Syrian refugees are under 5 years old) said on Twitter today, the death toll is a "political scorecard of human misery".