An Egyptian Journalist's Nightmare
The ordeal of Yehia Ghanem, who was convicted in Egypt's notorious NGO trial.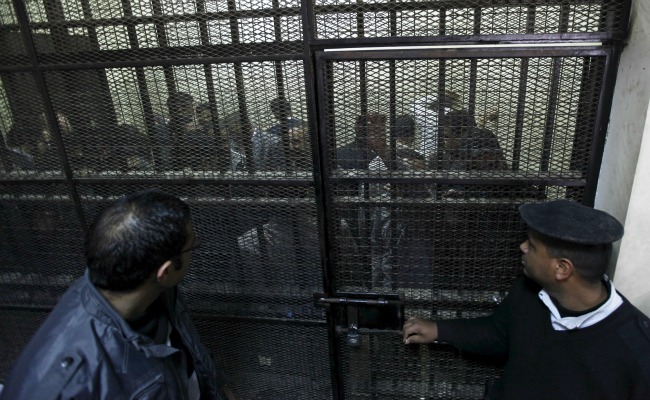 In a long and distinguished career in Egyptian journalism, Yehia Ghanem has been a foreign correspondent and an editor for Al-Ahram, the country's most respected newspaper. He has written four books, participated in international forums, and in recent years devoted much of his time to the training of younger journalists under a program directed by the International Center for Journalists (ICFJ). But on June 4, after a protracted trial in which he and several dozen other Egyptians with connections to foreign nonprofit organizations were accused of receiving illegal payments from abroad, Ghanem was convicted and sentenced to two years in prison at hard labor. Fortunately, in anticipation of an acquittal that his lawyers widely expected, Ghanem was in Washington when the verdict was rendered. Now a fugitive, Ghanem is cut off from his family, his livelihood, and with little hope for a return anytime soon unless he is pardoned, which seems unlikely given the vehemence of the judge's ruling in the case.
The ICFJ, based in Washington, conducts training programs in journalism around the world, supported by leading foundations, media companies, individuals, and the State Department. It began operating in Egypt in 2005, in association with universities and local media organizations. Efforts to gain registration of its own dragged on for years, stalled by bureaucracy, but seemed likely to gain momentum with the Arab Spring upheavals of 2010. Ghanem, his Egyptian colleague Islam Shafiq, and three nonresident Americans working with ICFJ planned to expand a program to train professional as well as citizen journalists in anticipation of Egypt's transition to democracy and greater prospects for independent reporting. With advice from their lawyers, ICFJ rented a small office and received a grant of about $900,000 from the State Department to upgrade the training programs under Ghanem's expert leadership. But the plans were abruptly halted in late 2011, when Egyptian security forces launched raids on ICFJ and the offices of three pro-democracy American nonprofits--the International Republican Institute, Freedom House, and the National Democratic Institute--seizing files, computers, and cash. Also implicated was the Konrad Adenauer Foundation.
Among those subsequently charged were seven Americans who were allowed to leave Egypt after several months when the United States posted nearly $5 million in bail. But the cases against them proceeded, along with those of other Americans associated with the organizations who were not even in Egypt but were nonetheless convicted of receiving illegal foreign funds and sentenced "in absentia" to five years in jail. In all, 43 workers for nonprofit organizations were convicted in what had all the trappings of politically motivated prosecutions that reflected the strains between Egypt and the United States since the 2011 revolution that ousted Hosni Mubarak and led to the government of President Mohamed Morsi and the Muslim Brotherhood.
The criminal verdict was especially harsh in its denunciation of the defendants and their association with U.S. organizations: "The court concluded in its ruling that one cannot imagine, by reason and logic, that the USA or other countries supporting the Zionist entity has any interest or a genuine desire for establishing a real democracy in Egypt." In his response to the trial, Secretary of State John Kerry asserted that the decision "runs contrary to the universal principle of freedom of association and is incompatible with the transition to democracy."
The case of Yehia Ghanem struck ICFJ with particular intensity because of his distinction as a journalist and how acutely it misrepresents the organization's role in supporting the training of reporters. In testimony to a congressional committee last week, ICFJ's president, Joyce Barnathan, said:
The International Center for Journalists work in Egypt and around the world is aimed at raising professional standards. We offer practical, hands on programs using the latest digital tools. We help today's journalists produce responsible ethical coverage. . . . We are not a political organization. We do not take political positions or offer political advice, ICFJ has been working in Egypt since 2005 with the complete knowledge of the government. . . .
How do we even relate to any of these charges? The ICFJ defendants did nothing wrong by training journalists.
In remarks made last week to the ICFJ board of directors, Ghanam's account of the events around the trial was harrowing:
When I heard the prosecutor in his closing argument shouting at the top of his voice pointing at me: "that criminal who was misguided by his lust and driven by his own devil" I have to wonder: is this nightmare or a reality. When the investigating authorities leak your home address, landline number and all your personal contacts to the media in the middle of a fierce campaign to incite the public against you encouraging angry commoners to come to your doorsteps seeking revenge from an "Enemy of the State" then this must be a nightmare. When your elder son gets attacked by his schoolmates for trying to defend his father's reputation and ends up with broken arms, then this must be a nightmare.
Barnathan said in her testimony to Congress:
This decision has ruined lives. What do you say to a distinguished journalist like Yehia Ghanem, whom we had hired to lead our new program which hadn't even begun. . . . He got a two year sentence and cannot return to his wife and three children--and the country he loves--without going to prison.
ICFJ's other Egyptian employee, Islam Shafiq, is separated from his pregnant young wife, and while his one-year sentence was suspended, it is unclear whether he should risk returning to Cairo given the level of tension that the trial has produced.
There is a particularly disturbing quality to the way Yehia Ghanem's commitment to Egypt and journalism has been turned against him by the court's judgment. Clearly, ICFJ can no longer fulfill its mission to enhance the work that Ghanem believed was so important for Egypt's development. Barnathan's appearance before Congress carried an appeal:
We need a pardon so that good decent people like Yehia Ghamen, and Islam Shafiq can recapture their lives. It would be a shame if Egyptian citizens now fear that working to build democratic institutions will only land them in jail.