After Torture and Persecution, Iranian Activists Work From Inside the U.S.
In the lead-up to the elections, some activists are fighting U.S. sanctions, even as they push for reform in their former homelands.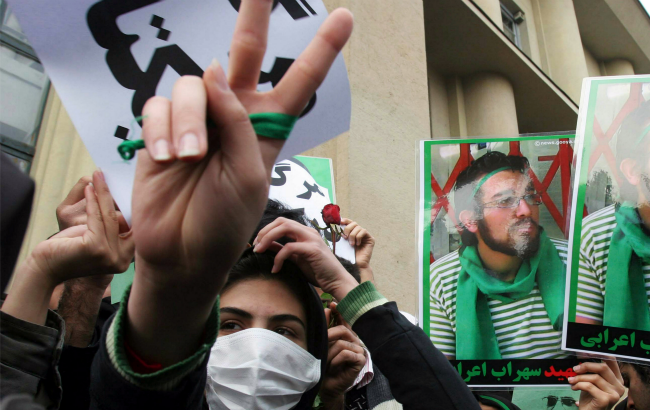 It was early morning on June 15, 2009 when the students gathered inside the gates of Iran's Sharif University. Some were eager to start marching, others were afraid of snipers. After a brief deliberation on whether they should go ahead, Ali Abdi led a couple hundred students out past the gates.
As the political secretary of the student union, Abdi, a slim 24-year-old engineering student with horn-rimmed glasses and a five o'clock shadow, felt responsible for the safety of his fellow students. While the blazing sun rose over the concrete jungle of west Tehran, he headed to the protests with a wavering heart.
Three days after the presidential elections, Tehran was in upheaval. Supporters of Mir Hossein Mousavi, the main reformist candidate, took to the streets in protest against the declared reelection of Mahmoud Ahmadinejad, and by afternoon they amounted to an estimated three million.
Abdi picked up his Kia Pride from the university and gently maneuvered the car through throngs of people toward the city center, when suddenly a bloody hand slapped against the driver's window.
"They are killing, they are killing," a man in a bloodstained shirt cried out.
At Azadi (Freedom) Square, protesters now faced the brutality of the security forces. By the end of the day, eight people had lost their lives, as Reuters reported. The Green Movement, as it came to be known, continued protesting for weeks, and sniper fire, beatings, and other violence claimed the lives of at least 110 protesters.
Unlike many of the movement's other organizers, Abdi managed to avoid arrest, and in September, after three months of protests, he secured a student visa for a Hungarian university. Knowing that the security forces would be unforgiving if he returned, he was prepared to not see his country again for years.
However, within a few years, he would influence more people from abroad than he ever had in Iran.
After a stint in Europe, Abdi moved to the United States to study at Yale, and later to New York, where he now lives. Meanwhile, in Tehran, with the next elections scheduled for June 14, the Green Movement is as good as invisible. Its leaders, Mir-Hossein Mousavi and Mehdi Karroubi, remain in house arrest.
From his exile, Abdi is working incessantly with a group of likeminded activists to keep the dream of democratic change that the movement spurred four years ago flickering. From a one-bedroom apartment in Brooklyn, Abdi has developed into an online icon, acting as a focal point for Green activists in the U.S. and trying to steer them in the right direction for the future.
In New York, Abdi and his fellow activists campaign against American banks that refuse financial transactions by Iranians wishing to import medicine. They compile stories from people inside Iran to show how American sanctions are squeezing the Iranian population. And through social media, Abdi gathers news about everything from human rights abuses to art in Iran and tries to keep increasingly disillusioned Iranians politically engaged in their country.
A recent Facebook post of his, declaring that he was going to vote in this year's election despite the lack of a strong reformist candidate, got almost 1,000 likes within a day.
Abdi may have found a way to continue his work within the U.S, but he has not found peace of mind. He watches as his country of residence wages an economic war against people with the strictest sanctions regime in history. The sanctions, meant to curtail Iran's nuclear program, are taking a serious toll on the humanitarian situation in Iran. A month ago, when his student visa was about to expire, Abdi received political asylum in the U.S., but it pained him to even apply for it. Having picked up anti-imperialist ideas from the Occupy Wall Street movement, Abdi believes that although the nature of the oppression may not be the same in the U.S. as in Iran, America is oppressive nonetheless. There is no such thing as a "free West" and an "unfree East," he says, but asking one country to protect him against another runs counter to that idea.
"I really hate the idea of the U.S. giving me asylum. I hate it."
Since the Islamic Revolution in 1979 and the hostage taking at the American Embassy in Tehran -- recently brought back to American public memory by Ben Affleck's Argo -- the Iranian regime has labeled America "the Great Satan."
So it is ironic, perhaps, that the largest community of Iranians outside Iran lives in the U.S. The State Department estimates the number of Iranians and Iranian-Americans in the country as being close to two million, of which the vast majority are opposed to the Islamic regime in Tehran. This U.S.-based opposition, which Abdi joined, can roughly be grouped into two generations.
The first wave of Iranian immigrants came in a big exodus following the Islamic Revolution of 1979, when a popular revolt led by Ayatollah Khomeini overthrew the pro-western Shah Mohammad Reza Pahlavi, the "Shah of Shahs," marking the end of monarchy in a land ruled by kings for 2,500 years.
Those that fled were predominantly royalists, leftists, and members of the Islamist-Socialist Mujahedin-e Khalgh, or the MEK, which, until its recent delisting by Washington, was considered a terrorist group by Iran and America alike. Some of those immigrants and their descendants became a visible part of the cultural scene in California, in Tehrangeles, the worst of which were depicted in the unflattering reality show Shahs of Sunset. Apart from the MEK, this older generation has mostly shied away from outright political activism, but many will sometimes support the idea of a new revolution, or even foreign intervention in Iran.
The second influx of immigrants consisted mainly of dissidents and reformists who left Iran more recently, beginning with allies and supporters of president Mohammad Khatami, who came under attack by conservatives in the late 1990s. They were followed by scattered remnants of the Green Movement after it was successfully suppressed.
Many of the younger opponents of the regime, like Abdi, who have lived most of their lives in Iran, are closely attached to the land of their birth and favor reforms rather than revolution. Islam is an essential component of the social fabric in Iran, and a revolt against Islamic rule could end up as bloody as the revolution in 1979. In that vein, Abdi last year cofounded Havaar, a New York based group that proclaims to simultaneously fight against war, Western sanctions, and Iranian state repression, without openly calling for the overthrow of the regime.
Havaar thereby fights both the American and Iranian governments at once, a position that's contentious within the Iranian exile opposition. Iranians in the U.S. have usually been limited to two options: either support American foreign policy or be seen by their countrymen as defenders of the Islamic regime, Abdi, now 26, explains, as he paces his Brooklyn kitchen barefoot, serving cups of traditional Persian hospitality from a teakettle.
When Ali and his peers use the same line of argument as supreme leader Ali Khamenei, claiming that sanctions are a form of Western imperialism meant to drain Iran of its resources, Iranians in the U.S. often accuse him and Havaar of being agents of the Islamic regime. It has also cost him relationships with people who think he belittles the tyranny that Iranian people are living under, including his closest friendship.
Meanwhile, the Iranian economy is groaning under severe inflation, and obstacles to international financial transactions have led to a shortage of drugs and medical supplies, says Reza Marashi, policy director with the National Iranian American Council in Washington.
"I don't want to call it unintended consequences, because the people who put the sanctions into place know this is happening," he says.
Abdi insists that Iranians should not look to America as a savior. In that sense, the situation is similar to the lead-up to the Iraq War, he explains, in which very few Iraqis joined the anti-war protests because they couldn't find a way to oppose war and the dictatorship of Saddam Hussein at the same time. That is the space Abdi wants to give Iranians, he says, even if some think of him as ungrateful to agitate against the foreign policy of a country that has opened its doors to him.
"The American government is at war, right now, with the Iranian people. They can't take away the national pain by soothing my personal pain and giving me asylum," he says. "There is nothing I can be grateful for."
For Ahmad Batebi, the journey to America started with a photograph.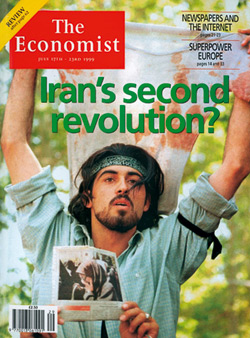 In the photo, taken at a student protest in Tehran in 1999, Batebi looks like the prototype of a young revolutionary: Lean and handsome, with a headband to keep his shoulder-long hair away from his face. Rolled-up sleeves expose his outstretched arms holding his friend's blood-spattered shirt above his head. The bullet missed Batebi's face by inches, hissing by him "with the sound of a bumblebee," he said later, piercing into his friend instead.
Batebi was arrested days after the picture was taken, and shortly after, the photo appeared on the cover of The Economist. After seven months in prison, he finally faced a judge, who slapped the issue in front of him, saying he had defaced the Islamic Republic. Then, in a three-minute trial, Batebi was sentenced to death.
After international outcry, that verdict was reduced to 15 years in Evin Prison in Tehran, where he was subjected to two mock executions and 17 months of solitary confinement. Batebi says his interrogators tried unsuccessfully to make him confess that the blood on the t-shirt in the photograph had been paint or sheep's blood. Prison guards beat the soles of his feet and his testicles and kicked him in the teeth. They put his face in a pool of feces until he couldn't hold his breath any longer. They deprived him of sleep for 72 hours, cutting him and rubbing salts in his wounds to keep him awake.
In 2008, while on medical leave from prison, Batebi escaped to neighboring Iraq with the help of a Kurdish underground movement. After crossing the border through minefields on a donkey, Batebi stayed in Erbil, trying to escape Iranian hit men and his prison interrogator, who had gotten hold of his Iraqi number and called him repeatedly.
After three months, the U.S. arranged travel documents for him, and shortly thereafter, Batebi landed in America, his new home. When he arrived at Dulles Airport in Virginia, on June 24, 2008, Batebi was 31 and Iran's most famous dissident.
"Welcome home," said the female immigration officer who greeted him with a handshake.
Now he's 35, and his eyes narrow and crease at the corners when he laughs, which he does not often, but sincerely. When he throws his head back in a burst of laughter, he exposes the left side of his mouth, where his torturers kicked out his molars.
On a Friday evening in Washington, Batebi showed me cell-phone photos of him talking to former President George W. Bush, who welcomed him to the White House: Batebi looked stiff and polite, with his knees tightly clinched together; the president was sprawled sideways over one of the chair arms, cracking a big grin.
"He was so, so friendly," Batebi says of Bush.
He now works as a journalist for Voice of America and says he has renounced activism, but the cover of his Facebook page openly advocates the overthrow of Iran's Supreme Leader. Batebi heard about Ali Abdi in prison, long before he met him here in the U.S, and while he respects the work of the younger activist, he disagrees with him and the rest of Havaar.
"If you don't want the regime, you have to be clear about it, and Havaar is not," he says. Batebi has an untempered love for America and the life it has given him.
"It has given me the opportunity, the peace to start loving my own country." While opposing all-out war against Iran, Batebi is more ambiguous when it comes to sanctions.
"They should sanction Sepah. That's important," he said, referring to the Iranian Revolutionary Guard Corps (IRGC), whose main task is to protect national security, including cracking down on internal dissent. "Whatever will get rid of the regime."
Now married to an Iranian woman who had to choose between him and returning to Iran, Batebi says he doesn't have a single good memory from his home country.
"But I love Iran. I live for Iran. I work for human rights in Iran. Iran is like my mother and the United States is my father. Iran gave me life, the U.S. gave me the opportunity to live."
Although bereft of a real opposition movement, young Iranians still push for change. But after the crackdown on the protests of 2009 further dislocated the global community of Iranians and Iranian-Americans, what many Iranians activists in exile dream of more than anything is to go home.
Still, Abdi stresses that he is both happy and proud to have been a part of the protests, and that the movement has been extremely important for the Iranian people. He then makes a startling revelation that partly explains his hesitation in those early days of the Green uprising:
"This is something I never told other activists then. I always want to give people hope because of the position I hold," he says, explaining that the Green Movement, faced with the viciousness of the security forces and with too few people desperate enough to sacrifice their life for a cause, was predestined to fail.
"In my heart, I never felt we were going to win," he says. "Never."