A Brazilian Dam Comes With Economic Promise -- and Dislocation for Villagers
The country prepares to take to the global stage with a much-needed energy project, but locals are less than thrilled with the crowding and chaos that comes with it.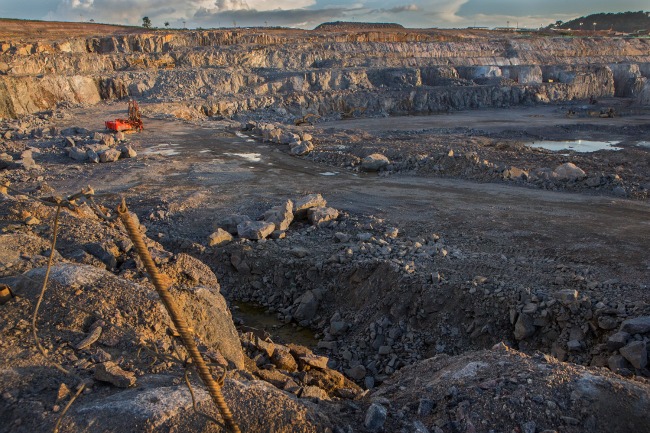 Taylor Weidman
Deep in the Brazilian Amazon, the world's third-largest dam has had a rocky month. Two indigenous occupations and a worker's strike at the construction site of Belo Monte, Brazil's most expensive public project ever, have shown that the dam, billed as socially responsible development by President Dilma Rousseff, is facing significant pushback. There are more than 50 lawsuits in regional and federal courts challenging the dam's legality -- and although indigenous demands make up Belo Monte's splashiest headlines, there is another important but lesser-known conflict playing out in the town of Altamira, just 25 miles from the main dam site.
Maria Reis, a fishmonger whose home hugs the shore of the Xingu River, is furious, and she is not alone. As Belo Monte rapidly takes shape downriver on the Xingu, Altamirans like Reis are accusing the Brazilian government of failing to properly balance the rights of local citizens against the national interest.
"Dilma is always on TV saying she wants a new Brazil without poverty and with progress. But what progress is it that kills people, kills dreams?" says Reis.
In response to outcry from environmentalists, indigenous groups, and activists, the dam has been redesigned to minimize its impact on the local communities and environment, scaling down the originally proposed five-reservoir dam to one "run-of-the-river" project. Thus re-envisioned, Belo Monte will only flood 516 square km of land as opposed to the originally planned 18,000 square km, minimizing displacement and the flooding of indigenous lands. With its maximum capacity of 11,233 megawatts, the dam has become a top priority in Brazil's PAC 2 (Program for Accelerated Growth), a spending plan of $582 billion on public projects from 2011 to 2014.
As host of the 2014 World Cup and the 2016 Summer Olympics, there's no doubt that Brazil is having its moment -- but Brazil will need more energy to see that moment through. Meeting PAC 2 goals of closing the country's infrastructure gap and eradicating hiccups in energy production will clinch Brazil's image as a new power in the developed world.
But in the frontier town of Altamira, which is barely equipped to serve its original population, development seems to be a distant dream as the town's basic social fabric falls apart. The dam has brought a crush of 50,000 migrant workers, entrepreneurs, displaced families, and vagrants to the area, says city councilman João Artur. Daily buses from surrounding regions deposit these newcomers at the Altamira bus stop, some of who string up hammocks in public areas as their accommodations.
"For every one person who leaves Altamira, another 50 arrive," says bus station agent Bismarck Pierry.
As these new arrivals vie for limited housing, people like Maria Reis stand to lose theirs. Norte Energia, the mostly state-owned consortium managing Belo Monte, has announced that the dam will flood 7,790 riverside homes and businesses. Flooded residents can be compensated in one of three ways: a cash payout, a relocation credit account, or a new, company-provided house on the edge of town. Although Norte Energia gives informational meetings about resettlement three times a week, residents remain skeptical that the relocation packages will be adequate to cover their losses. Plus, some vital information is still missing: A price schedule for cash or credit compensation has not yet been released.
Reis says she doesn't know what she will do if she is forced to give up her fish business, and she feels too old to start her life anew. Over 17 years, she and her husband grew their company from just three boxes of fish to a busy neighborhood establishment that supports Reis's five adopted children. The dam, she says, threatens the loss of much more than just her home.
In addition to this limbo affecting a sizable population of Altamira, all residents are trying to get used to a more dangerous and expensive urban life. The population boom has led to a rapid rise in crime, which Xingu Region Superintendent of Civil Police Cristiano Marcelo do Nascimento says he simply is not equipped for. Since dam construction began in 2011, drug trafficking and every type of violent crime --assault, rape, and homicide -- increased. At such a time, Nascimento laments that programs to recruit new police are failing.
"We can't get anybody interested. The prices here are too high," he says.
That's because the cost of living in Altamira is outpacing even the rise in violence. Rampant land speculation based on the dam's promises of development is jacking up the cost of rent, real estate, gas, food -- almost every aspect of consumer life.
Meanwhile, the region's roads, sanitation, schools, and hospitals all strain under high demand. Gustavo Fontenele, an Altamira teenager who was caught in drug-related crossfire in January, was wounded in the leg, and rushed to São Rafael Hospital. But, he says, he had to wait over two hours to be treated at the notoriously understaffed hospital.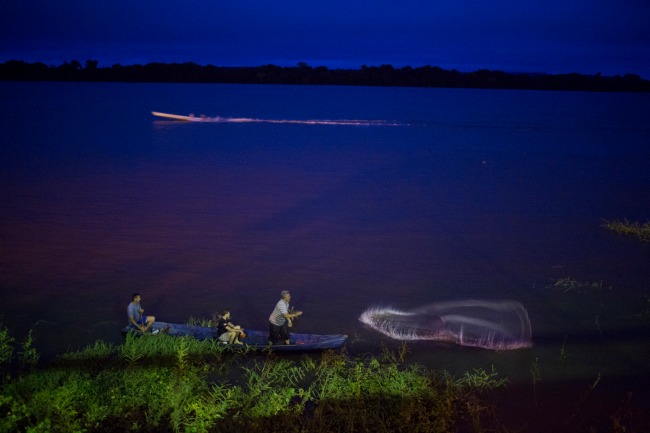 Taylor Weidman
Perhaps this kind of turmoil is to be expected when a small town plays host to the construction of the world's third-largest dam just 25 miles away. But public defender Andréia Macedo Barreto says that the real injustice lies in what is not happening in Altamira: Norte Energia has not fulfilled its promises to address these very issues.
In February 2010, Belo Monte was granted a preliminary permit spelling out 40 conditions to be met before the dam could be given its installation license. The conditions were designed to prepare Altamira and the surrounding area for the environmental and social disruptions that would come, including additional infrastructure such as housing, roads, schools, hospitals, and sanitation, public service programs and investment in public safety, the compensation of indigenous and displaced peoples, and programs to mitigate environmental degradation. Two biannual inspections run by IBAMA (Brazil's version of the EPA) found that only 5 of the 40 conditions have been fulfilled, but Belo Monte was granted its installation license anyway, two years ago, in June 2011.
"I would say that the construction proceeds at a much faster pace than the required social works," says Barreto. "The organ that should be supervising construction is a federal one, IBAMA. If this organ were complying with the legislation, the work on the dam would be stopped."
Instead, because the completion of the dam is of national interest, IBAMA simply levies fees on Norte Energia, which Barreto says is ineffective in resolving the social problems caused by the dam.
Although Norte Energia representatives did not respond to repeated requests for an interview, the company publicly claims that it intends to make good on its promises. The company offers an additional silver lining: an annual royalty of $88 million paid to the Xingu Region. However, nobody will see this money until the dam begins its first phase of production in 2015. In the meantime, Altamira can only watch and wait.
There's no doubt Belo Monte has great potential to spur economic growth and development in the Xingu Region, says Marcelo Salazar of Instituto Socioambiental, an organization that monitors the social and environmental impacts of development in Brazil. But Salazar cautions that the trajectory of growth could be dangerous.
Ironically, the Amazon Rainforest, one of the biggest forests in the world, does not have a forest economy. The largest existing industries currently in the Xingu Region are cattle ranching, soy farming, and logging. Belo Monte could be a boon for the area if royalties and investment were channeled into sustainable practices best suited for the unique resources and environment of the Amazon.
"If there are no investments in new businesses, those existing businesses grow, and those are the businesses that destroy nature and local cultures," says Salazar.
For the time being, the people of Altamira have grasped onto the one real opportunity that the dam has offered thus far: employment. This is transforming Altamira into a full-fledged -- if temporary -- company town.
"Almost every family has someone who is working for Norte Energia or CCBM [Belo Monte Construction Consortium]," says Salazar. But once the construction of the dam is complete and workers are no longer needed, unemployment may hang over the city like a pall.
Either to their benefit or not, the residents of Altamira-- along with many other communities of the Amazon jungle -- have lived through such times before. During the 1970s, the construction of the Trans-Amazonian Highway brought a population boom to jungle towns like Altamira and plowed through 2,000 miles of rainforest with the intention of developing the country's interior. While the road succeeded in contributing to Brazil's infrastructure, many see the Trans-Amazonian's promises for development as a failure. The industries it brought to the Amazon led to massive deforestation and unsustainable economies. If Belo Monte will serve the region any better remains to be seen.